A heater core is not one of those car components that stand out. It's one of those parts that work in the background to ensure that your car is running smoothly at all times. Therefore, you might not even know what a heater core is, despite having driven tens and thousands of miles since your birth.
Well, a heater core in a car is nothing but a heat exchanger. It has several tubes attached to it to disperse heat to regulate the internal temperature of your car. By doing so, it prevents vital car parts from overheating.
For those who don't know, it's usually located around the dashboard. But then, it will be buried somewhere, making it difficult to locate it unless you are specifically looking for it.
What Causes Heater Core to Go Bad?
Clogging is usually the main reason for a failing heater core, which causes the coolant to get contaminated when it's not regularly flushed out. A leaking heater core will reduce the level of coolant present in the cooling system, causing the engine to run at a higher than the desired temperature.
A lot of parts can get damaged in the process. Seriously, you are risking piston damage and whatnot. What should have been a 300-dollar fix might cost you 1000 plus dollars. If you are thinking of getting a heater core replaced, you are probably wondering how much it will cost you. Let's find out.
What Is The Average Price of the Heater Core Replacement?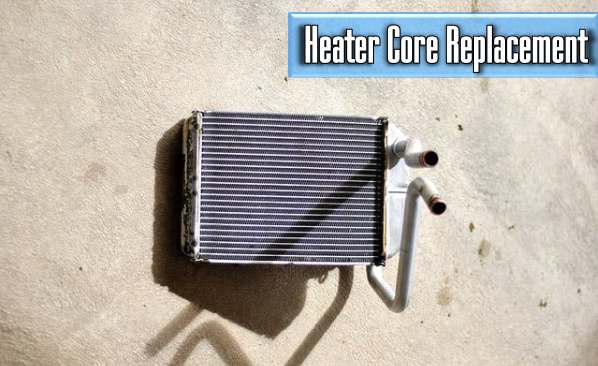 To replace a heater core, you should plan on spending anywhere between $500 to $1000. Yes, it will prove to be an expensive fix. Usually, most of the invoice amount would go towards the labor charges. The location of the heater core makes it quite difficult to work on it. You can easily get the part online for $75 to $300, depending on the make and model of your car.
| Auto Center | Price |
| --- | --- |
| Walmart | $75 – $300 |
| NAPA | $550 – $920 |
| Mr Tire | $620– $950 |
| Midas | $680 – $970 |
| Your Mechanic | $700 – $1000 |
So, the labor portion of the job is something that will cause you to frown at the mechanic's face. As you can tell, the price range we have given is quite substantial. But then, we couldn't narrow it down any further. As you might already know, the hourly rates vary widely from one auto repair shop to another. While some shops may charge you peanuts, others might present a higher-tier figure in the invoice.
What are the Symptoms of a Bad Heater Core?
These are the signs of a faulty heater core that should call for your attention:
Fogginess inside your car: This is usually the most common tipoff you will receive that should signal you of a failed heater core.
Odd smelling coming from your car: An odd smell around your car should compel you to look under the car for spilled coolant, which could be a result of a failed heater core.
Devouring coolant: If you find that your car is getting thirstier by the day, you can link its uncanny appetite to a faulty heater core.
The cabin is cold, but its engine is running hot: Engine overheating is not just a warning signal for a failed heater core but a serious thing that should call for your immediate attention.
If you are planning to ignore these signs, you better think again about it. Driving with a bad heater core will cause a lot of overheating as it will reduce the amount of coolant in your car, which can eventually lead to serious engine damage in the middle of an ordinary day.
So, don't let the small leak go unattended. Keep in mind that it's also possible that your car may not showcase any of the above-mentioned symptoms for long and still have a bad heater core. That said, in more than 90% of the cases, it will exhibit one or more of these symptoms.
Heater Core Replacement Procedure Explained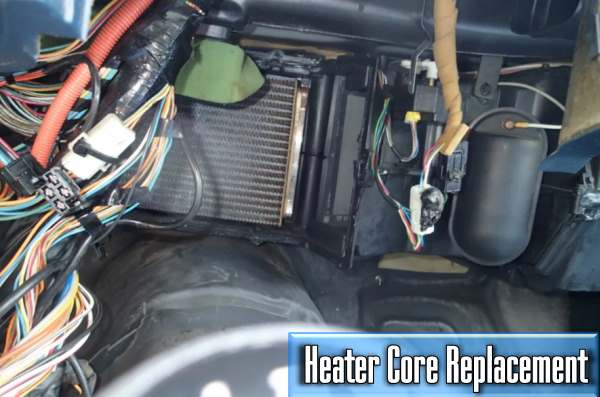 A Heater core can be located in different locations in different cars. So, hunting it down can be a tricky affair. Of course, you can take a glance at the owner manual to save some time. Once you know the location, you can work on getting it replaced. As expected, the job of this nature will involve two major steps:
Removing the Old Heater Core
Installing the New Heater Core
Removing the Old Heater Core
Assuming that you have figured out where the heater core is located within the hood, make use of a regular screwdriver to get rid of the bolts and screws that are holding it in its place. Also, disconnect the intake and outtake hoses connected to the heater core. This will allow you to remove the existing heater. Of course, make sure that you don't spill any liquid that's left in it. For this, you will have to pull it off very carefully.
Installing the New Heater Core
Installing the new heater core will involve the exact opposite steps. You will have to reconnect the intake and outtake hoses to the new heater core, of course, in the proper area. Screw the new heater in place of the old one. Recheck if the fitting is tight and secure. After fitting the new heater core, put back any engine parts that were removed during the process.
Important Information: Not all heater cores are the same. Therefore, you should know the make and model of the car to lay your hands on the correct part. Also, make sure that you are not attempting the job when the engine is still warm. If the car was in use, allow it to cool down for an hour in a shaded area. Believe it or not, this will save you some permanent burn marks.
Saving Money on Heater Core Replacement Cost
An individual who has worked on cars before can get the heater core replaced on his own and save big bucks in the process. But then, this is not something that you should attempt on a weekend just because you had a day off from work. Some degree of experience is the key and not just some free time at hand.
So, attempt a repair if you are at least a weekend mechanic type of person and not someone who is a hardcore office-goer who doesn't even know where the spark plugs are located. In scenarios where you can't help yourself, hire a credible mechanic to do the job for you.
At least, you can be sure that he will do a good job, which will save you from the expenses associated with a bad repair job. After all, cheap heater cores and badly installed ones can leak easily, compelling you to spend quite a bit of money on repair/replacement yet again.
On the CarServiceLand, you can also find estimates of car repair or maintenance service costs: