An oil change should be done on every vehicle regardless if it's a new car or not. They're usually not too expensive and most of the time they will vary in cost from between $16 to $30. Oil change prices will differ between shops but most of the time these automotive stores run specials on oil changes so it may be possible to get one done for less than $15. A lot of automotive companies run oil change specials because it's a way to get potential customers into their shop so they can recommend that they get something else fixed on their car.
Most cars will need an oil change every year or every 7,500 miles whichever occurs first. This is for the average driver but most people aren't the average driver so once every 6 months may be a good time to check to see if your car needs its oil changed. Also check all offers from car service centers and compare their oil change prices.
The driver plays a very important role when determining when a car needs an oil change. Not all drivers drive the same amount of distance and some people drive a long way to work every day. Other people may work down the street from where they live.
Older cars will generally need to have an oil change more often that newer cars because older cars have been through more wear and tear. It is recommended that an older car have an oil change once in every 6 months.
A newer car can operate fine with getting an oil change once every year. If a driver forgets to change his oil, he is most likely putting his or her car at risk. Multiple things can happen like the oil will get very dirty and this will have an affect on how the motor sounds when it's running.
If things get worse, the engine can actually blow which will cause the driver to buy another car. This is because in most cases it's just cheaper to buy another car than buying another engine and paying someone for the labor cost of taking it out and putting it in.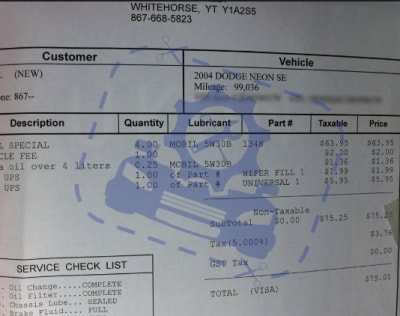 There are many ways to get a the best oil change price. One way is for the owner of the car to do it themselves. A lot of people would rather just take their car to an automotive shop and just pay them to do it but it wouldn't be too difficult for the owner to do it themselves.
If the driver chooses to change the oil, it can contribute to other potential things like they may want to learn how to do other repairs on the car instead of taking it to the traditional auto center and pay full oil change price.
Before you attempt to change the oil, you should go online and find out everything they need to know because if it's done incorrectly, terrible damage may be done to the car.
Experienced friends are also a good source of help when attempting to change the oil. It may be smart for the owner to have their friend walk them through the first time so they can learn before they actually attempt it.
There are numerous places to get a cheap oil change. Most family owned automotive centers charge a lot less than the known franchises because they know they cannot compete with a well known and trusted brand if they have the same oil change price.
There are countless oil change coupons available that are easy to get. Most of the time if the owner of a car gets their car worked on at a station, they will ask for your address because they will mail you out coupons whenever they are running a deal. This is a great way to stay informed about average oil change prices in your area.
If auto centers do not have certain drivers in their database, then they can also print coupons online or even go to an auto center and ask them if they have any extra coupons. Most of the time though, it's best to go to the actual auto center and ask if they have any coupons because even if they don't, they will be more than willing to negotiate the price.