You would probably feel very comfortable and confident taking your car to Firestone auto care center for brake service, since you know they are experts on wheels and tires, already. If you have started hearing your brakes squealing or they have started to slip then you need to stop putting off service and get them repaired.
What you may be unaware of is how affordable brake service can be when you use the right coupon. Firestone brake service coupon offers you more than just brake service. With this high discount, you can get the job done cheaply and feel confident about your car's stopping ability again. With the valid Firestone promo codes, you can get a free brake inspection, installation of brake pads and rotors.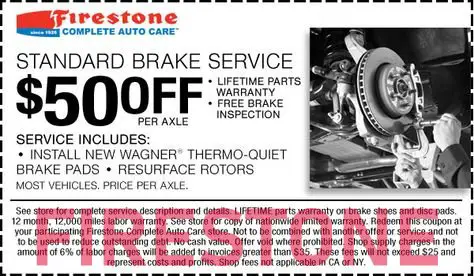 All this comes at $70 discount per axle or after rebate. This applies to both standard and lifetime brake service. Look for a Firestone store for a complete service detail and description as well as a copy of the nationwide limited warranty. The offer is, however, void where prohibited. So look for particular locations where it is valid. If you need a thorough brake system check for your car, Firestone can provide you with the services delivered by its experienced technicians.
How to Save Money with Firestone Brake Coupon
Firestone brake service promo codes provide a variety of opportunities to help your household save money on necessary brake services. Drivers must keep a vehicle's brakes in good condition in order to drive safely.
You may discover some very appealing special offers in our collection of Firestone coupons! Visit us often in order to find exciting seasonal and time-limited offers of most interest to you.
The Most Popular Firestone Brake Service Coupons:
$60 OFF Free brake inspection and Installation of new brake pads with lifetime parts warranty coupon
$70 OFF Standard or Lifetime Brake Service 
$99.99 Brake pads and resurface rotors included
$40 Off New Wagner Thermo-Quiet brake pads or shoes and Resurface rotors or drums Standard Brake Coupon
$60 Off (per axle) Standard Brake Service and Resurface Rotors Coupon
$89.99 Standard Brake Service – Wagner Thermo-Quiet brake pads
$50 Off Standard Brake Service – Lifetime parts warranty coupon includes: 1) Install new brake pads and 2) Resurface rotors 3) Free brake inspection
$99.99 Standard Brake Service (per axle) includes free brake inspection coupon
$50 OFF Standard Brake Service includes: install new Wagner brake pads and resurface rotors
$99.99 Standard Brake Service Coupon: Lifetime parts warranty, Free brake inspection, Install new brake pads, Resurface rotors
$79 Brake Service Coupon – Lifetime parts warranty
$99 Lifetime Alignment Coupon
$40 Off Firestone Brake Coupon Service includes: Lifetime Parts Warranty
$35 Off (per axle) Standard Brake Service – Service includes: resurface rotors
Standard Brake Service $25 Off (per axle) Firestone promo coupon – Service Includes: Resurface rotors; Inspect brake components; Install new Wagner Thermo-Quiet brake pads
$25 OFF Standard Service (Save off regular price per axle) Brake Service $50 off Lifetime Parts & Labor Service. Service includes: resurface rotors (LIFETIME WARRANTY on pads/shoes)
$30 Off Standard Brake Service – Firestone discount code Standard Brake Service $30 off service include: resurface rotors; inspect brake components; install new Wagner Thermo-Quiet brake pads
Here's a quick summary of Firestone brake service cost
| Type of service | Price with coupon |
| --- | --- |
| Standard Brake Service | $99.99 |
| Brake Inspection | FREE |
| Brake Fluid Exchange | $69.99 |
| Brake Service Rebate | $25 per axle |
Firestone's commitment to low-cost auto service is not isolated to brake jobs. They may not offer major repairs like transmission repair or engine overhauls, but those are rarely needed. Your biggest costs in service come from those monthly, quarterly, and annual routine maintenance items which are the exact services Firestone targets. Keep an eye open for coupon offers on our website and make sure that you are subscribed to our mailing list.
How Often Should You Use Firestone Brake Service Coupon Codes?
Today, automotive brands often rely upon very specialized brake components, including brake pads and rotors. For instance, different sizes and brands of brake pads may fit the manufacturer specifications for unique makes and models of automobiles and trucks. Your local auto dealership service center can offer highly individualized assistance to you in determining the types of brake pads your vehicle requires. Using Firestone coupons recommended to you by a well-qualified auto mechanic permits you to maximize your savings in many situations as a consumer.
You should consider using Firestone brake service coupons whenever your vehicle requires a brake inspection, brake pads or rotors replacement, routine maintenance or repair work.
Firestone enjoys an international reputation for providing exceptional values in tires and other auto-related products. Don't overlook an opportunity to enjoy attractive special offers and tempting discounts. Return to this web page frequently to review every Firestone brake coupon!