Experts in journals and even newspaper columns usually suggest that we fix any sort of brake issue at the earliest. After all, brake health care cannot be taken for granted. In brake-repair scenarios, the normal response is to look for a cheap place to fix the issue at hand. And, there's nothing wrong with trying to save some money in the process.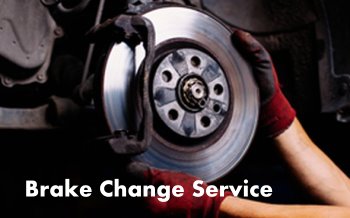 The problem, though, lies in the 'suspiciousness' that arises from choosing a budget-friendly auto repair center. Will the cheapest place you go use the inferior brake parts? Will the brake-repair service meet your expectations? And, will it even be worth the effort made to save some money on brake service? Seriously, bothering questions can be at their peak. After all, we definitely need the best brakes on our vehicles at all times.
We can't compromise on this aspect of the service. In short, there's no room for carelessness whatsoever. Keeping that in mind, let's introduce you guys to the cheapest places to get your brakes done without compromising the quality. So, let's get going!
So, What Is The Cheapest Place to Get Your Brakes Done?
Midas Brake Change Service
As expected, the invoice would include the material cost and the labor fees. As such, the labor fee at Midas is around $80/hour. It's common to see the price difference in the material cost, depending on the brake part you need. For instance, they charge around $60 for brake fluid replacement. Something along the lines of a full brake rotor replacement can cost up to one grand. Generally speaking, their prices are still lower than the competition.
Jiffy Lube Brake Change Service
You can also consider Jiffy Lube for brake replacement services. Their prices are low. At the same time, the quality of their brake parts is up to the mark. This explains why they are often recommended by a lot of auto owners. Price-wise, a simple brake replacement service can cost you as low as $40.
On the other hand, a complex brake problem can cost you $500 or even more. You will probably save money (most of the time) because they keep offering promotional deals every now and then.
AutoZone Brake Change Service
A complete brake repair job (including rotor,  brake pad, and caliper replacement) will cost you anywhere between $300 and $1000 at AutoZone. As such, you will know the exact price once you tell them the make and model of your vehicle. Give and take, their pricing is along the lines of other cheap auto care service centers out there. Your brakes will enjoy a long lifespan too, because AutoZone is known to use high-quality parts at the time of brake repair.
Pep Boys Brake Change Service
For a complete brake change service, Pep Boys charges $210 per axle ( for standard service). For the Platinum service, you will have to shave off $260 per axle. Their Ceramic service is priced at $280 per axle. Finally, the Akebono Ceramic service will cost you $300 per axle. The good news is that they are quite generous with discounts and promotional deals. Therefore, you won't have to pay the full price at all times.
Firestone Brake Change Service
In the case of Firestone, you will be happy with both their prices and the quality of the parts/service. Of course, the biggest perk is the product warranty that they offer. Firestone definitely edges out most of its competition in this area of work. In terms of numbers, the cost of brake repair would depend on the type of package you choose.
The standard package is priced at $175 per axle. With the fluid exchange, it's $350. Finally, the Lifetime package (said to be the best package) is offered at $450 per axle.
Can You Get the Brakes Done at Local Shops/Garages?
We generally don't recommend getting your brake fixed from a local shop because of how critical this maintenance procedure is. So, that's our standard explanation for this question. But then, here's the thing. If you can fully trust a local shop, you can get your brakes repaired at a local shop by all means. If you can't trust the local mechanics to do a good job, don't gamble with your safety. Without proper brakes, you can be risking many lives.
So ask many questions and see whether or not you are getting thoughtful answers. A trusted technician will always be happy to explain the repair process. If you are not getting straight talks from the person in charge, feel free to ditch him for someone else. The same rule applies when you don't feel respected in the shop.
If you are not getting respected, even your car won't receive the care and respect it deserves. It's probably better to look for another repair shop.
Tips & Tricks For Finding the Cheapest Place to Get Brakes Done
In all cases, make it a rule to check the social media platforms of all the shortlisted companies. By paying a visit to their social media pages, you will be exposed to promotional deals that you would otherwise miss.
If you are a veteran, senior citizen, or even a student, check for special offers. Call it soft corner or marketing strategy, most of the reputed auto repair companies provide special deals to these particular groups.
Being a 21st-century guy with lots of options at your disposal, make sure to compare prices from different auto repair companies. Of course, pay attention to not just the price but also the quality of the brake job.
Remember to read the reviews too. There's no point in saving money by choosing a substandard brake service. By doing so, you will come back soon for another repair job. So, be careful not to let anyone fool you.
It's a poor practice to not get a proper price estimate before the job. You should always know upfront the cost involved in the repair. This is a good way to avoid hidden or unwanted charges down the line.
All the fancy car seats, video systems, and engine power will be of no use if you cannot stop your car on time. Your brakes are the most important car component. So, don't take them for granted at any time.
| Auto Center | Price |
| --- | --- |
| Jiffy Lube | $40-$500 |
| AutoZone | $300-$1000 |
| Pep Boys | $210-$300 (per axle) |
| Firestone | $175-$450 (per axle) |
| Midas | $80/hour |