In jargon-free words, brake fluid is responsible for moving various components of the brake that exist in your car's braking system. Brake fluid not only works to lubricate the parts but also to reduce friction between them. Because it's a hygroscopic fluid, it starts absorbing water, which makes it less effective, requiring you to flush it at a set interval.
As expected, bad or lack of brake fluid can cause disappointment in the way your brake functions. Basically, you will lose partial or full control of your brakes. We don't need to tell that many people out there might piss in their underwear, upon losing partial or full control of the brakes. The good news is that most of the modern cars do a good job of warning the driver of this issue before all hell breaks loose.
Brake Fluid Change Cost 2023 Price Comparison:
The expense won't differ a lot, no matter what make or model of the car you own. Normally, it takes less than an hour to conduct the work, and brake fluid isn't too expensive. To top it all, the majority of the vehicles out there won't need more than one liter of brake fluid for flushing, and approximately the same amount of fluid for a fluid top-up.
To give you a better picture of the expenses; you should be looking to spend anywhere in the ballpark of $70 to $110 for brake fluid flush. All things considered; brake fluid flush is not going to create a dent in your bank account. Frankly speaking, even money-hungry mechanics don't charge much for a job of this nature.
| Auto Center | Price |
| --- | --- |
| Firestone Complete Auto Care | $70 |
| Jiffy Lube Auto Centers | $70 |
| Midas | $85 |
| Pep Boys | $70 |
| Big O Tires | $75 |
| Brake Masters | $115 |
| YourMechanic | $110 |
| NAPA | $99 |
| Mr. Tire | $89 |
| Walmart | NA ($26.99 Fluid) |
How Often Should You Flush/Replace the Brake Fluid?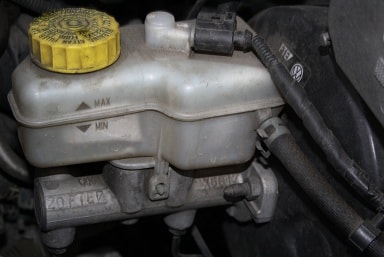 The standard timeframe for brake fluid flushing and replacement is two to three years, especially when your car features anti-lock brakes, which is a more sophisticated type of braking system. Of course, the folks who sell and make money out of selling brake fluid will suggest you to do it much sooner. The good news is that your car will run fine, even if you ignore their self-centered advice. That said, it's better to refer to the user manual to see what the car manufacturer recommends.
Here's what you need to do.
Since they have designed the car, they would know the engineering stuff better than anyone else. That said, there could be some extenuating circumstances where you will have to flush/replace the brake fluid sooner than expected (here you can read about brake fluid change frequency). This usually depends on one's driving habits, accidental overspills, and corrosion. Also, you can prevent some other damages of brake system parts and control future brake replacement costs.
| Vehicle | Price |
| --- | --- |
| Chevrolet Cruze | $89 |
| Ford F Series | $95 |
| Dodge Ram 1500 | $129 |
| Toyota Corolla | $89 |
| Honda CR-V | $97 |
| Honda Civic | $88 |
| Honda Accord | $82 |
| Toyota Camry | $109 |
| Ford Fusion | $85 |
| Chevrolet Silverado | $80 |
Brake Fluid Flush Procedure Explained
Frankly speaking, it's not a rocket-science feat to get the brake fluid flushed and replaced, which means that you don't need a hardcore mechanic degree for this. Seriously, a job of this nature can fit the profile of weekend warriors too.
Draw the fluid from the master cylinder reservoir by using a turkey blaster.
Once this is accomplished, the brake system will still hold around 20% of the brake fluid.
Pour the new brake fluid into the master cylinder reservoir.
Now, comes the flushing part, which involves bleeding the brake caliper.
You will start with the brake caliper that is farthest from the brake reservoir.
If the brake reservoir is located in the engine bay, you will start bleeding at the rear.
Jack up that side of your car that you need to bleed first.
Keep in mind that you will have to remove the tires to access the brake caliper.
You need to locate the bleeder valve as well.
Ask a helper to press the brake pedals when you are opening the bleeder valve.
For those who don't know, this will forcefully throw the fluid out.
You will have to repeat this step until the brake fluid changes it color from dark to light.
The color change will tell you that your is ready to use the new brake fluid that was poured a little earlier.
You will have to follow the same process for the remaining brake calipers until you are done with all four of them.
Once done, top off the master cylinder reservoir with the new brake fluid.
Finally, test-drive the car to inspect whether or not the job was done correctly. If you notice any issues, re-inspect the brakes to fix the issue.
Important Pointer: Even car dummies will tell you that it's important to use high-quality brake fluid from a reputed manufacturer. A good quality brake fluid won't absorb moisture. Also, make it a point to keep the brake fluid far away from painted surfaces. Remember, the brakes can fail if you don't flush the brake fluid properly. So, do a good job without any rush. Leave it for another day, if you don't have enough time at hand.
How to Save Money on Brake Fluid Flush Cost?
In today's age and time, you will find plenty of information on how to do a job of this nature on your own. Obviously, this will save you the labor expenses. Although brake fluid doesn't cost a lot, if you research well enough, you might be able to get the fluid at a lower price. You can use one of the brake service coupons and get the best possible brake fluid flush price.
Of course, the big savings will come from not neglecting the work for long. So, don't try to save $100-odd dollars that go into brake fluid cost, and end up losing brake parts worth two grants due to corrosion. As you can tell, it's a small investment to protect the vital components of your beloved car.