What is a car tune-up?
To begin with, what is a car turn up? It could be anything from changing the engine oil, inspecting the brakes, adjusting the valve, rotating the tires, or even lubricating some vital car parts. All these services and much more come under the domain of a car tune-up service.
That said, a car tune-up is a thing of the past. The term has been replaced with 'routine car maintenance.' Folks with older cars might still turn up at a garage seeking a car tune-up.
On the other hand, modern car owners will walk into a garage seeking routine car maintenance. In any case, it's looked upon as a major service. Of course, some naysayers may say that it's less critical. But then, it's necessary. So, it should not be neglected. After all, your car's well-being is in your own hands.
Why is a car tune-up needed?
There's no car out there that has non-maintenance parts. Eventually, most of the parts will either break or wear out with age/use. To put it in simple words; most of the car parts need some degree of maintenance at periodic intervals. Over here, non-adherence can cause the parts to go bad prematurely.
In other words, a car tune-up service is required to prevent your car parts from failing badly. Of course, timely car tune-up will also ensure that your car stays reliable and safe enough to be driven on the streets on any given day of the week.
The good news is that modern-day cars do not really need much maintenance. That said, the owner manual will provide you with a fair idea about the maintenance that needs to be carried out every year. Based on the services that need to be performed, your mechanic will tell you the cost needed to perform those services.
How do you know your car is due for a tune-up?
There are many noticeable signs that will tell you that your car needs some servicing to perform at its best. Let's look at these signs:
Difficulty in starting the car
Engine light turning on
Decreased mileage
Diminishing performance
Noise coming from the car
Nonresponsive brakes
Occasional stalling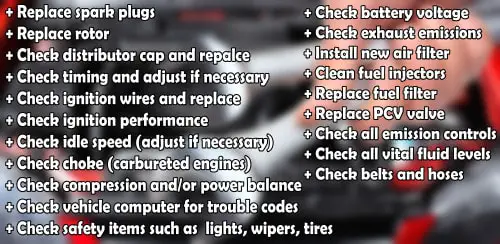 Keep in mind that your car may require a tune-up, even when it's not displaying any of the above-mentioned symptoms. In other words, don't wait for the symptoms to show up to take care of your car's well-being. So, refer to the owner manual to check the suggested interval for a car tune-up.
If you have any doubts, have a word with a mechanic whom you can fully trust. If a car has a running issue, a good car technician will advise you to allow the shop to carry out a diagnostic service to test if everything is working as per the manufacturer's suggested specifications.
How much does a car tune-up cost?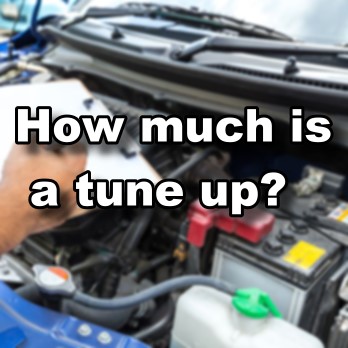 As explained earlier, a lot of services come under the umbrella of a car tune-up. Depending on the many different services you avail of, the average cost for a car tune-up may vary from $50 to $1500. It really depends on the extent of the procedure conducted by the car technician.
Needless to say, complex procedures would cost far more than a simple fix.
Of course, the cost will also depend on the year, make, and model of your vehicle. If you own a normal car that doesn't require complex tasks to be conducted, for quality tune-up service expect an invoice of anywhere from $50 to $300. If you own a luxury car that requires complex procedures, the cost that you will incur will range from $400 to $1500. As you might already know, both the labor and parts are expensive for luxury cars.
Average Tune-Up Costs Table
| Service | Price |
| --- | --- |
| Standard Oil and Oil Filter Change | $20 - $50 |
| Synthetic Oil Change & Filter | $40 - $70 |
| High Mileage Oil Change and Filter | $35 - $45 |
| Air Filter Change | $10 Filter itself and $19 for change |
| Cabin Air Filter Change | $20 to $30 |
| Wheel Alignment | $70 for Standard and $160 for Lifetime alignment |
| Tire Installation Package (mounting, rotation and balancing) | $40 - $50 (for all four tires) |
| Replace Spark Plug | $70 - $250 |
| Replace Fuel Filter | $50 - $150 |
| Distributor Cap Replacement | $90 - $250 |
| Clean fuel injectors | $45 - $90 |
| Replace PCV Valve | $30 - $80 |
| Transmission Flush | $125 - $250 |
| Timing Belt Replacement | $400 - $900 |
| Rotor Replacement | $350 - $450 |
| Mass Air Flow Sensor Replacement | $200 - $350 |
| New Spark Plug Wires | $70 - $300 |
| Power Steering Fluid Flush | $95 - $130 |
Typical tune-up milestones:
7500 Miles
Chassis Lubrication
Front Axle Splines, Rear Driveline Splines
Front/Rear Axle Fluid
Rotate Tires
Steering Linkage
CV Joints
Front suspension
Bushings
Parking Brake Cable Guides
Transfer Case Linkage
15000 Miles
Engine Coolant Hoses, Ducts and Valves
Brake Systems--Front and Rear
Transfer, Differential, and Steering Gear Oil
30000 Miles
Clutch Fork Ball Stud
Front Wheel Bearings (2WD)
Engine Timing Check
Battery
Exhaust System
EGR System
EVAP System
All lights/lamps
60000 Miles
Fuel Tank, Cap and Lines
Distributor Cap
Ignition Cables
As Needed
PCV Valve
Oxygen sensor
Thermostat
Tires
How to save money on car tune-up?
If you are able to properly diagnose the maintenance tasks to be carried out for your car to perform at its best, you can perform most of the tasks yourself. Of course, some degree of mechanical knowledge or experience is a must as well, of course, to not screw things up. After all, a failed attempt can lead to a more expensive repair.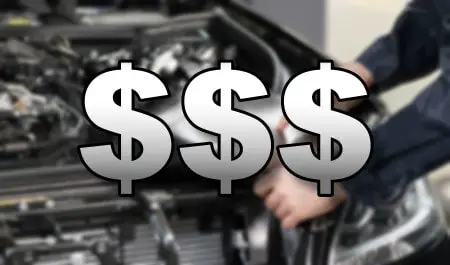 Coming back to proper diagnosis, the car manual will make it easy to determine what tasks need to be carried out, and at what interval. For instance, the owner manual will suggest that you change the oil filter once the car has driven 3000 miles. The recommended interval for spark plug change would be around 20,000 to 40,000 miles, and so on.
If you can replace the spark plug on your own, do it. Then, take your car to the repair shop only for an oil filter replacement. The key is proper diagnosis so that you can perform all the simple tasks yourself and leave the complex procedures to the professionals. Simple checks like fluid levels, condition of the brakes, belts, tires, etc., do not even require any tools.
By completing the majority of the manageable tasks yourself, you will be able to save a good chunk of money that goes into the labor and mark-ups on car parts.
How often you should perform tune-up service?
Here are service intervals for some of the most common tune-up services:
| Service Description | Suggested Mileage Interval | Suggested Time Interval |
| --- | --- | --- |
| Engine Oil and filter | 3,000 miles | 3 months |
| Air Filter | 12,000 miles | 1 year |
| Transmission Fluid | 24,000 miles | 2 years |
| Engine Coolant | 30,000 miles | 2 years |
| Spark Plugs | 50,000 miles | 2 years |
| Fuel Filter | 30,000 miles | 2 years |
| Serpentine/Drive Belts | 30,000 miles | 2 years |
Final Words About Tune-Up Prices: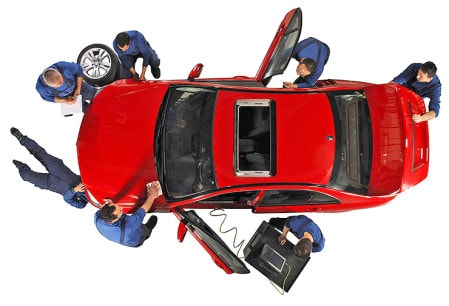 Whether you own a regular or a luxury car, take your car to a trusted mechanic because shady mechanics will try to take you for a ride by doing an improper diagnosis. Consequently, they will slap you with an invoice that has unfair prices on it.
Basically, they will either overprice you for everything or try to upsell things that you might not need. Unfortunately, people with little to no car experience and knowledge will fall into this trap. If you find an auto repair shop that has been around for years in the business, your chances of getting scammed would be relatively less than taking your car to a newly opened shop.
You can also look for AAA certifications in the auto repair center or on their official website. Better still, you can ask friends, relatives, or family members for solid recommendations. If they feel that they have been ripped by a shop, it's in your best interest to avoid getting the work done from the same shop.
Finally, make sure that you get a second or even a third opinion so that you don't end up paying more than what is needed for a car tune-up.