Whether you know it or not, Walmart offers the best prices on new batteries. Plus, they have the finest exchange policy that you can find around. Of course, you have to keep the product receipt treasured in your wallet or purse to pursue the warranty thing if the need arises.
But then, their batteries hardly pose any problem. When checked, the problem usually lies in the electric system or somewhere else.
Who Makes Walmart Car Batteries?
Walmart batteries are made by the industry-leading company, Johnson Controls, which supplies more than 50% of the batteries that you see in the market today. Keep in mind that the batteries made by Johnson Controls may be sold under different brand names. So, you might not know whether or not the battery you just bought was made by them.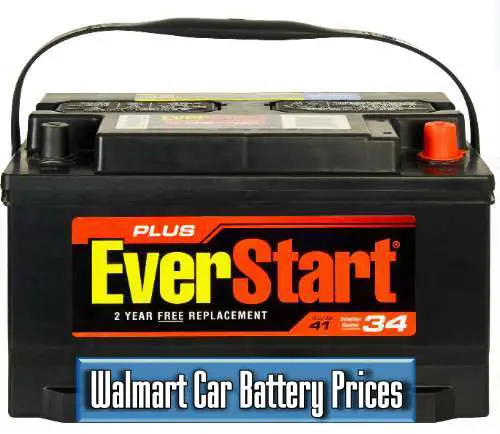 This should tell you that it's entirely possible that batteries sold from different brands may come out of the same factory with just a different label slapped on them. What's worth mentioning over here is that Walmart car batteries compare favorably with the competition. Plus, they are often priced less than their rivals.
Therefore, a lot of folks out there have long given up comparing batteries of different brands. They just get the one that fits from Walmart.
What is the Average Price of Car Battery at Walmart?
The following are the prices for car batteries at a Walmart store near you.
Battery Type Cost
ValuePower Battery: $49.88
EverStartPlus Battery: $74.88
EverStartMaxx Battery: $93.76
You can purchase any of these batteries, both online or offline. Car battery purchasers like the option of visiting an offline store for one-on-one assistance that helps them determine what battery will fit into their car, saving them the trouble of ordering something online that won't be the right match for their car.
Of course, if the specs are already known, one can directly order the car battery online without too much of a fuss.
| Battery Type | Price |
| --- | --- |
| Value Power Battery | $49.88 |
| Ever Start Plus Battery | $74.88 |
| Ever Start Maxx Battery | $93.76 |
Does Walmart Install New Batteries for Free?
Believe it or not, Walmart will install the new battery free of cost, provided the car battery is bought from them. So, if you are buying it from the street-side, don't haul it to Walmart, expecting them to do some social service.
That said, they don't charge a lot for a battery change. If the battery is purchased outside of Walmart, they charge only $10 for installation.
Walmart Car Battery Warranty
Walmart offers a warranty on all three car batteries that they sell: EverstartMaxx, EverstartPlus, and ValuePower. So, depending on the battery you get, you will qualify for 1,2, or 5 years of warranty, one of which is prorated after three years.
Battery Type Warranty
EverstartMaxx – 5 years
EverstartPlus – 2 years
ValuePower – 1 year
As such, the length of the warranty is mentioned on the battery itself. If your ValuePower and EverstartPlus batteries give up on you anytime within the warranty period, you will qualify for a free replacement of the same battery type that was originally ordered.
The rules change a bit when you get an Everstart Maxx battery. The free replacement clause will hold good for 3 years. If you bring the battery to the store after three years, but within the first five years of purchase, Walmart will prorate the months left on the warranty and then apply the discount towards the new battery purchase.
Of course, they will first check the battery's condition before taking a final call on anything.
Do You Need a Receipt for Free Replacement?
Of course, a receipt will save you and the customer service team at Walmart some time and stress. But, it's not mandatory because they will be able to pull up your details once they punch out some information about you, which will tell them whether or not you qualify for a free battery replacement.
If you visit the original store from where you bought the battery, they might also be able to produce a copy of your purchase receipt.
The bottom line is that Walmart doesn't ditch its customers simply because of some non-sensible mistake. So, if you don't have a receipt to determine how old the battery is, they won't show you the exit doors. Receipt or not, they will honor the warranty, which is why a lot of car owners like to stick with Walmart as opposed to other auto care brands out there.
The Walmart auto services are head and shoulders above the rest.
Important Notice: Getting a new replacement battery doesn't mean that your warranty will reset with each replacement. If you bought a battery with a 2-year warranty in 2016, it would expire in 2018, no matter how many free replacements were offered to you during this period.
Frankly speaking, this makes sense too, because resetting a product warranty with each replacement is practically unheard of. It essentially translates to a lifetime warranty, which no brand offers.
What are the Signs of a Dying Battery?
There are a lot of ways to know if it's time for a new battery or not. Your car will give you many signals, warning you to get the battery replaced. For instance, your car engine will start slower than usual. Your headlights will turn dim. You might have to press the gas pedal to start the car.
Other noticeable signs include bad smell, clicking sound when turning the keys, or backfiring. Of course, it's better to pay heed to these signs and get the battery replaced at the earliest so that your car doesn't give up on you in the middle of the streets on an overly crowded day. Yes, you might end up embarrassing yourself.
Final Words on Walmart Car Battery
Walmart is the place you should go whenever there is a need for a new car battery. As hinted earlier, you will truly get the best bang for your car battery bucks at Walmart because of the quality of product and service. Not to mention that Walmart stores are literally there almost everywhere, making it easy to claim a warranty if the need arises for the same.