Let's face it; an oil change is the most critical preventative step you can take to prolong the life of your car's engine. When the time comes for an oil change, you may start looking for the most cost-saving option out there, which may backfire in a big way. Believe it or not, you will see oil change advertised for 10-15 bucks, but that's low-quality oil. Those who advertise oil change services for dirt cheap rates usually use cheap oils that they can buy in bulk.
To make matters worse, the job of an oil change is usually delegated to the least experienced technicians at the shop. Believe it or not, they may perform the oil change in a lousy manner and move on with their lives. For them, you are just a random stranger who walks in for an oil change. Whether you are using a brand new or used vehicle, your car deserves better treatment. Therefore, taking your car to the Pep Boys automotive center can prove to be a fine bet. It's like choosing a good doctor for your car.
Why Choose Pep Boys over Local Garages?
The folks at Pep Boys are car specialists. Their skill sets are better than the mechanics working in your local garage. Better still, they have experience with all types of cars, enabling them to address car issues better and faster than usual. Plus, they have access to all the latest tools to deal with modern cars that come with a complex computer and electronic systems. Furthermore, they will suggest the finest oil based on your car's specifications. The best part is that the technicians at Pep Boys won't make honest mistakes or purposeful errors.
What Sets Pep Boys Oil Change Service Apart from the Rest?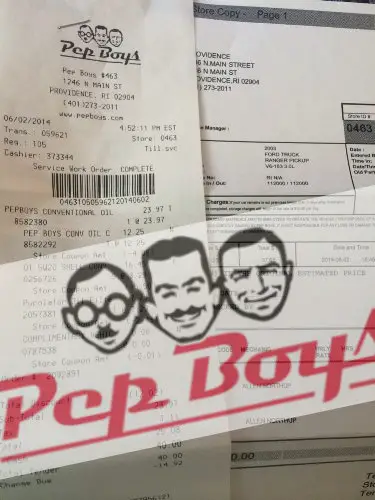 When you schedule an oil change appointment with Pep Boys, you can be sure that premium oil, such as Pennzoil, Mobil 1, and Quaker State, will be used for refilling. As a part of the oil change service, the technicians at Pep Boys will not only replace the old oil with a fresh one, but they will also install a new oil filter. A filter change is crucial because it blocks dust particles, preventing a car's engine from getting damaged. Better still, they will rotate the tires, if you would like. As expected from a professional auto repair store, they will make use of floor mats and seat covers to keep your vehicle protected during an oil change. As a courtesy, they will also inspect your vehicle for safety issues. As you can tell, the Peps Boys really push the needle in the customer's favor.
Pep Boys Oil Change Packages and Prices:
Pep Boys offer numerous packages to help you choose the best deal for your vehicle near you. Keep in mind that they have 800 auto repair centers across the nation. No matter which center you visit, every oil change service will include up to five quarts of oil, a new oil filter, and free vehicle inspection. Every time you use their service, you will also earn some reward points that can be used for future deals.
Pep Boys Conventional Motor Oil Change Price – $34 ($19.99 – $24.99 with coupon)
This is the most commonly used oil in cars. Since it's easy to manufacture, conventional motor oil costs less than its equivalents. That said, it offers a lower degree of protection in comparison to synthetic oil. However, conventional motor oil will usually get the job done just fine. As long as your car allows the use of conventional oil, you can use it to lubricate your car's engine. So, do check the car manufacturing information before using this oil.
Pep Boys High Mileage Motor Oil Change Price – $74
In this package, synthetic oil is used instead of regular oil. For those who don't know, synthetic oil contains few impurities than the conventional oil. As a result, synthetic oil can resist the development of sludge better, and eventually, boost the life of your car's engine. Synthetic oil also lasts longer in a car's engine, requiring you to pay fewer visits to a car station for oil changes.
Pep Boys High Mileage Motor Oil Change Price – $57
If your car has covered 75,000 miles or more, you should consider the high mileage motor oil package. Infused with anti-wear agents and used additives, this oil treats your car engine better than the rest. It slows leaks, dissolves sludge, reduces oil loss, slows down wear and tear on old engines, and improves the fuel efficiency. Although it's the most expensive oil change package, it literally pays for itself by offering the benefits discussed above.
Pep Boys Oil Change FAQ:
How Much do Pep Boys Charge for Oil Change?
Even though it's a well-known brand, PEP Boys services don't cost a bomb. Honestly speaking, their pricing is quite humble in today's competitive age and time. Of course, the price for an oil change would vary based on the oil change package you choose. To give you a fair idea about the pricing, the Pep Boys conventional oil change package costs around $34. The high mileage package costs $57, and the synthetic oil change package costs $74.
What Should I Know When I Take My Car for an Oil Change?
Avoid upsell. Believe it or not, the profit margins are next to none for an oil change at a lot of places. Many dealers intentionally keep the price low to get you to their doors. Then, they rob you with higher-margin transmission work and air filter. Therefore, it's of paramount importance to take your car for an oil change to prestigious places, such as Pep Boys.
Final Words on Pep Boys Oil Change Price
The folks at Pep Boys really know their job very well. Their oil change prices are also competitive. Not to mention that you will always be greeted with friendly faces on your visit to the auto repair store. They handle customer remorse (if any) very well too. Basically, Pep Boys excel in all areas of service. So, choosing them for oil change should be an idiot-proof choice for any vehicle owner out there.