It's always important to make sure that you have functioning brakes on your vehicle. It's also a good idea to go to some of the larger chains rather than local small shops. The deals that you can get at these places can be quite good since they purchase their brake repair parts in bulk. They also usually have better warranties on their products, so if something goes wrong there is always someone that is being held accountable. Although many of them already have great prices on brake repair, it's also possible to find brake coupons that will bring the price down even lower. Sometimes it can be as much as twenty to thirty percent off of their stock price. This is quite a deal for the savvy consumer that is willing to take a few minutes of effort to try to save some cash.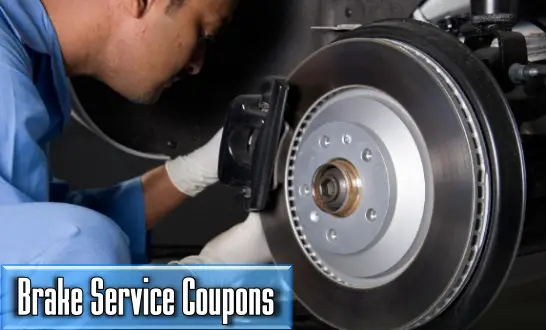 The first place to take a look is on our specialized car service coupons website. We collect brake coupons from all major automotive service centers. Here you can find all of them in one place. If there is a local Meineke, Pep Boys, Firestone, Goodyear, Sears auto center or the like in your area chances are that when they put out a coupon it is going to be here. If you prefer some smaller local service check in your local newspapers.  If your newspaper has automotive section chances are that the brake coupons are going to be located there. Another area to take a look is in the classified section. There is a car section there and some brake centers will target this area of the newspaper.
If you have a mailed classified advertisement in your area then coupons can be found there as well. Pennysaver and other gazettes of this type can offer what you are looking for. Many smaller companies tend to advertise in these though, so it may not have any deals for larger national brake service companies. One trick though is to take these coupons and call up Midas, Meineke, or Firestone and see if they will price match them. Depending on their sales numbers for the day, they just might.
Probably the best thing after all of this is to use the internet. Doing a search on your favorite search engine for the words "brake coupons" can bring up many of them. Also, do not forget to go directly to the websites of the companies that you would like to do business. Many times these companies will offer coupons right on the front page of their website. These can be printed out and brought in to save you some cash on your repair needs.
With all of these money saving offers out there it really makes no sense to go to some of the rock bottom neighborhood shops. The large chain companies do break jobs all day long, and they can get you in and out very quickly. The price is about the same, but the extra service that you will receive will make things go much smoother. With brake service coupons you can get the best brake pad replacement price or brake fluid flush price.
Remember, your brakes are probably the most important part of your vehicle. Taking care of these issues when they come up will ensure the proper operation of your vehicles braking system. This is going to keep your family as safe as possible. Don't forget to make use of those coupons.