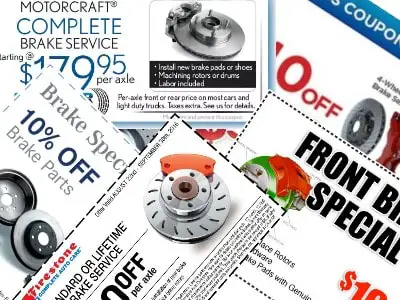 W
ith brake service coupons, you don't have to pay full price to have your brake pads, rotors, calipers, brake lines, and other brake parts repaired or replaced! You'll find a long list of outstanding brake coupon deals on this page from your favorite automobile repair location, so there is sure to be one near you or right on your commute to work. Using
brake service coupons
is the fast, convenient way to reduce the cost of keeping your car or truck's brakes in sound working condition, so they are there when you need them. Here you can find
coupons for brakes from Firestone
, different Goodyear brakes coupons,
Sears Auto centers offers for brakes
services, and all other major brands.
Simply print out the service coupon of your choice, and users get a discount or rebate today to have your brakes checked or serviced.
Reasons to Use Brake Service Coupons
Getting a discount on car brake service is just one reason to put brake coupons to work for you. Here are more reasons why saving money with a brake service coupon makes sense:
Printing a coupon and keeping it handy reminds you to have your vehicle serviced on a regular basis
When it is time to have your brakes serviced, you won't have to go searching for a coupon because you'll have it ready to use, stored in your vehicle
Brake pad replacement before they wear out completely prevents damage to the rotors, which are quite costly to replace.
Getting your brakes serviced before they fail means you won't be stranded without brakes and need to have your vehicle towed at a significant expense
Using car brake service coupons ensures that your brakes are in good working condition, so you can stop as quickly as possible to avoid accidents or dangerous situations such as a child or pet in the roadway
The coupons are free to print, so printing out several to hand out to friends, employees and family members lets them know you're thinking about their safety
Why not print a few coupons for car brake service today! Use one for your vehicle, and hand out the rest to others as a reminder of just how important it is to keep a vehicle's brakes maintained and working properly.
How to Save Money With Brake Service Coupons
It couldn't be easier to save time and a lot of money on car maintenance. Choose from our list of all the top brake repair service locations in your area. Click to see what discount and rebate deals are available. When you find the brake service coupon that fits your needs, select it. Make sure your computer is connected to the printer, and print the savings right now! Take it to the location you've selected, and the professional service technicians will perform service that will save you money now, prevent the need for more expensive repairs and keep you and others safe with brakes that work exactly as they should.
Brake Coupons and Much More
You can save money on all the automobile maintenance you'll need this year! Check out the exciting list of car service coupons for all the essential maintenance, repair, and replacement issues required to keep your vehicle running safely and reliably.
Start Saving Money with a Brake Repair Coupon Today
Print the coupon of your choice, and schedule brake service today. Once you see how easy it is and how much money you'll save, come back for more auto service coupons to keep your car or truck running safely and reliably.