What's the difference between a motorcycle oil change and an automobile oil change? Motorcycles have their own motorcycle oil to use on your bike and you'll find that motorcycle oils don't require friction modifiers for fuel economy, unlike their passenger vehicle counterparts. Passenger vehicles tend to place more emphasis on fuel economy and emission systems and their motor oil reflects this requirement while the emphasis on these factors for motorcycles is not as great.
When Is The Right Time To Get A Motorcycle Oil Change?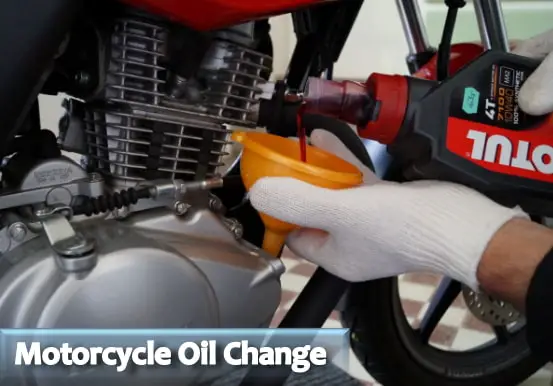 A motorcycle oil change is necessary to increase the life of the engine and must be done at regular intervals. This oil change interval varies depending upon whether you are on a short drive or a long one.
As far as motorcycle oil change frequency, consult your owner's manual to be sure but you'll probably find that most manufacturers don't recommend going more than 8,000 after break-in without getting your first oil change. The most commonly recommended oil change frequency for bikes is typically 3,000-4,000 miles if your bikes take mostly short trips since it causes the most stress on the oil. If your bike goes on a long trip, you might find that a 6,000-8,000 mile oil change interval will suffice.
Almost all motorcycle oils contain polymers that degrade during transmission and when the polymers are degraded properly then only the motorcycle oil change should be done. These polymer oriented oils degrade more often and hence require oil changes at repeated intervals. The use of synthetic oils helps in overcoming this problem.
Again, consult your owner's manual. And check our list of oil change discount coupons to save some money.
Motorcycle Oil
You'll probably be going to find that motorcycle oil is more expensive than regular motor oil so changing your bike's oil more frequently than the recommended service interval is probably a waste of time and money in more ways than one since in addition to the oil being more expensive, more frequent oil changes probably won't help your engine at all.
Which Type Of Motor Oils Are Recommended?
Synthetic oils are recommended over other oils because they have a comparatively lower factor of degradation. This low factor helps in reducing the oil change interval.
So, should you choose synthetic or regular motorcycle oil? Again, check your owner's manual but for regular (i.e. non-racing) driving a cheaper regular motor oil for your bike should suffice and save you money at the same time.
How Much Does Motorcycle Oil Change Cost?
As we already said motorcycle oils are usually costlier than other regular automotive oils. But the motorcycle engines are sufficient for either of these oils. They are built so well in technology that the use of either of these oils is equal to them.
For a new bike, it is highly recommended that the first three oil changes are done by the person from whom you purchased the bike, i.e. the dealer. But if you are financially conscious, then you can save a lot on the cost of an oil change by performing this task yourself after the first three oil changes. The cost of the motorcycle oil change varies from approximately $15 at home to $50 – $75 at the shop.
The time to perform the oil change varies from 30 minutes at home to 1 hour at the shop. These factors vary depending on the vehicle owned by you. The cost of a motorcycle oil change includes labor charges for oil and filter change.
Motorcycle Oil Filters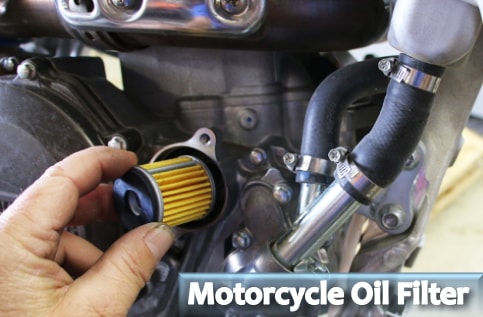 You'll find a number of OEM oil filters for your bike. There are plenty of motorcycle oil filters to choose from coming from brands like AMSOIL, Champion, Mobil 1, WIX, Purolator, and Bosch among others. You'll also find Honda and other motorcycle brands with their own oil filters for their bikes too.
Purolator, Mobil, and Bosch produce some of the higher quality filters that you'll find on the market although it's open for debate and people often have their own favorites based on their personal experience and biases.
As with an automobile oil change, it's recommended that you change your motorcycle oil filter with each oil change.
Motorcycle Oil Change Coupons
These motorcycle oil change coupons are available at our website. You can enjoy huge savings by simply doing some research.  Here is a list of some popular coupon categories:
• Midas oil change coupons are provided by Midas, an automobile service firm, also help in decreasing the cost of an oil change. These stores also provide fluid changes, brake checks etc as additional services along with oil change.
• Valvoline Instant oil change coupons provide a $5 off on conventional oil change and $7 off on premium oil change. By premium, they mean synthetic oils – full and semi both.
• Pep Boys motorcycle oil change coupons provide you with some interesting discounts. They guarantee your oil change within 29 minutes and if they are unable to do so they provide you with a relaxation of $10 on your next visit.
• NTB oil change coupons provide up to 50% off on selected oil changes. They initially specialized in replacements of tire, battery etc but gradually extended to performing oil changes for vehicles too. They provide additional services of checking fluid levels, replacing old oil filters with a new one and maintenance analysis.
• Firestone oil change coupons are available at approximately 1,500 locations all over America. An example of the type of coupon they offer is buy 3 get 1 free and up to $30 off on standard oil changes.
• Jiffy Lube oil change coupons provide you with a $5 off an oil change. Their services include 5 quarts motor oil with an oil filter along with cleaning of windows, checking the pressure in tires and other small tasks.
• 5-minute oil change coupons are useful for customers looking to get the service done quickly. They provide a $5 off on an oil change and also provide a few additional services too.
• Pennzoil 10 minute oil change coupons provide a $5 off on motorcycle oil change. These stores provide few more services for fluid, battery and brake fluid problems.
These motorcycle oil change coupons are usually available online also. They can be printed from there and can be used at any of the retail outlets directly.
How To Change Your Motorcycle Oil and Filter