C
ongratulations! You just landed on a Pep Boys oil change coupon collection designed to save you money! Here you'll discover discounts on any type of oil change service at Pep Boys auto care services. We carry different types of special offers for a conventional, semi-synthetic, full synthetic or high-mileage oil change. Did you know, you can even find here Pep Boys military oil change coupon and some very exclusive promotions too?
How Pep Boys Oil Change Coupons Help You Save Money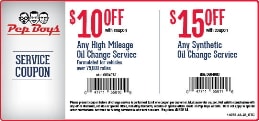 Many vehicle owners visit Pep Boys oil change services every day. This popular service helps keep vehicles in smoothly operating conditions. Most of the drivers usually change the oil in their vehicles every 3,000 miles.
Since your car or truck needs this important service anyway, why not use a valid Pep Boys oil change coupon to save money? Here we collect all promo codes so you can take one of them with you the next time you visit the local Pep Boys auto care center!
Types of Pep Boys Oil Change Discounts
A standard Pep Boys oil change coupon usually offers customers valuable money savings, for example, $10 or $15 off regular price. Also, a coupon might offer a discounted Pep Boys price on synthetic or high-mileage motor oil after you make purchases of four tires or after some other vehicle repair service. Simply read the coupon details closely. Follow the directions in order to save money!
The most popular oil change special offers are:
$10 OFF Any high mileage oil change service
$15 OFF Any synthetic oil change service
$10 OFF 5 quarts of Container Mobil 1 full synthetic or high-mileage motor oil (this coupon excludes Mobil-1 AP)
$10 OFF 5 quarts Container Castrol Edge full synthetic or high-mileage motor oil
$15 OFF Pennzoil Platinum Synthetic and Platinum High Mileage motor oil
Every oil change service at Pep Boys auto centers includes FREE Courtesy Vehicle Inspection, FREE Tire Pressure Check, and FREE Tire Rotation!
What You Should Know Before An Oil Change Service
When you visit Pep Boys for an oil change, let your automotive technician know which type of oil to use. Drivers sometimes ask for either of these two types:
Synthetic oil
Non-synthetic oil
You'll also want to use the correct oil weight listed in the auto care manual. If you don't possess an auto care manual, just ask your auto technician to look up the correct oil weight online for your make and model of vehicle. (Many cars perform well with 30 weight oil.) The technician adds oil to the engine to keep its parts lubricated.
Don't Miss The Opportunity To Save Money With Pep Boys Oil Change Promo Codes
Savvy shoppers enjoy attractive discounted offers on every car service appointment! You'll appreciate saving money by using Pep Boys oil change deals and special offers collected here.
Visit this site every week because we update our Pep Boys coupons database very often! Also, if you find some promo code that is not in our collection, feel free to submit it and help other drivers to save some bucks.
Use a coupon the next time you need an oil change. You'll help keep your engine well lubricated and you'll save money!