If you want to know how much the synthetic oil change cost in all leading auto service centers near you(Firestone, Walmart, Jiffy Lube, Pep Boys, Valvoline), what's the difference in price between full synthetic motor oil vs. synthetic blend vs. high-mileage motor oil, the list of the best synthetic motor oils, how to know if it's the right time for an oil change, and much more, you landed on the right place.
Synthetic oils have many proven benefits over conventional oils. That said, they actually begin their life as conventional oils. Then, they are modified to improve their lubricant and protective abilities, which sets them apart from conventional oils. In fact, synthetic oils are far superior than any other mineral oils available nowadays. According to many vehicle owners, their biggest mistake was not using synthetic oil many years before.
What's also worth highlighting over here is that not all synthetic oils are created equal. As such, synthetic oils can be a blend of different oils, or they can be mostly synthetic. When you are ready to change your vehicle's engine oil, you will have a lot of choices at the table. For instance, some blend of synthetic oils is specifically designed for high-mileage cars. Others are meant to improve your car's fuel mileage, and so on.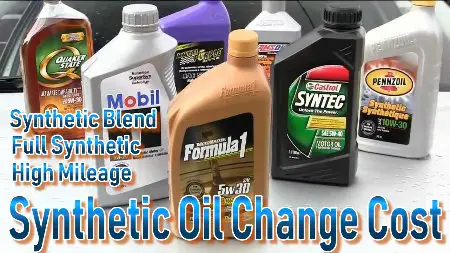 Believe it or not, some formula for synthetic oil will allow you to drive up to 25,000 miles before an oil change. Depending on your budget, car condition, engine type, mileage, manufacturer recommendation, and driving style, you can choose the best synthetic oil for your car. So, let's discuss the different types of synthetic oils available for a motor engine with their prices.
The Best Synthetic Motor Oil
There are a lot of synthetic motor oil brands, some of the most popular are:
Castrol Edge 5W-30
Valvoline SYN Power 5W-30
Mobil1 5W-30
Mobil Super Synthetic 5W-30
Quaker State Ultimate 5W-30
Pennzoil Ultra 5W-30
Pennzoil Platinum 5W-30
Kendall GT-1 5W-30
LUKOIL 5W-30
Schaeffer's Supreme 5W-30
ProLine Motor Oil 5W-30
Lucas Synthetic sae 5W-30
Royal Purple 5W-30
Shell Formula 5W-30
Super Tech Full Synthetic 5W-30
Auto Extra 5W-30
NAPA Synthetic 5W-30
Havoline 5W-30
Amsoil OE 5W-30
FRAM Full Synthetic 5W-30
ENEOS sae 5W-30
Traveller 5W-30
LubriGold 5W-30
CAM2 Synavex Full Synthetic 5W-30
What Is Synthetic Blend Motor Oil?
As the name suggests, this is a blend of both conventional and synthetic oil. Basically, it's a hybrid of conventional and synthetic oil. The oils are mixed together so that the oil turns out a little better than your conventional oil. To put it simply, the presence of synthetic oil does the trick over here. As marketed, it provides a higher level of protection than your regular oil. The semi-synthetic motor oil offers a nice balance, both in terms of price and engine protection. Therefore, it's a popular choice among SUV and truck owners who are keen on using synthetic oils without stretching their budget. It's cheaper than full synthetic motor oil and better than conventional oil.
Full Synthetic Motor Oil
As hinted earlier, full-synthetic motor oil is pricier than the synthetic blend oil, but it offers superior protection, which may prolong the life of your car's engine. Of course, not every car needs this oil. Generally, owners of premium or sports cars prefer full synthetic oil over other options. Since it's mostly synthetic oil, it's able to maintain peak lubrication, even at high temperatures. It's often recommended for newer vehicles too. Given the quality of full synthetic motor oil, it definitely boosts the performance of a car. So, a shift to a full-synthetic oil is turning out to be a norm these days.
High-Mileage Motor Oil
As the name suggests, this oil is ideal for cars that have covered a lot of mileage because it contains addictive and seal enhancers in it to take good care of older engines. Other than reducing wear and tear, it also prevents the build-up of oil sludge. In other words, it extends the lifespan of a car's engine. Since this oil can resist higher than usual temperatures, the chances of leakage are less as well. Of course, the high-mileage motor oil also enables vehicle owners to go longer in between motor oil changes. The general recommendation is that you should use this oil on cars that have driven 75,000 miles. Alternatively, it can be used on car engines with signs of premature wear and tear.
Synthetic Oil Change Price Discussed:
Full Synthetic Motor Oil vs. Synthetic Blend Motor Oil vs. High-Mileage Motor Oil
Price-wise, the synthetic blend motor oil is at least 30% cheaper than the full synthetic motor oil. However, here's a catch that you need to be aware of. Even the low-end full synthetic oil will last for at least 5,000 miles. The expensive ones can go up to 15,000 miles before oil change. With synthetic blend motor oil, the average motor oil change interval isn't very high. For those who don't know, the oil change vicinity is close to 6,000. Some brands can last up to 7,500, which is still half of what premium brands of full synthetic motor oil offers.
The price of the high-mileage motor oil falls somewhere in between. It doesn't cost as much as full synthetic motor oil. At the same time, it's pricier than synthetic blend motor oil. As such, a five-quart of high-quality synthetic oil would cost around $40 to $75 dollars. In this price, a filter replacement would be included too. It goes without saying, you need to confirm this with the auto repair center at the time of oil change. The price for synthetic blend motor oil can start as low as $20 in some places.
Firestone Synthetic Oil Change Price
Synthetic Blend Oil - $19.99
Full Synthetic Oil - $49.99
Valvoline Synthetic Oil Change Price
Synthetic Blend - $33.99
Full Synthetic - $49.99
Jiffy Lube Synthetic Oil Change Price
Synthetic Blend - $45.98
Full Synthetic Oil - $66.98
Sears Synthetic Oil Change Price
Synthetic Blend Oil - $24.99
Full Synthetic - $51.99
Goodyear Synthetic Oil Change Price
Synthetic blend - $39.95
Full Synthetic oil change - $59.95
NTB Synthetic Oil Change Price
Synthetic blend - $39.99
Full Synthetic - $69.95
Pep Boys Synthetic Oil Change Price
Synthetic blend oil change - $44.99
Full Synthetic oil change - $74.95
Express Oil Synthetic Oil Change Price
Synthetic blend - $41.99
Full Synthetic - $59.99
Of course, you could be asked for a little more or less depending on the auto repair center you visit for an oil change. Not to mention that some engines can hold more oil than usual, which could also shoot up your expense because more oil would be needed for refill. Also, bear in mind that synthetic oil change prices keep fluctuating a bit due to increased overhead, location of the auto center, and inflation. So, it's better to check the latest pricing from the auto repair center before paying a visit.
Synthetic Oil Change Cost Conclusion:
The type of motor oil you use on your vehicle will make a big difference in your car's overall performance. Follow the car's owner manual to know which oil is best for your vehicle. The owner manual will tell you exactly what the car manufacturer recommends for an oil change. It will list the thickness of the oil, the engine's motor oil capacity, whether you should be using conventional or synthetic oil, and precisely when you should change the oil. If the owner manual is lost, it won't mean the end of the world. A skilled technician may always have the answers to the questions listed above. So, it helps to take your car to a reputable auto repair center to get the oil change job done right without any fuss.