Luxury cars have a swag of their own. And, they have a cost of their own. The upfront cost aside, their maintenance cost can be ground-breaking as well. As drivers of BMW cars may already know, even a small dent can create a big hole in the wallet. The short version of this car story is that you should be prepared to spend more than usual for car maintenance. The same goes for an oil change. Of course, the cost won't be outlandish for an oil change. But then, it won't be the same as what one pays for non-luxury cars, despite the fact that the labor involved may be the same.
When Is Right Time To Change Motor Oil On Your BMW
The good news is that most of the modern BMWs can last up to 15,000 miles, which means that you can trust your car to run tens and thousands of miles in between oil change intervals. Keep in mind that most regular vehicles average 3,000 to 7,500 miles, which means that you don't have to change the engine oil as frequently as you would with other non-luxury cars. In essence, the extra cost goes a long way due to the decreased frequency of oil changes. Roughly speaking, you can expect one driving year before an oil change. Of course, this also depends on the year, model, and driving history of the car because some older BMWs don't offer a lot of mileage between oil changes.
What Is The Best Oil For Your BMW
The primary difference-maker over here is the type of oil used in the car. The older models used conventional motor oil. On the other hand, the newer BMWs use synthetic motor oil because the newer models can't tolerate cheap oils. Not to mention that they are built better than the older models. So, they deserve better oil. As vehicle owners may already know, synthetic oil is a class apart from the rest. Containing few impurities and added protection features, synthetic oil adds new life to the car's engine like no other comparable oil out there, enabling a vehicle to perform far better than usual. Of course, this special oil will come at a hefty price per quart. Keep in mind that some BMWs can consume 7 or 9 quarts of engine oil, which means added cost on your wallet.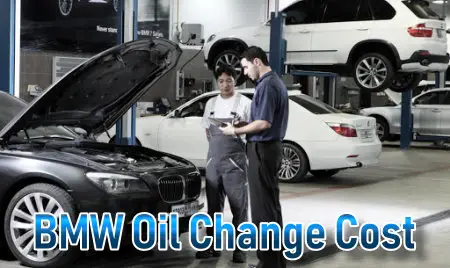 What's also worth mentioning over here is that newer BMW cars usually get the first oil change done for free. After that, of course, one should be willing to bear the expense from their own pocket. That said, local mechanics may be able to do the oil change job cheaper than the market rate because of the sheer reason that they won't pay attention to the details or quality. Therefore, it's not worth taking your beloved car to a local garage. The chances are that they might do more harm than good to your car. Believe it or not, the frightening possibilities can be beyond your wildest imaginations. On the other hand, getting the oil change job done from a reputable auto repair store will offer you great peace of mind, along with the following benefits:
Improved engine performance
Protection of vital parts
Prevention of unnecessary car breakdown
Increased vehicle lifespan
Better gas mileage than before
Easily pass the next vehicle emissions test
Environment protection
BMW Oil Change Cost in a Nutshell
As hinted earlier, the price would vary based on a lot of factors, usually the car model, the physical location, and the type of oil used in the engine. Typically, most dealerships charge around $200 to $300 for a BMW oil change. This cost usually includes other things as well, such as a new filter, tire rotation, emission test, etc. Therefore, the oil change cost may not create a big hole in one's wallet, especially for BMW owners. Also, keep in mind that spending $200 to $300 dollars for every 12, 000 to 15,000 miles is not really a bad deal. Of course, if you are putting cheap oil, then you can't expect high mileage, even from a BMW. As such, it's easy to tell when it's time for service because most of the modern-day luxury cars come with some sort of reminder indicator telling vehicle owners when the next service is due.
Here, we compare oil change costs from the biggest auto service chains so you can easily find how much you will pay at Walmart Auto Centers, Firestone Auto Centers, Jiffy Lube, Valvoline, Pep Boys, etc…So, get in touch with a reputable auto repair center, even if it means spending a bit more than usual.
Get BMW Oil Change Coupons and Save Money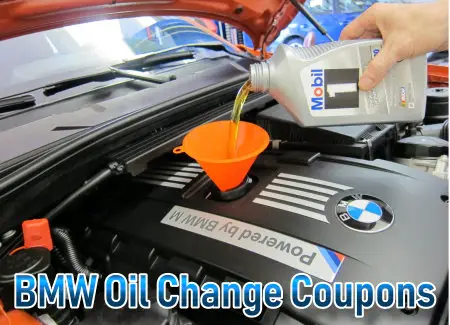 We suggest many discount oil change coupons to our readers from time to time, helping BMW drivers save a lot of money on their next visit to the dealership for an oil change. Some of the coupon codes may offer massive savings, especially for military personals. Yes, veteran discounts can be a huge money saver. Sometimes, special oil change coupons are available for senior citizens as well. No matter what category you fit in, we will try to find the best deals for you. You can view new offers on our site on a regular basis. No matter how many miles your car has driven, you will benefit from the BMW oil change coupons listed over here. So, take advantage of these hard-to-find discount codes from top brands, and schedule an appointment so that the car technicians can start working on your BMW today.
Here you can find promo codes for:
Conventional Oil Change
Semi-Synthetic Oil Change
Full Synthetic Oil Change
High-Mileage Oil Change
And we present to you coupons from all leading auto services:
Final thoughts on BMW Oil Change Coupons and Prices
Your BMW must have cost you tens and thousands of dollars. Therefore, you shouldn't take the car maintenance for granted. As a maintenance procedure, it's important to change the motor oil before it gets very thick. If a lot of particles are allowed to float in the engine oil for longer than usual, the damage can be grave, costing you thousands in repairs. Ideally, you should look at the manual that comes with the car because BMW spends millions and millions of dollars on research and development. So, they clearly know what they are recommending to the vehicle owners via the owner manual. If the manual reads 7500 miles, then follow the manufacturer's recommendation, and get the oil changed within the 100 miles range of the recommended mileage. Of course, don't forget to use the BMW coupon codes listed on our site to save some quick bucks without doing neck-deep research as we do.