What's the best high mileage oil brand and why should you care? As vehicles age, seals and gaskets wear out and the chance that your vehicle will leak oil increases. The thinner the oil, the more likely that you'll experience oil leaks which not only makes a mess of your garage and driveway, it's environmentally unfriendly too.
Plus it means you have to top up your oil which costs you money. (Check some oil change coupons)
And if you forget to top up your oil and you run dry, you'll do serious damage to your vehicle and possibly ruin your engine which suffices it to say, costs a lot more to repair than simply topping up your oil or better yet, having your vehicle repaired.
High mileage oil is specially formulated to take into account that your vehicle is older and may require special care that a regular motor oil won't provide. Some of the benefits that high mileage oil brands claim include the following:
1. The best high mileage oil brands are usually thicker (more viscous) than regular conventional oil brands. The thicker the oil the less likely it will leak through damaged or worn seals and gaskets.
2. The best high mileage oil brands also have additives that can help to offer benefits such as extra lubrication, cleaning benefits (i.e. through the use of detergents) and the ability to withstand higher temperatures than conventional oils.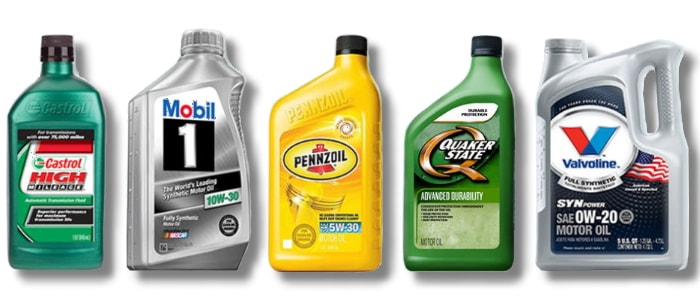 Best High Mileage Oil Brands
Here are some of the best high mileage oil brands that tend to be aimed at vehicles that have in excess of 75,000 miles of around 120,000 km.
Castrol GTX High Mileage: Aimed at engines with in excess of 75,000 miles on them, GTX claims benefits such as superior oil-burn off protection, sludge builds up protection, seal conditioners to reduce leaks and additives to minimize engine wear.
Mobil 1 High Mileage: A fully synthetic high mileage oil with extra anti-wear additives, seal conditioner to help prevent leaks.
Pennzoil High Mileage Vehicle: It's a conventional oil with additives to help keep your high mileage engine clean and protected against wear.
Quaker State High Mileage Oil: Quaker State's product is one that claims that it helps to reduce friction-related wear, offers a thicker oil to protect worn engine parts, helps to seal leaks to reduce oil loss and improves combustion chamber sealing to reduce compression.
Valvoline MaxLife: Valvoline offers several brands of higher mileage oil depending on your requirements and preferences. You can choose from MaxLife Higher Mileage (formulated to fight against leaks, deposits, sludge, and friction), MaxLife Full Synthetic Higher Mileage (offers same benefits as MaxLife Higher Mileage product except that it's a fully synthetic oil with additional additives) and MaxLife NextGen Higher Mileage (made from recycled oil to reduce environmental impact) motor oils.