Is your Audi in need of an oil change? Maybe, it's just a mood strike that brought you here. In any case, we will tell you how much money an Audi owner has to fork out for an oil change. Of course, we will also throw in some coupon codes that will help you save big time on your next visit to an auto repair center. Hopefully, this will end all the curiosity revolving around this topic.
To begin with, Audi owners shouldn't mind paying more than usual for an oil change. After all, it's a luxury car. Even a spare tire will cost more than all the four wheels of a regular streetcar. So, don't expect anything done for a paltry sum of money, including an oil change. That said, it's not the 1970's anymore. So, Audi owners have a lot of options at their disposal, giving them an opportunity to save some money, when seeking an oil change.
Audi Oil Change Coupons and Cost Discussed: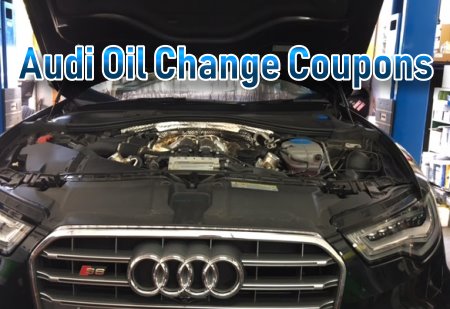 Before we begin to tell you the cost and everything else, let's determine whether or not your Audi is due for an oil change. Depending on the people you may have interacted with, you must have got different opinions on when you should change the engine oil. Even if you don't care much about those opinions, it may have added to the confusion. Therefore, we feel that it's important for us to clear the fog surrounding this topic before we discuss the cost of an oil change.
When Should You Change the Engine Oil in an Audi?
Believe it or not, the modern Audi's are designed to last for 10,000 plus miles between an oil change interval. If your digital speedometer reads 5,000 miles, don't worry about oil change yet. This isn't a regular car that needs frequent oil change. The specs of an Audi are way different from your regular streetcar. Therefore, Audi owners can afford to wait for another 5,000 plus miles before an oil change. Of course, there could be some exceptions to this rule, which are discussed below:
Normally, folks use high-quality synthetic motor oils in their luxury cars, which should partly explain why Audi oil change costs more than usual. However, there is always this fantasy among car owners to use cheap oil to save some quick bucks. If you have used some cheap engine oil during your last visit to an auto repair center, you may have to get the oil change done sooner than 10,000 miles. While this may seem like bad news, this is actually true. Most Audi's can't tolerate cheap oil.
Not to mention that the use of inferior oil can cause other grave issues as well. Believe it or not, low-quality engine oil can damage the internal parts of the engine. Worse yet, they can lower the car's mileage and increase the car's emission. In most cases, the use of cheap oil also voids the manufacturer's warranty. As you can tell, there are a lot of downsides to getting Audi's oil changed for cheap. So, it's not worth trying to be cheap when looking for an oil change. Seriously, we can't stress enough on how important it is to choose the right oil for your Audi.
Of course, no two Audi or driving habits are the same. Therefore, it's really hard to nail down the exact time period for an oil change. City drivers might have to change the engine oil sooner than 10,000 miles. Therefore, your best bet would be to refer to the owner manual to find out the exact interval for an engine oil change. Your drinking buddies or even your favorite car mechanic may be wrong, but everything that's printed on the vehicle manual will be nothing but the truth. So, treat the vehicle manual as a bible, which will tell you when your car's due for an oil change.
Audi Oil Change Cost: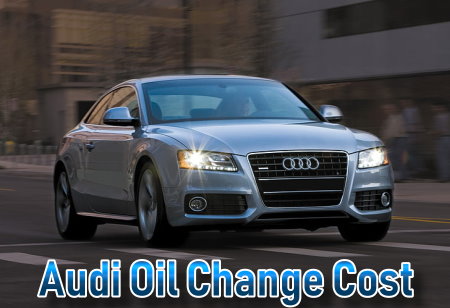 So how much cost to change motor oil on your Audi vehicle? An oil change for your Audi would cost you anywhere between $125 to $150. Of course, the cost would vary based on where you get your car treated. Some local garages may charge even $100 or less, but then they will take the liberty of spoiling your car, causing you giant-size regret in the process. As we all know, the local garages don't hire certified or highly skilled technicians. This helps them keep their running costs low. Therefore, you should take your Audi to reputable dealerships who hire guys that possess the required knowledge and training needed to treat your car well during every service appointment.
On our website, we have oil change costs comparison so you can easily find how much you will pay at Walmart Auto Centers, Firestone Complete Auto Care Centers, Jiffy Lube, Valvoline, Pep Boys, etc…So, get in touch with a reputable auto repair center, even if it means spending a bit more than usual.
Audi Oil Change Coupons
Having read everything, let's treat you with some Audi oil change coupons. These money-saving coupons will offer you a full range of oil change service but at a lower cost than usual. Not to mention that the coupons listed over here are from reputable auto repair centers and not some street side garages. This should tell you that the places we recommend use only factory recommended motor oil and high-quality oil filters. Basically, you will get to enjoy factory specs and excellent service for a lower cost, enabling you to get your Audi road-ready without spending a lot of money. So, save on your next oil change appointment by using the coupons shown on our site. Here you can find promo codes for:
Conventional Oil Change
Semi-Synthetic Oil Change
Full Synthetic Oil Change
High-Mileage Oil Change
And we present to you coupons from all leading auto service chains:
Final Words on Audi Oil Change Coupons and Prices
Most car experts would unanimously agree that a fluid change is the single most important maintenance step that a car owner can undertake for a car's wellbeing. A luxury car is no exception to this preventative measure. Yet, many Audi owners tend to neglect this critical aspect of routine maintenance, which puts their car at the risk of breakdown, resulting in a huge dent in one's wallet. So, don't be that guy who doesn't flush the car's fluids at proper intervals, and ends up spending a ton of money for something that was supposed to a bare-bones expense.