Michelin Pilot Sport Tires have raised the bar in the ultra high performance tire category for those with luxury sedans or sport coupes. These tires come in W,Y and Z speed ratings and feature the latest advanced technology in the tread compound.
Unique swept back lateral grooves give this tire the ability to evacuate water from under the tire on wet roads, while the tires advanced tread compound provide for race car like handling.
Price Range
Michelin Pilot Sport tires range in prices from around $190 for a 17″ series to over $400 for a 19″ series. If we have a valid coupon for this tire, it will be shown below the text. You can find other Michelin tire coupons here
Who Is The Michelin Pilot Sport Tire Designed For?
Michelin has developed the ultra high performance Pilot Sport for drivers of high end sports cars and sedans who are looking for race car handling on dry pavement, as well as excellent capabilities on wet roads.
Michelin Pilot Sport Tire Sizes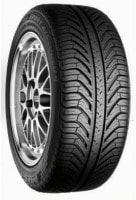 225/45ZR-17
245/40ZR17
225/40ZR18
225/40ZR-18
255/35ZR-18
255/40R18
285/35R18
Pros
Superb handling and performance
Road noise is better than other models in its class
Very good wet and dry pavement traction
Cons
Tread life is not as good as some would like, but this is to be expected with a high performance tire and it's softer and more sticky tread
Warranty
Michelin backs the Pilot Sport tire with a 1-year / first 2/32″ wear uniformity warranty, as well as a 6-year materials and workmanship guarantee. First year is free replacement or 25% of wear, followed by a prorated guarantee for the remaining time.
Michelin Pilot Sport Tire Coupon