There has been a lot of buzz surrounding the Goodyear Eagle F1 All Season tire, with much of it due to the ultra high performance features and characteristics this tire has. With street racing performance to go along with excellent road manners in all kinds of weather, there is a lot to like about this model from Goodyear.
The tire itself features a directional tread pattern and carbon fiber in the sidewalls for added strength and durability on both sides of the tire. TredLock technology is something else new from Goodyear that gives this tire its all season traction and improved braking performance. Goodyear has even added a special rim recess to help prevent your wheels from being scratched and damaged from scraping curbs.
Wet weather handling is improved due to a continuous center rib, larger shoulder blocks and unique aquachutes that evacuate water, slush and snow from under the tire. Hydroplaning is greatly reduced, adding more driver confidence as well. Two steel belts that are also wound with Kevlar, combine with polyester cord body to give the tire crisp and responsive handling on all road surfaces.
Price Range
Prices on the Eagle F1 range from around $140 for the 17 inch series, to approximately $275 for the much larger 20 inch series tire. Here are all tire brand coupons. Goodyear tires discounts are here.
Who Are Goodyear Eagle F1 All Season Tires Designed For?
Goodyear has designed the Eagle F1 tire for drivers of all types of sport coupes, sedans and other models of sports cars where you are seeking a tire that not only provides excellent handling and cornering, but also gets you around in all tyeps of weather conditions.
Goodyear Eagle F1 All Season Tire Sizes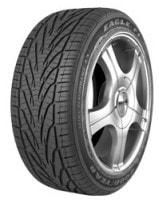 215/45ZR17
215/50ZR17
225/45ZR17
225/50ZR17
235/50ZR17
235/55ZR17
245/40ZR17
245/45ZR17
255/40ZR17
275/40ZR17
225/40ZR18
225/45ZR18
235/40ZR18
235/50ZR18
245/40ZR18
245/45ZR18
255/35ZR18
255/40ZR18
265/40ZR18
275/35ZR18
275/40ZR18
285/30ZR18
235/35ZR19
245/35ZR19
245/45ZR19
255/35ZR19
275/40ZR19
255/35ZR20
Pros
Dry pavement traction and handling is superb
Excellent steering response gives added confidence behind the wheel
Tire is a solid performer on wet roads
Cons
High performance comes at a cost of ride comfort
Warranty
Goodyear tires backs up the Eagle F1 All Season tire with 6 year guarantee on materials and workmanship. It includes a free replacement for the first year, or 2/32″ of wear, followed by a prorated amount down to the final 2/32″ of useable tread wear.
There is no tread life guarantee on this Eagle F1, but there is a 30 day test drive in which you can exchange the tires for a different model from Goodyear in the event you do not like them. Finally, you also get a free 2 year roadside warranty as well.
Goodyear Eagle F1 All Season Tires Coupon