Falken has been producing high performance tires for coupes and sedans for some time now, but this new Falken Ziex S/TZ-04 gives SUV, Crossover and light truck owners an ultra high performance option they didn't have just a few years ago.
The S/TZ-04 sports an asymmetrical tread pattern that has been kept non-directional so that you will not have any trouble rotating the tires every 5-10,000 thousand miles. This is a boon for those who have been used to single-face tires which have to be rotated very carefully.
The Falken Ziex S/TZ-04 has a two into three block pattern on the tire to ensure that it gives a smoother ride and one that is extremely quiet as well. In fact this model is one of the quietest tires in its class. This pattern is especially useful to ensure that there is more even wear on the tread, which enhances tread life.
When it comes to stability on the highway, the Ziex S/TZ-04 does not have an equal in its category. This has been made possible by high angle lateral grooves and, when you glance at the tires carefully, a set of four grooves on the circumference of the tire. These grooves function well by flushing water out from beneath the tire on wet surfaces, which virtually eliminates any risk of hydroplaning. They also provide better traction on all kinds of terrain. A center rib around the tread makes for improved support and longevity.
The tire also looks great with a unique sidewall styling. They offer either a black sidewall or raised white letters depending on the tire size. Another nice feature Falken has added is a rim protector that is built-in to protect your expensive alloy wheels from curb damage.
Overall, the Falken Ziex S/TZ-04 is truly an excellent performing all-season tire on wet or dry pavement. Traction and handling are well above average. The other areas this tire excels in are with its quiet and more comfortable ride.
Falken Ziex S/TZ-04 Tires Price Range
Prices on the Falken S/TZ-04 range from around $115 for 15 inch series tires to approximately $300 for 24 inch series tires. If we have a valid Falken coupon for this tire, it will be shown below. You can find another Falken tire review or discount coupons here.
Who Are Falken Ziex S/TZ-04 Designed For?
Falken has developed the Ziex STZ04 for drivers of SUVs, light trucks and crossovers who are wanting a tire for all-season performance that provides excellent traction and handling, as well as a more quiet and comfortable ride.
Falken Ziex S/TZ-04 Tire Sizes
15″
LT235/75R15/C 104Q W
P255/70R-15 108S OWL
P265/70R-15 110S OWL
30X9.50R15/C 104S W
31X1050R15C 109S OWL
16″
P215/70R-16 99S OBL
235/70R-16 104S OWL
P245/70R-16 106S OWL
P245/75R-16 109S OWL
P255/65R-16 106S B
P255/70R-16 109S OWL
P265/70R-16 111S OWL
265/75R16 114S OWL
P275/70R-16 114H OWL
LT285/75R16/D 122Q W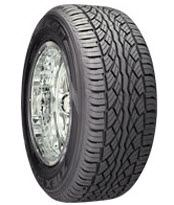 17″
245/65R-17 107T BLK
P255/65R-17 108S OWL
P265/65R-17 110T BLK
P265/70R-17 113T OWL
275/60R-17 110S OWL
18″
P255/55R-18XL 109H B
P255/70R-18 112S OWL
P265/70R-18 114S BLK
275/60R-18 113H BLT
LT275/70R18E1 125S W
P285/60R-18 116H B
20″
P265/50R20 XL 111H B
P275/45R-20 106H B
P275/55R20 XL 117H B
285/50R-20 112H BLT
P295/45R-20 XL 114H
P295/50R-20 114H B
P305/50R-20XL 120H B
22″
265/35R-22 102H XL B
265/40R-22 106H XL B
275/45R22XL 112H BLT
285/40R-22 110H XL B
285/45R-22 114H XL B
305/40R-22 114H XL B
P305/45R-22XL 118H B
23″
P305/40R-23XL 115H B
24″
295/35R-24 110H XL B
295/40R-24 114H XL B
305/35R-24 112H XL B
Pros
Excellent dry and wet road traction
One of the most quiet and comfortable tires in its class
Long lasting tread life to go with a 50,000 mile warranty
Cons
May not be ideal for extreme off-roading but they are not off-roading tires.
Warranty
Falken Tires backs up the Ziex S/TZ-04 with a 50,000 mile treadlife warranty. Tire uniformity is guaranteed for the first 2/32 inch of wear.
Materials and workmanship are covered for the life of the tires and include a free tire replacement during the first 2/32 inch of wear. They follow that up with a prorated amount down to the final 2/32 inch of useable tread life on the tire.
Falken Ziex S/TZ-04 Tire Coupon