Many people don't understand zero-turn tires very well. Obviously, this results in sloppy purchase decisions. Things take a turn for the worse when the handpicked tires don't fit or perform as expected by the product purchaser. For instance, many of the zero-turn tires out there don't have enough traction to climb hills. Some of them can even damage the grass underneath, causing the buyer some degree of grief in the process.
If you own a field with steep hills, you will have to be extra cautious about your tire choice. You can't get just about any zero-turn tire that catches your eyes and expect to be happy with it. As hinted earlier, a lot of tires don't perform reliably on incline surfaces. To ease your shopping concerns, let's introduce you to the top ten zero-turn tires for hills. We are highly optimistic that you will surely get desirable results from these tires because of how nicely they are constructed for their intended purpose of use.
Top 10 Zero Turn Tires for Hills
1. Deestone D265 Turf Tire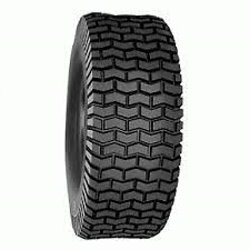 This zero turn tire can handle all weather conditions like there's no tomorrow. The top-notch rubber compound used in its construction provides great stability even on uneven surfaces. Seriously, it provides an amazing hold on rocky and bumpy terrains. Did we mention that it doesn't cost a fortune? Frankly speaking, the price tag is as user-friendly as it can get for a turf tire of its nature. Given the quality, it may even seem to you that there is something temporarily wrong with the price tag. In short, this turf tire is a steal at its price.
Deestone D265 Turf Tire Highlights:
There are no major compromises made to keep the price of this tire low. However, it won't be able to beat other pricier models in a head-to-head competition. That said, this zero turn tire is sufficiently good for its intended purpose of use. As hinted earlier, it's usable on both wet and dry surfaces.
Even slight mud won't pose a major challenge to his tire. Also, this thing won't damage your turf like other affordable turf tires out there. As advertised, the Chevron-style tread blocks do a wonderful job of protecting the surface underneath the tires. On top of this, the turf tire holds up well to a lot of use.
Pros:
Not too difficult to mount
Works in ice and even snow
Won't damage the turf
Suitable for budget-minded folks
Cons:
Won't perform well in deep mud
2. OTR GrassMaster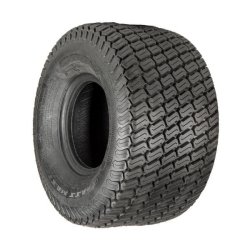 This tire has been a hit with the masses. Almost all the previous tire shoppers have praised this zero turn tire for what it is. Not only does it perform well, but it also holds up well to a lot of use. Moreover, it goes on the rim without any fuss. Yes, it fits just right without any struggle. Basically, this tire scores well in all critical aspects of use. The price of this lawnmower tire is spot on too. Not to mention that it has decent looks as well.
OTR GrassMaster Highlights:
As per the advertised benefits, the OTR GrassMaster provides excellent traction over both wet and dry surfaces. Unlike the competition, it also works great on steep hills. The best part is that it doesn't cause too much damage to the turf. That said, it's doesn't perform very well in deep mud like most other lawn mower tires out there. On the bright side, the tread life of the tire is too good to be true. You will surely get plenty of use out of this tire.
Pros:
Solid tire construction
Remarkably easy to change
Performs well on steep hills
Has received satisfactory reviews
Cons:
Not for driving in deep mud
3. Carlisle Super Lug Lawn & Garden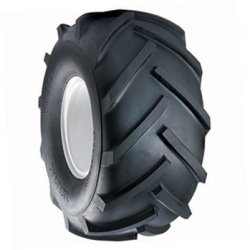 This turf tire is one of the best sellers in its product category, which explains why we are able to recommend it to others without any reservations. The tread lugs on this tire are so deep that it can easily fight through anything on its way. Just so that you know, this tire won't lose traction, even on the steepest incline. It provides amazing traction on almost all surfaces, including deep mud. Like any other Carlisle tire, it's damn durable too.
Carlisle Super Lug Lawn & Garden Highlights:
As hinted earlier, this tire is well-made enough to go right through everything you point it towards. The best part is that it won't rip or tear the grass underneath. Yes, this tire leaves very less impact on the grass. Given how well the tire performs on all surfaces, you will be able to use it in all weather conditions without getting stuck. The tire also mounts easily without any hiccups. Overall, the decision to get this zero turn mower won't prove to be a bummer.
Pros:
Great match to steep inclines
Doesn't lose traction in wet grass
Performs well in soggy mud too
Doesn't get beat up quickly
Will be gentle to your turf
Cons:
Slightly bumpier on concrete
4. Carlisle Straight Rib Lawn & Garden Tire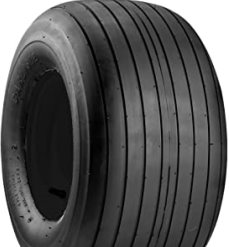 Carlisle also offers a budget-friendly zero turn tire. Yes, this tire won't destroy your wallet. Of course, it won't hurt your feelings too. In short, no lofty or unethical practice is being followed to keep the cost of the tire low. Despite the low cost, it's as good as other pricier tires. Given the quality, it will be easy for you to explain it to yourself that Carlisle must have definitely kept a low-profit margin on this tire. Believe it or not, the tire lasts horrifyingly long for a low-cost tire of its nature. So, you won't have to think about getting a replacement tire anytime soon.
Carlisle Straight Rib Lawn Highlights:
One of the notable things about this tire is that it's very responsive to the driver's inputs. You will also find it easy to turn the tire in tight spaces. Moreover, the tire doesn't lack the traction to support steep climbs. In fact, it will even help you conquer slippery surfaces like a champ.
As expected, the tire doesn't harm the grass underneath it. Of course, it also rides very well on the mower. The amount of effort it takes to mount this tire is quite less too. Moreover, the tire doesn't get deformed easily with age like other inexpensive tires sold these days.
Pros:
Inexpensive zero turn tire
Not difficult to install or remove
Can handle slippery surfaces
Doesn't harm the turf
Lasts a long time
Cons:
5. WANDA 2 Lawn Mower Cart Turf Tires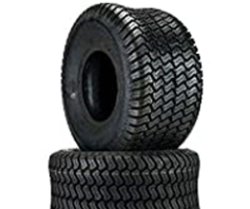 This tire is one of the best heavy-duty turf tires sold these days. This beast of a tire can overcome any obstacles on its way. Just so that you know, it not only fits a lawnmower, but it goes well with any other garden utility vehicle out there. As the product title hints, you get two tires in a package deal along with a warranty on them, which definitely sweetens the deal. Believe it or not, equivalent heavy-duty turf tires usually sell for almost double the cost of this product.
WANDA 2 Lawn Mower Cart Turf Highlights:
The tire features a wide shoulder design for maximum traction on all surfaces. The wide shoulder design also helps with optimal weight distribution. The tire will go up any steep hill like it's nothing. Seriously, hills and slippages are no big deal for this tire. Also, the tire doesn't mess up the grass underneath it. Yes, the aftermath would be routine cutting with no grass damage whatsoever. Keep in mind that this tire also rides smoother than your standard turf tire.
Pros:
Sold at a great price
4 ply construction
Easy to mount by hand
Doesn't deform easily
Nicely sealed in plastic
Cons:
6. Marathon Flat Free Lawnmower Tire
This tire drives a lot better than other comparable zero turn tires out there. Subsequently, you won't feel every bump or imperfection on the lawn. You will also appreciate the sheer ease by which you will be able to turn the vehicle. Keep in mind that the tire can handle steep inclines as well.
Marathon Flat Free Lawnmower Highlights:
The company has used solid polyurethane foam to construct this tire, which allows the tire to be both flexible and durable at the same time. The tread on it also does a fantastic job of protecting it from unexpected damages. Seriously, it will take a long time for this tire to wear out. It really lives up to its name.
This lawnmower tire is built for the long haul. Of course, it also keeps your turf as beautiful as before. This is to say that the tire won't damage the grass underneath it. Not to discount the fact that the tire has a weight capacity of 400 lbs, which should tell you that it can keep up with heavy-duty work.
Pros:
Constructed from solid rubber
Easy to put the tire on
Offers a smooth ride
Tread doesn't destroy the turf
Weight-bearing capacity of 400 lbs
Cons:
7. Kenda K358 Turf Rider Lawn and Garden Bias Tire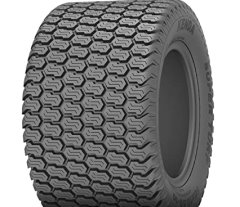 If you need a tire that will be gentle on your turf, this tire should be a no-brainer choice. As marketed, this turf tire rolls smoothly on the turf without damaging the surface underneath it.
Kenda K358 Turf Rider Highlights:
The Kenda K358 tire is good for its intended use. It offers adequate traction to conquer hills. The steering response is also much better than equivalent tires. Not to mention that it looks as good as the product images portray it to be. For the money spent, it holds up well too. In fact, you will be surprised by the tire's ability to withstand abuse and still ride strong. Yes, this thing will perform as good as new tires for a long period.
Pros:
Goes on the vehicle easily
Excellent traction on all surfaces
Performs well on steep hills
Won't damage your turf
Load capacity of 695 lbs
Price couldn't have been better
Cons:
Not for highway use
Not the best packaging
8. Kenda K500 Super Turf Lawn and Garden Bias Tire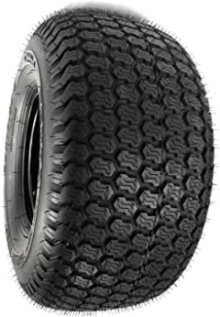 This is another rock-solid turf tire from Kenda that will surpass your expectations by leaps and bounds. Yes, this affordable zero turn tire has all the nice characteristics to blow your mind. Even steep hills won't faze this tire, making it a temptingly good choice for all the budget shoppers out there.
Kenda K500 Super Turf Highlights:
This turf tire offers a smooth ride. The fact that this is a 4 ply tire, the arm strength required during driving will be lesser than usual. The hill stability is praiseworthy too. The best part is that the tire works fine in tight spaces as well.
Another great thing is that this tire is more puncture-proof than other turf tires sold in the same price spectrum. Yes, the tread pattern won't get damaged easily. It also holds air nicely. Did we mention that it has an excellent load capacity of 620 lbs?
Pros:
Has more grooves/sipes
Can be easily installed
Doesn't tear the turf
Looks sharp in a vehicle
Arrives in described condition
Cons:
Can't beat pricier models
9. Hi-Run LG Turf Lawn & Garden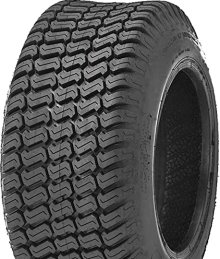 This turf lawn tire is well-made and affordable, both at once. It will fit your vehicle just like the original tire. Once installed, the tire will do everything expected out of it. It will even manage to hold the terrain in your yard, where it's extremely steep. Yes, this thing has more traction than other competing tires. It's also thicker than most lawn mower tires, which explains why it's able to do its job so well. Keep in mind that this turf lawn/garden tire has received fantastic reviews as well.
Hi-Run LG Turf Highlights:
The tire features closely packed tread blocks for excellent traction and balance. It also has wide shoulder blocks to minimize damage to your turf. Plus, this thing is highly durable. It has a solid load capacity of 750 lbs. Let's not forget that it comes at a cheap price tag too. This tire really beats the old saying that states that you get what you pay for. The Hi-Tun LG Turf Tire offers you more value than the money spent on it.
Pros:
Functional and affordable turf tire
Thicker than most turf tires
Inflates without any issues
Offers more traction too
Arrives in great shape
Cons:
Little bumpier than stock tires
10. MaxAuto Lawn & Garden Mower Tractor Turf Tires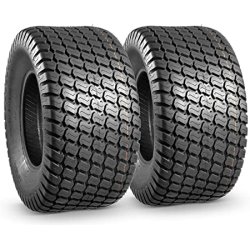 These are a set of quality tires that do their advertised job very well. The tires are relatively easy to install, and they are capable of tackling everything on their way. They turn better than other turf tires out there. Appearance-wise, they look every bit high-end. Seriously, no one will be able to tell that you spend less than a hundred dollars for a set of 2 tires. It's also worth mentioning that the tread pattern is nice enough to last long.
MaxAuto Lawn & Garden Mower Tractor Turf Highlights:
Unlike most other turf tires in the same price range, these ones won't leave bad marks on your yards. Yes, these tires will be easy on your turf. So, you won't regret getting them in lieu of other turf tires out there. You can also install this turf tire on your own. Seriously, installation requires very little work. On the whole, you will be totally satisfied with both the quality and price of this turf tire. Only those with unrealistic expectations have said bad things about this tire.
Pros:
Sold at a bargain price
Noteworthy performance
Fits in its place perfectly
Can climb anywhere without sliding
Doesn't cause bad spots on the lawn
Cons:
Shipped in plastic wrap. No boxes
How to Choose the Best Zero Turn Tires for Hills?
Visually, most of the zero turn tires look the same. So, how do you choose the best zero turn tire from all the junk out there? Well, we will tell you exactly how to do it.
Do your prep work
First and foremost, learn how to differentiate between the various models of zero turn tires out there. They may all look similar, but they will differ in features. Seriously, the difference between two zero turn tires can be night and day. So, don't fall for the looks. Instead, make an educated decision by taking a look at the product features and other vital characteristics.
Of course, keep your need in mind as well. While some models are meant for heavy-duty work, others can only manage lighter work volume. It's not the tire's fault if you are expecting more out of it when it's not designed for more work. Also, make sure to get the right size. After all, it's not suggested that you change the width and diameter of the tires.
Radial vs. Bias-Ply Tires
You should know the difference between them so that you end up making the right choice. Radial tires are characterized by great responsiveness, excellent tread life, and low weight. Because of these benefits, you might have seen a great surge in their popularity these days.
Bias-ply tires are a bit different. They are heavier and less responsive than bias-play tires. However, they are far more durable. In other words, bias-ply tires are far more resistant to punctures and damages than radial tires. The added durability comes at an extra cost, though.
Yes, they cost more than radial tires. Therefore, we wouldn't suggest that you get bias-play tires for no rhyme or reason. Ideally, you should get them only if you do a lot of off-road driving. As hinted earlier, the bias-play tires will survive a great deal of abuse and still last long.
Choose the Right Tread Pattern/Design
As expected, zero turn tires come in different tread patterns. Almost all manufacturers use different compounds during the construction process to make their zero turn tires stand out from the rest. Of course, some models may still have similar tread patterns, though.
Let's look at some of the tread patterns that you can consider based on your needs. For a completely flat turf, flat or slick tires can be a great choice as these tires don't provide a lot of traction, which is not needed on a flat turf. The best part is that these tires will do the least damage to the grass underneath. The only major hiccup is that you won't be able to use them on steep hills due to lack of traction.
You can also go with ribbed zero turn tires, which have pretty similar characteristics to flat turf tires. They differ a bit with respect to circumferential grooves, though, which provide a marginally better sideway grip. Again, they are not the best choice when it comes to uphill driving. If your field has hills with lower ascents, you can go with turf-saver tread design tires. These tires come with enough traction to work on hills while not causing any harm to the grass underneath.
For those who don't know, they generally feature large lugs to provide sufficient traction over mud or turf. If you are seeking zero turn tires that can handle both steep hills and slopes like a boss, the all-terrain knobby tires should be a no-brainer choice. These tires have conquering abilities. They can power through both wet and dry surfaces like they are nothing. That said, reckless driving will cause them to damage the surface underneath them.
Finally, tires with large lugs should be an ideal choice for someone who wants tires with great uphill abilities. These tires can ride steep hills, even when it's all muddy. So, they can be considered for heavy-duty applications. But then, these tires will be a little harsh on the grass underneath them.
Final Words about Zero Turn Tires for Hills
You must have probably learned a lot about zero turn tires by now. So, we are expecting you to make the right purchase decision without any fuss. Should you face any dilemma, let us know by posting a comment below.