As you guys read this, you might get reminded of your first truck. The chances are that you drove it around the neighborhood with all glory during your prime years. Of course, we don't intend to say that your prime years are left behind.
The point here is that it's normal to get reminded of your first truck when discussing a relevant topic. And, if it's a diesel truck, there might be a succession of stories to fancy about. That said, the diesel trucks of today are not what they used to be in the past.
As expected, a lot has changed about them. But then, the premise stays the same. They are still considered to be a better workhorse than gas engine-powered trucks, which explains why they never seem to lose a popularity contest.
Of course, the best tire for a diesel truck would be highly dependent on its purpose of use. If you drive mostly on the roads, you will have to choose a different tire than someone who drives mostly on snow or elsewhere.
Along the same lines, if you are carrying heavy loads, you can't depend on cheap garbage tires to do a good job. The price of the tire will also influence your decision. You also need to consider the tire's lifespan. In short, a lot needs to be taken into account.
If you are yet to find the best tire for your diesel truck, we suggest that you consider the options given below. After all, it's annoyingly difficult to find appropriate truck tires on your own. There's too much competition out there.
You might not even know which companies make the best tires for diesel trucks these days. This equates to you not knowing the strengths and weaknesses of different tire brands out there. Don't worry; we will help you pick the best tire for your diesel truck.
Top 10 Tires for Diesel Trucks
1. Firestone Transforce HT2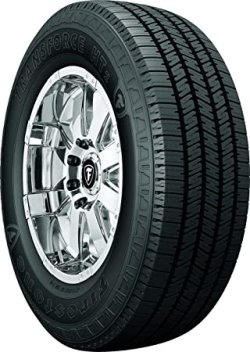 This truck tire is good enough to win accolades from the competition. Seriously, it's a real marvel in its own way. By the way, it's specifically designed for commercial diesel trucks. So, it will serve its purpose of use very well on any given day.
Firestone Transforce HT2 Highlights:
Like most well-made tires for diesel trucks, this thing is built like a tank. Oh boy! The construction quality is unreal, to say the least. Yes, it has got long-lasting qualities. So, it won't fall apart from your vehicle anytime soon, even when you put it to rigorous use.
The product is for aesthetics too. By this, we intend to say that it's not lagging in the area of appearance. As far as the performance goes, the tire runs well on both dry and wet surfaces. It's usable on dirt and gravel too. The braking, stability, and acceleration are up to the mark as well.
Pros:
It's a solid 10-ply rated tire
Nice weight rating of 2679 lbs
Chip, puncture, and tear-resistant
Dates codes on the tires are recent
Cons:
Treadwear warranty is missing
2. BFGoodrich Mud-Terrain T/A KM3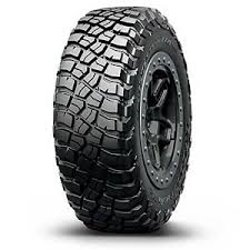 This BFGoodrich Tire ticks all the right boxes. By this, we mean to say that it performs as advertised by the company. It's both functional and flashy at the same time. Seriously, it can handle challenging mud and loose soil like there's no tomorrow.
BFGoodrich Mud-Terrain T/A KM3 Highlights:
The tire features massive tread blocks, which provide a high level of grip when cornering. The interior noise is also lower than usual. This thing can climb too. Yes, it has advanced UTV compounds that provide enhanced grip on rock and steep surfaces.
The load capacity of the tire is praiseworthy as well. At 1557 pounds, the hauling capacity of the tire is definitely better than average. You also get a six-year limited warranty on this tire. In person, the tire looks far more expensive too.
Pros:
Excellent on the mud
Can climb steep surfaces
Tough and long-lasting
Produces little noise
Cons:
3. COOPER Discoverer STT Pro All-Season Tire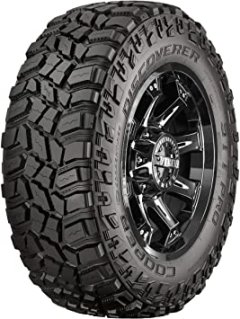 This tire from COOPER needs no introduction. It sells like there's no other competing tire in its product segment. Thus far, the tire has received tens and hundreds of straight-to-the-point positive reviews. This tire totally dominates its space. And, it continues to give other tires for diesel trucks a hard time.
COOPER Discoverer STT Pro All-Season Tire Highlights:
You can do both serious on and off-roading with this tire. It won't disappoint you in any area of use. Believe it or not, the tire feels grippy even on sand and dirt roads. It really has this unstoppable quality to it, which allows it to conquer just about any surface it's driven on.
The tire's construction is such that it truly lasts as long as possible, of course, with some care. It does make some road noise, though. However, it's not too bad at all. Everything considered; this tire would make you a huge fan of COOPER tires. You will sing praises for the brand.
Pros:
Can handle whatever you throw at it
Offers unmatched ride quality
Road manners are really nice
Doesn't clog up even in heavy mud
Continues to beat the competition
Looks pretty great during the ride
Cons:
Has no regrettable features
4. BFGoodrich All-Terrain T/A KO2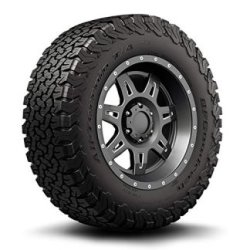 This best tire for a diesel truck has a lot of pleasing properties to it. The only person it might piss off is the delivery guy because of how heavy it is. The heavyweight is a representation of the better-built quality, though. Just so that you guys know, the tire can manage up to 3305 pounds of weight without any fuss.
BFGoodrich All-Terrain T/A KO2 Highlights:
This truck tire is built for exceptional toughness and traction. The anatomy of this tire is really as tough as it can possibly get. Believe us or not, no other diesel truck tire can come close to beating this tire. This thing can last forever, even when driven regularly on less desirable roads.
It also remains highly stable with the trailer attached to it. The tire sticks to the surface like glue at all times, which is perhaps the secret sauce. BFGoodrich doesn't offer a tread life warranty on this tire, though, which appears like a surprising omission from a premium brand like BFGoodrich.
Pros:
Load range of E (3305 lbs)
Doesn't get screwed easily
Brilliant for daily driving
Looks cheap for its features
Cons:
5. Atturo Trail Blade M/T Light Truck Tire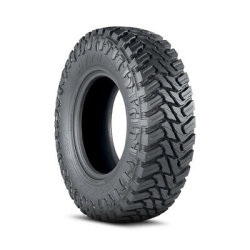 This is a relatively new tire in its segment that has garnered a lot of attention, of course, for good reasons. To tell you guys the truth, this light truck tire is suitable for all occasions. It skims and moves on like a terminator. Seriously, this tire will make you feel like you are on cloud nine.
Atturo Trail Blade M/T Light Truck Tire Highlights:
This tire features meaningful sidewall blocks that allow the tire to handle irregular surfaces like a champ. It also has alternating shoulder lugs to provide a great lateral grip. Plus, it has rim protectors to protect the tire from getting damaged easily. The company has really left nothing on chance.
Pros:
Good for both on and off-road performance
Features deep sipes for enhanced grip strength
Has adequate protection to boost the tire's lifespan
Load capacity of 3417 pounds
Cons:
6. Michelin Defender LTX M/S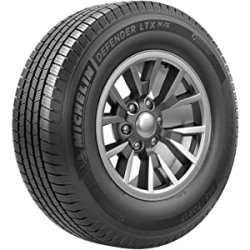 This 80,000-mile rated tire is not another curse to the tire industry. On the contrary, it's a boon. According to past purchasers, it really is one of the best tires for diesel trucks in its specs. It's truly good enough to help you get the most out of your truck. It's expensive, though, because of its superior quality.
Michelin Defender LTX M/S Highlights:
This tire drives like a dream. It provides ample traction, reliable grip, and amazing highway stability. It's also capable of hauling heavy cargo. The tire is strong enough to not succumb to heavy load. The best part is that you get a 70,000-mile warranty on this tire.
Pros:
Rides nicely over bumps
Great highway stability
Good for towing/hauling
70,000-mile warranty from Michelin
Cons:
Not meant for harsh winters
7. General Grabber HTS 60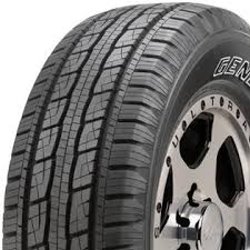 This tire may not have broken all the sales records, but it definitely has a lot to brag about. The number of positive reviews it has received is definitely higher than other tires for diesel trucks in the same price range. It's also wonderful looking, and it rides great.
General Grabber HTS 60 Highlights:
The load holding capacity of the General Grabber HTS 60 tire is 2336.9 pounds, which is pretty good for hauling loads. It also has an absorption layer on it to damper road noise. This tire has received a lot of praise for its overall toughness as well.
It's made from cut and chip-resistant compounds, which allows it to survive longer in tough conditions. The wearing is even as well, which goes to show how well-made this tire is. It's truly optimized for good performance and long-term use.
Pros:
Can be used on SUVs, Crossovers, and light trucks
Features a flatter footprint on purpose
Impedes road noise to a good extent
Provides confident stability at all times
Cons:
8. Toyo Tire Open Country M/T Mud-Terrain Tire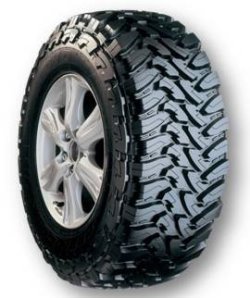 If budget is not an issue, you should get the Toyo Mud-Terrain Tire without any reservations. This diesel truck tire is truly a class apart from the rest, which explains why it carries a high price tag. The fact of the matter is that everyone knows how good of a tire it is.
Toyo Tire Open Country M/T Mud-Terrain Tire Highlights:
This is an E-rated 10-ply tire, which means that it can easily carry heavier loads. Seriously, this thing will have no issues pulling many thousand lbs of weight. It has stiffer sidewalls that help stabilize the vehicle when it's subjected to a lot of weight. It also reduces sway during high-speed driving.
The tough sidewalls help with off-road durability as well. That said, it's not the quietest truck tire around. It's just as loud as any other diesel truck tire. On the bright side of things, the tire's construction is good enough to let it last longer than the competition.
Pros:
Traction is good for mud, ice, and snow
Does pretty well in the rain too
Highway performance is up to the mark as well
Can change the look of your vehicle completely
Can easily last for 50,000+ plus miles
Cons:
Not shipped to Alaska
Definitely not quiet
9. Federal Couragia M/T Mud-Terrain Tire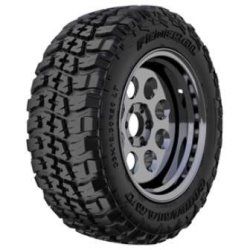 Who needs further convincing when there are already hundreds of reviews stating that this tire is the very best in its class? This tire not only provides you with an aggressive look, but it also offers a comfortable ride with a low humming noise. Of course, this tire is not meant for those on a budget because of how much it costs.
Federal Couragia M/T Mud-Terrain Tire Highlights:
The tire company has made a lot of improvements in this tire over the years. As expected, the Federal Couragia Mud Terrain Tire can go through mud, snow, and even rainwater without any drama or trauma. It definitely doesn't suck when challenged to its limits.
Unlike the competition, you can get good mileage out of this diesel truck tire. Plus, this thing won't wear out fast, allowing your investment to last long. Like any other tire, you should rotate it periodically to get the most use out of it.
Pros:
Reasonably silent on the roads
Mounts without any issues
Quality is exceptionally good
Can pull a lot of loads
Cons:
Does hum a bit at high speeds
10. Achilles Desert Hawk X-MT All-Terrain Radial Tire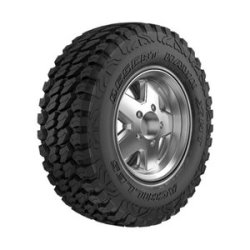 This is a dream tire. It runs nice and smooth on most surfaces. Of course, there are better tires for diesel trucks in the market. But, they cost an arm and a leg. In short, they are nowhere as affordable as this tire. Plus, they don't look as good as this tire. The quality control on this tire is definitely top-notch.
Achilles Desert Hawk X-MT Tire Highlights:
This thing has tons of tread on it, which should tell you that it's built to last long. It's also surprisingly quiet for an aggressive tire of its nature. It balances well too, provided you know what you are doing. So, you shouldn't be nervous about buying this tire. It pulls off well on off roads as well.
Pros:
Can turn your vehicle into a little mud monster
Features X-protection sidewall design to resist damages
Doesn't growl at high speeds
Good traction and product longevity
Shipped in perfect condition
Cons:
Made outside of the USA (China)
Takes some weight to balance
Final Words About Tires For Diesel Trucks
Selecting the best tire for a diesel truck doesn't have to be a back-breaking process. You just need to start shopping for the right tire. We have already paved the way for you by introducing you to the top 10 best tires for diesel trucks. So, you can start shopping right away!