The best Wrangler tires stay hidden from us as if they are the best-kept secrets of the world. The fact of the matter is that there are nearly a dozen ill-made Wrangler jeep tires for every single well-made tire out there. To put it in simple words; the ratio of good and bad tires is the real culprit over here. When faced with so many options, it becomes extremely challenging to shortlist the best jeep tire from all the junk out there.
Needless to say, it would take a lot of digging to find a diamond in the rough. Gladly enough, we will save you some labor. To help you get the most value out of your money, we present to you the top ten tires for jeep Wrangler.
Top 10 Tires for Jeep Wrangler
1. BFGoodrich All-Terrain T/A KO2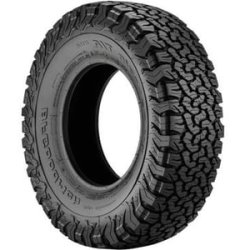 This all-terrain tire has all the qualities to be a suitable tire for your Wrangler. In fact, Wrangler owners swear by this tire. After all, its off-road and on-road capabilities are second to none. Seriously, it can tackle mud, gravel, road, sand, and rocks very reliably on any given day.
Built-wise, the tire is damn strong too. This thing is equipped with solid sidewall armor to increase the tire's puncture resistance. It's really maximized to resist deflation, allowing you to drive more peacefully than before. This model also utilizes an Advanced Deflation Design to deflect protruding objects.
BFGoodrich All-Terrain T/A KO2 Highlights:
The tire comes with a 50,000-mile warranty, which applies to all new purchases. This generous product warranty covers premature wearing of the tire. Keep in mind that this tire can also be used to haul heavy loads. According to the company, it can manage up to 3750 pounds of weight. The tire is also easy to mount and balance. Speaking about the on-road performance, it really has no match in this area of use. The high-speed stability is indeed unmatched. The cornering capability is good too. The 3PMSF rating ensures solid snow performance as well.
Pros:
Advanced rubber compound to reduce wear and tear
Raised bars for better snow, mud, and rock traction
Meets the Severe Snow Traction (RMA) requirements
Features 3-D sipe technology for better performance
Tread wearing is indeed insanely good
Cons:
Not found to be quiet on the roads
2. Goodyear Wrangler MT/R with Kevlar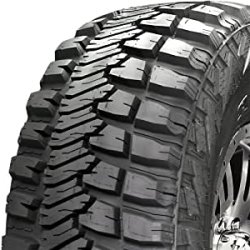 When used on a jeep Wrangler, this thing performs like a beast. As marketed, it drives great on the road and has an aggressive tread pattern to handle off-road conditions as well. It's also much quieter than other off-road tires sold nowadays. It wears nicely too. Of course, you are expected to rotate it periodically for even wearing. Balancing this tire doesn't seem like a big deal too. Because of how well-made the tire is, puncture problems are also quite rare.
Goodyear Wrangler MT/R with Kevlar Highlights:
This tire is designed to offer excellent traction on almost every type of terrain you put it through. As hinted earlier, it truly delivers a predictable and best overall driving experience on the road and in the wilderness.
That said, it loses traction on wet surfaces. This is the only area where this Goodyear tire won't meet your expectations. Besides this, the tire is a bomb. As long as you can afford it, you should definitely go for it.
Pros:
Not very difficult to balance
Usually, resells at a nice price
Delivers a quiet and predictable performance
Easy to get 40,000 to 50,000 miles out of this tire
Company has an outstanding legacy too
Cons:
Not the best traction on wet surfaces
Falls in the expensive category of tires
3. Michelin Defender LTX M/S
This Michelin tire is immeasurably better than equivalent tires in most areas of use. Right from its driving performance to its tread life, the tire has a lot going for it. Believe it or not, it has enough traction on it to even handle heavy rains. The best part is that the tire remains quiet in almost any driving situation. You will hear a little hum sound only when you roll the windows down. The tire looks very meaty too. It will definitely add value to your vehicle's appearance.
Michelin Defender LTX M/S Highlights:
Competent enough to be driven in all driving conditions, it's a perfect tire for a Wrangler jeep. The cornering and braking are exactly what you would expect from a well-made tire from a renowned brand. For the record, Michelin also offers a best-in-class warranty on the Defender LTS M/S tire. Seriously, a 70,000-mile warranty on a tire of this nature is really unheard of. This goes to show how much confidence Michelin has in this model.
Pros:
Good off and on the road
Doesn't make a ton of noise
Can be utilized for towing/hauling
One of the longest-lasting tires out there
Cons:
Doesn't balance very easily
4. Cooper Discoverer ST Maxx M/T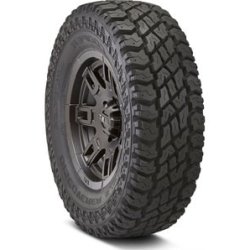 This tire has a lot of merits to it. Believe it or not, there are hardly any situations where this tire won't work. Seriously, it offers a great grip even on the worst of all terrains. It's also probably the quietest in its product category. The tire actually looks great too.
Cooper Discoverer ST Maxx M/T Highlights:
The company has utilized buttress tread patterns, active sipes, and deep grooves in this tire to set it apart from the crowd. It also has stone ejectors in it to improve the tire's working life. On top of this, it comes with an innovative Armor Tek3 construction, which acts as a shield for the tire. As such, you can easily expect the tire to last for tens and thousands of miles. On average, you can get anywhere between 60,000 to 80,000 miles from this tire before it reaches its wear marker. Keep in mind that the tire also ensures reduced rolling resistance.
Pros:
Performs well on-road, off-road, snow, and rain
Astonishingly quiet for an aggressive tire
Pretty light for its size and load-capacity
Doesn't need a lot of weight for balancing
Comes in a nicely packaged box
Cons:
The product warranty excludes Alaska
5. BFGoodrich Mud-Terrain T/A KM3 Radial Tire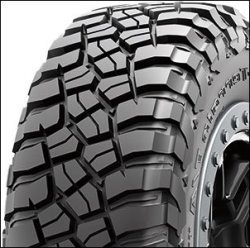 If you need a tire that can help you take your Wrangler jeep absolutely anywhere, feel free to pull the trigger on the  tire. Seriously, you will be able to cover a lot of ruff terrains on this tire. As expected, the tire does well on the roads too. The stability is great, even at high speeds. It's a tad bit loud, though. That said, this BFGoodrich tire looks as perfect as mentioned in the product description.
BFGoodrich Mud-Terrain T/A KM3 Highlights:
The tire runs great on a Wrangler. It sticks like crazy on wet or dry surfaces. Another great news is that the company ships tires of the recent dates. So, both the look and value are definitely there. The tire is seriously tough too. It has a great rubber compound and solid sidewall pattern that gives it a long life.
Specifically speaking, it features the Kawl-Trek compound, which is usually used in racing tires these days. Past purchasers have also commented that it arrives earlier than expected.
Pros:
Has an aggressive look to it
Mounts easily and balances well
Performs well even on wet trails
Doesn't wear down easily/quickly
Cons:
Louder than other discussed tires
6. Mickey Thompson Baja ATZ P3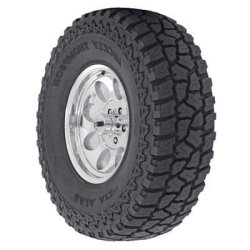 This tire will give you all the joy of achievement that you would normally expect from a classy tire of this nature. You will absolutely love the treads on this tire. Believe it or not, it can absorb anything on its way, which explains why the Mickey Baja ATX P3 carries a higher price tag than the competition.
Mickey Thompson Baja ATZ P3 Highlights:
Made in the USA, the look of this tire is aggressive enough to make your Wrangler jeep look better than before. Not to discount the fact that the tire runs smoother and quieter than most other comparable tires out there. The tire can also get you out of any situation/condition. In fact, this thing can handle even deep mud and snow without any issues.
Pros:
Can get you through anything
Quieter than other mud tires
Will boost your car mileage
Solid load capacity of 3197 pounds
Long lifespan. No unusual wearing
Cons:
Price is on the higher side
7. Nitto Trail Grappler M/T all_ Season Radial Tire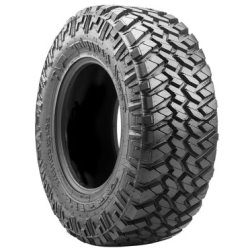 People have shared different opinions about this tire. That said, a vast majority of them have said great things about it. So can you trust your gut and go with this tire, or should you continue your pursuit for the best tire for a Wrangler jeep? Frankly speaking, the quality and durability of the Nitto Trail M/T tire are good enough to end your pursuit of the best tire right away. For those who don't know, this tire has the best aggressive pattern in its category. It also lasts phenomenally long.
Nitto Trail Grappler M/T Highlights:
This tire delivers dependable performance on literally any surface. Unlike the competition, it performs amazing, even in deep mud. It also corners very well. Consequently, you will hardly ever be in a 'stuck' situation. Above all, the tire comes with stone ejectors to clear mud and other obstacles on the route. The company is also known for sending out recent tires, which can be verified by checking the product manufacturing date on the sidewall.
Pros:
Features reinforced shoulder groove
Can handle rough back roads
Holds up well to heavy loads
Moves water really well
No balancing concerns
Cons:
Noisier than the stock tires
Definitely an expensive tire
8. Kumho Road Venture AT51 All-Terrain Tire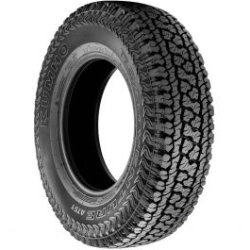 If you regularly encounter situations where you feel that your jeep won't make it through, you owe it to yourself to get this tire. This all-terrain tire is a Hercules in its own rights. It can power through anything on its way like nobody's business.
Kumho Road Venture AT51 Highlights:
The tire is engineered for a quiet, smooth, and comfortable ride. Keep in mind that the tire has an angled chamfer that allows it to deliver world-class performance in the snow and mud as well. You can also expect excellent grip and stability, even in the worst weather conditions. Oh yeah! The price of the tire is reasonable too. The best part is that the wear rate of the tire is not as rapid as tires selling in the same price range. Given the price vs. performance benefits, you might even consider another set of this tire for any other vehicle that you may own.
Pros:
Cheaper but effective tire
Good enough for daily driving
Engineered to cool quickly
Hardly vibrates at any speed
Cons:
No major issues to cry about
9. Mastercraft Courser MXT Mud Terrain Radial Tire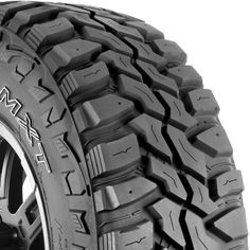 If you are willing to fork out a decent chunk of money on a tire, this well-deserving tire should be on your wish list. It's an aggressive off-road tire that literally has all the competition-destroying features to it. It not only looks impressive on a Wrangler, but it also drives smooth. It's quieter than most stock tires too. On a conservative note, this thing has received tens and hundreds of positive reviews as well. Most of them never had a problem with this tire.
Mastercraft Courser MXT Highlights:
This tire features an aggressive sidewall and deep biting lugs that allow it to do its job dutifully on any given day. The tread on it is also good enough to last for many years to come. Yes, this thing won't get destroyed easily. Even though it's expensive than many other tires in the discussion, you will find the price right for the product's quality. Seriously, the price couldn't have been any lower for a well-made radial tire of this kind.
Pros:
Looks damn good on a Wrangler
Wears slowly despite regular use
As good as original/stock tires
Shipment is hardly ever late
Cons:
Not quite budget-friendly
10. Goodyear Wrangler DuraTrac Radial Tire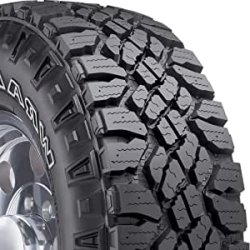 This is another tire that's well worth the asking price. Right from the looks to the performance, it screams high-quality. Guess what, it enjoys a really long life too. As advertised, it has good road manners too. The best part is that it can take you anywhere you point it.
Goodyear Wrangler DuraTrac Highlights:
The only disclaimer is that it's quite expensive. But then, you get the expected quality and performance out of it. Its off-road abilities are really unmatched. Your jeep will also ride much quieter than before, even when the tire is nearing the end of its life. You can also imagine driving this in any weather conditions.
Pros:
Unstoppable performance on any surface
Does good in the rain too
Remarkably low road noise
Has a huge fan following
Cons:
Best Tires for Jeep Wrangler -Buying Guide
All-Terrain Tires
As you may have noticed, quite a few tires recommended by us are all-terrain tires. The reason being, they are the most suitable tires for a Wrangler jeep. As expected, they deliver a promising performance on the roads and off-roads as well. This is to say that you will be able to tackle dirt, rock, sand, snow, and mud without any issues.
In other words, you won't feel the need to change your tire based on the weather conditions or situations. Seriously, a well-made all-terrain tire can keep up with all the challenging situations out there. Keep in mind that most tires suggested by us also enjoy a great life because they are constructed from chip-and-tear resistant compounds.
Mud-Terrain Tires
Just like all-terrain tires, a mud-terrain tire can prove to be a great bet for a jeep Wrangler. Constructed from deep and aggressive tread patterns, a mud-terrain tire can keep up with demanding situations. Needless to say, it will work best in the mud, though. But then, you can use it on other challenging surfaces too, without any hesitations. On the flip side, a mud-terrain tires can be quite noisy. So, expect them to make some noise at highway speeds.
You will have to live with this minor annoyance if you are considering a mud-terrain tire for your jeep Wrangler. Also, bear in mind that mud-terrain tires don't last as long as your regular road tires. If you can overlook these disadvantages, feel free to consider a mud-terrain tire for your jeep.
Multi-Terrain Tires
If you are looking for a nice middle ground between a mud tire and an all-terrain tire, the multi-terrain tires should be a no-brainer choice. This tire bridges the gap really well. It offers better off-road performance than your typical all-terrain tire. At the same time, it's not as noisy as a mud tire. The tread life is also better than an all-terrain mud tire.
Highway Tires
If you drive a lot on the roads/streets, then go for a highway tire in lieu of other options. Compared to other tires, a highway tire will behave well on the road. The ride quality will be far smoother and quieter than others, allowing you to enjoy your drive peacefully. Highway tires also last pretty long. So, your investment in the tire will go a long way too.
Final Words
Different people may like different tires, which explains why we have included multiple choices. We strongly recommend that you choose a suitable tire from the choices given above in lieu of other choices because these tires will leave you completely satisfied on any given day of the week.