Almost all tire manufacturers offer a plateau of tire models that vary in quality and performance. That's why so many of us find it difficult to procure a good RV tire based on the features, which are important for us.
Even though it may sound obvious, we would like to point out that this article will introduce you to the best RV tires out there. We will also tell you the things to look out for when shopping for the best RV tires. Hopefully, this will make your odd day wonderful.
Top 10 RV Tires For Your Next Adventure
1. Maxxis M8008 Radial Trailer Tire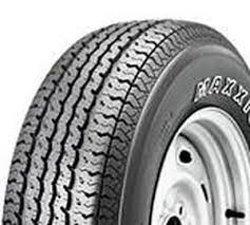 This tire is one of the best RV tires for adventure. Believe it or not, the tire can hold up to anything without any fuss. This should explain why this trailer tire often pops up on car websites and blogs we frequently visit. Keep in mind that the shipped tire also carries a recent date stamp too.
Maxxis M8008 Radial Trailer Tire Highlights:
As advertised, this 10-ply rating tire performs beautifully. It has an advanced tread compound, which results in improved tread life and better fuel economy. It's also double steel belted for added strength and stability. The shock absorption ability of the tire is second to none as well.
Pros:
Can keep up with lengthy trips
More load handling than expected
Puncture scenarios are rare
Nice ratings on various forums
Company is easy to work with
Cons:
No major issues to report
2. Freestar M-108+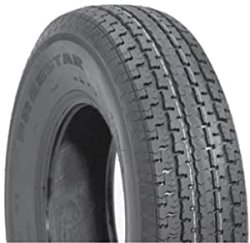 This tire is not your average RV tire. It's noticeably better than equivalent RV tires sold these days. Seriously, the rubber used on the tire feels a lot different. The tire also mounts easily without sticking out abnormally on the sidewalls. Did we mention that it's a low-cost tire too?
Freestar M-108+ Highlights:
This tire can withstand grueling conditions, which you don't often see with other affordable trailer tires. The best part is that it doesn't get hot on the road, even when you test this Freestar M-108+ tire to its limits. It also wears out well. Being a 10-ply tire, it lasts reasonably long too.
Pros:
Low-cost trailer tire
Load capacity of 2833 lbs
Doesn't blow out easily
Popular in its price category
Cons:
Not meant for off-road use
3. Carlisle Radial Trail HD Trailer Tire ST205/75R14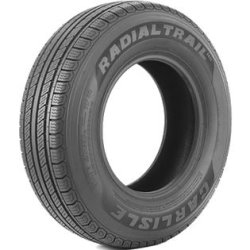 This economical trailer tire can suit most budgets. Seriously, the tire is sold at a bargain price. You can get four of these at the price of one expensive trailer tire. The tire is not made in the USA, though. However, the quality is not lacking. For the money spent, you won't crib about the quality.
Carlisle Radial Trail HD Trailer Tire Highlights:
Unlike other cheap trailer tires, the Carlisle tire has a good heat-resisting ability. Yes, this thing is redesigned with improved heat resistance and durability. Oh yeah! You will also get tires of recent dates, allowing you to utilize the tire to its full effective life.
Pros:
Price-friendly trailer tire
Redesigned for better performance
Can handle curves with heavy loads
Good durability for the price
Cons:
4. Goodyear Unisteel G670 RV Tire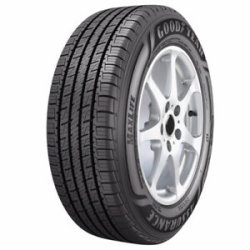 This RV tire rocks. It's as fine as it can be. The tread life is also exceptionally better than competing tires. You won't even be able to tell that it's wearing, despite a lot of rigorous use. Unless you experience bad luck, there's no way this heavy-duty RV tire will disappoint you.
Goodyear Unisteel G670 RV Tire Highlights:
This tire has a solid load capacity of 4540 lbs. It doesn't show any signs of overheating, even when you load it to its maximum capacity. So, your entire trip will go smoothly. That said, it's ideal for mid-sized/huge motorhomes and not small motorhomes.
Pros:
Exceptionally long tread life
Performs better than most
Has a better appearance too
Runs pretty cool at all times
Date code is recent on most tires
Cons:
Not for budget-shoppers
Not suitable for small motorhomes
5. Carlisle Radial Trail HD Trailer Radial Tire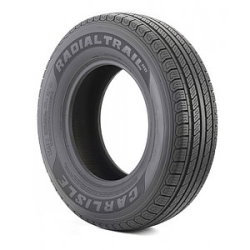 This tire is a great choice for all the budget-conscious folks out there. This trailer tire is not only inexpensive, but it has no defects in it. In other words, the tire won't put you at road risk, despite the low asking price. Of course, it can hold up to a beating too.
Carlisle Radial Trail HD Trailer Radial Tire Highlights:
The tire performs smoothly, even at high speeds. It vibrates a lot less than other inexpensive trailer tires sold these days. You can also get it mounted locally without any issues. The best part is that the tire company offers a two-year warranty on this economical tire. So, you will hardly have any issues the whole way.
Pros:
Suitable for both long and short distance use
Compatible with most well-known trailer brands
Strong construction helps with product longevity
Exceptionally good overheating resistance
Cons:
Not appropriately made for off-roading
6. Trailer King ST Radial Trailer Tire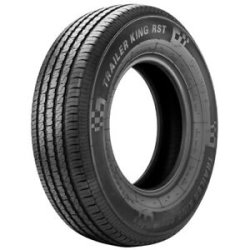 If you want to go on big trips without spending a fortune on RV tires, you should get the Trailer King ST Radial tire without any reservations. Believe it or not, past purchasers never really had any major problem with this trailer tire, which explains why RV enthusiasts keep reordering another set with great eagerness.
Trailer King ST Radial Trailer Tire Highlights:
This trailer tire mounts, balances, and installs easily. It also holds up well to use, even when exposed to harsh conditions. Of course, it doesn't explode on the first trip like other inexpensive trailer tires out there. As far as the price goes, it's at least 30 to 40% cheaper than equivalent trailer tires.
Seriously, the price is fantastic for an 'E' load rating trailer tire. Keep in mind that the tire also features an enhanced shoulder design, enabling it to easily dissipate heat that accumulates in the tire while driving. Not to discount the fact that the tire wearing is pretty even. Seriously, you will encounter zero tread problems.
Pros:
Sold at a dream price
Can handle long trips
Wears off really well
Goes strong for many years
Nationwide limited warranty
Cons:
7. Goodyear G614 RST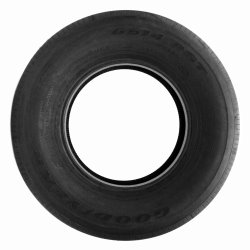 This RV tire is made in the USA by an American company. Even though it's pricier, it lasts twice as long as other Chinese-made RV tires. As soon as you unbox the tire, it will be immediately clear to you that it's a heavy-duty tire. Frankly speaking, you will hardly observe any issues.
Goodyear G614 RST Highlights:
This tire features a flat tread pattern, enabling it to provide better traction. As such, the tire is designed for trailers and fifth-wheel campers. As expected, you can do a significant adventure on this thing. Yes, this Goodyear RV tire is built for the long haul. If you look at the RV forums, you will find many people recommending this tire because of how good it is. The tire truly has a cult following of its own. When the time comes, you might also repurchase it without any hesitations. In fact, you might even recommend this RV tire to others.
Pros:
No other RV tire comes close
Suitable for long road trips
Can run under heavy loads
Will hardly ever need a repair
Can handle a high degree of heat
Cons:
Price is on the higher side
Not very easy to balance
8. Michelin XPS RIB Truck Radial Tire
This is a good heavy tire that can live up to most expectations on any given day. It definitely has a nice load rating (3086 lbs), and it lasts a long time. The best part is that the tire won't annoy you by vibrating or bouncing a lot. Needless to say, the ride quality is satisfactory too.
Michelin XPS RIB Truck Radial Tire Highlights:
The date codes on most Michelin XPS tires are very recent, as confirmed by past shoppers. So, you won't receive old stock. You will also appreciate this tire for its low rolling resistance, which will lead to better fuel economy. It costs more, but the tire has all the worthy qualities to it.
Pros:
Developed for commercial use
Has steel casing for product longevity
Provides superior fuel economy
Features a sidewall protector too
Cons:
Not an inexpensive RV tire
9. Bridgestone Duravis M700 HD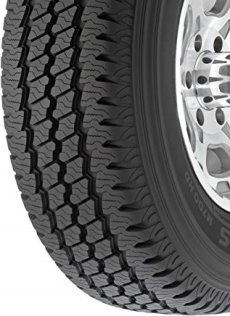 This tire performs amazingly well on dirt and gravel. The highway stability is excellent too. The best part is that this RV tire can be used in light snow as well. Basically, it performs well in most conditions. Furthermore, the tire's price is reasonable.
Bridgestone Duravis M700 HD Highlights:
This is one of the sturdiest RV tires around. Its load capacity is 6706.5 lbs, which is higher than other tires sold in the same product category. The life of the tire is great too. You can easily expect this RV tire to last for many years to come. In short, it's truly designed for heavy commercial use.
Pros:
Usable in mild snow
Excellent traction
Good highway stability
Ultra-fast delivery
Cons:
Lacks tread life warranty
10. Omni Trail Radial Trailer Tire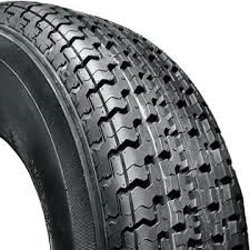 This is another price-friendly trailer tire that can outperform its competition. In fact, a lot of past shoppers have commented that the quality is truly great for the price. Of course, it's nothing like a Ferrari tire. So, one should have realistic expectations from a budget-friendly trailer tire of this nature.
Omni Trail Radial Trailer Tire Highlights:
This tire is 10-ply rated, which should tell you that it has increased load-carrying capacity. Despite the inexpensive price tag, it has stiffer sidewalls that help prevent sway at high speeds. Not to mention that it also looks pretty good for a cheap trailer tire.
Pros:
Stiffer sidewall provides a stable ride
Can handle pothole hits very well
Load capacity is better than expected
Price is definitely fantastic
Cons:
Not as good as other expensive tires
Best RV Tires -Buying Guide
Shopping for an RV tire is not the same as buying a regular car tire. You really have to pay more attention than usual to get the right RV tire at the right price. Here are a few critical things to look at:
Tire Size
Buying an RV tire of inappropriate size can backfire in a big way. After all, a size too small or too large can compromise the passenger's safety. Gladly enough, most brands offer a chart that tells tire shoppers which size and variation they can get for their vehicle.
Bias vs. Radial Tire
If budget is not an issue, you should go for a radial RV tire. Radial tires are expensive than bias tires. However, they are often recommended for their quality and durability. The way they are constructed, they offer a smooth ride too. This is to say that your RV won't sway or bounce on the road.
Tire Age
RV tire shoppers need to pay attention to the age of the tire too. Usually, RV tires start to deteriorate a lot after five years, which can be a cause of concern. The good news is that most of the well-known tire companies ship tires with recent dates. For those who don't know, the DOT number printed on the tire indicates the manufacturing date of the tire.
Ply Ratings
Ply rating should be considered as well. Ply rating tells you how many layers of rubber are used in the tire's construction. The higher the ply rating, the more weight the RV tire can bear. This should tell you that your next RV tire should have an 8 or 10-ply rating. Of course, a 10-ply rating tire would be a better choice.
Load Rating
By checking the load rating, you can be at peace, knowing that the tire can handle the stress of travel without any fuss. If you test a tire to its limit by overloading it often, you can expect frequent punctures and blowouts. So, the best practice would be to check the load capacity of the tire before finalizing it.
Ride Quality
How can we miss the ride quality? It's one of the most crucial things to consider when shopping for the best RV tire. The ones that are not well-made bounce and vibrate a lot. So, check what past customers have to say about the tire's performance. You can also get opinions on popular RV forums.
Tire Maintenance
You should stay mindful of the maintenance part too. Find out in advance what it takes to maintain the shortlisted RV tire. From monitoring the tire pressure to servicing the wheel bearings, tire maintenance requires some work. Needless to say, well-maintained tires will help avoid nasty surprises.
Final Words About RV Tires
When considering these RV tires, remember to keep safety and comfort in mind for your specific needs. Of course, keep your budget in mind as well. Good luck!