New vehicle supplies have not normalized as yet due to the pandemic situation. However, the popularity of light trucks has not seen a major dip. Light trucks continue to remain the go-to vehicle for tens and thousands of Americans out there because of their infinite utility.
As expected, they are practical enough to haul people, stuff, and whatnot. Not to mention that most of the modern-day light trucks have all the new-age amenities in them. Believe it or not, some of the modern trucks are no less than a luxury car.
There's also a phenomenon in the US where people love modifying their trucks to the bone. They will do every bit from their end to enhance the look or features of the truck. All of this should explain why light trucks are so popular with the masses.
The thing about light trucks is that they get used a lot in most households. If you have covered a lot of miles on your truck, you might have strained a bunch of parts. Speaking about the tires, in particular, they can cost a bomb and still not satisfy you to the core.
This is if you are not plentifully knowledgeable about truck tires. Instead of experimenting with your luck, we suggest that you take a look at the best light truck tires discussed below. One of these tires can prove to be a solid replacement for your dying tires.
Top 10 Light Truck Tires Discussed:
1. General Grabber HTS 60
If you are looking for a non-budget-breaking tire that can perform like a champ on highways, the General Grabber HTS 60 should be a no-brainer choice. It performs well on both dry and wet surfaces, with the trailer hooked or not.
Its flatter footprint is smartly engineered for improved tread life. It also features a cut and chip-resistant compound that extends the life of the tire. Above all, the tire looks fantastic enough to add an aesthetic appeal to your vehicle.
General Grabber HTS 60 Tire Highlights: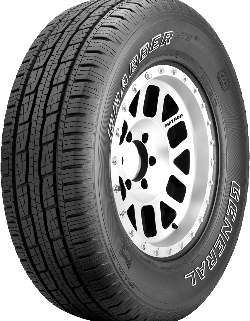 As marketed, this tough all-season tire provides a nice blend of style, comfort, durability, and price like no other light truck tire out there. The absorption layer in it does a wonderful job of isolating your truck from road disturbances.
It feels smooth, even when you drive on harsh and bumpy surfaces. This explains why many previous users have said that they felt that they were driving an entirely different car. For the bargain price, it truly delivers a rocking performance.
Pros:
Quiet, comfortable, and stable on the roads
Doesn't skid. Grips the road tightly
Helps with towing and hauling
Price is reasonable/affordable
Holds up well to frequent driving
Has received appreciation from previous owners
Cons:
Snow traction is not the best
2. Firestone Transforce AT2 Tire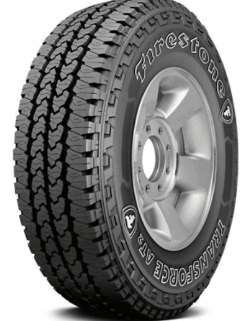 The Firestone Transforce A2 Tire is built so tough that nothing can stop it from doing its job. The tire is skillfully constructed for both on and off-road handling. Its unique tread pattern allows it to outperform all other tires in its category.
It's truly capable of withstanding the rigors of driving on mud, gravel, large rocks, and other challenging pavements. The tread provides a solid grip on the ground. It also remains more noisy-free than the competition.
Firestone Transforce AT2 Tire Highlights:
This tire is a big improvement over other tires in this space. It has extra sipes and deeper tread patterns that provide improved traction on any surface you encounter. Firestone has used a two-ply casing to increase the comfort level.
The tire also has the necessary strength and durability to last long, even when subjected to a lot of use. The makers have utilized twin belts to give it the strength it needs to last for several years and beyond.
Pros:
Built for the long haul
Can handle heavier loads
Not very difficult to mount
Resists cracks and punctures
Needs less maintenance
Has a long treadwear life
Exceeds most expectations
Cons:
Can be shipped in a better condition
3. Falken Ziex S/TZ05
If you want a tire that can drastically improve your car's performance on the streets, the Falken Ziex S/TZ05 needs to be on your radar. Seriously, it has all the traits of a high-performing street tire. Consequently, you will drive so much better than before.
Falken Ziex S/TZ05 Tire Highlights:
Unlike other tires, the Falken Ziex S/TZ05 has a clean look to it. The tread on it is also deeper and more aggressive than others. It can handle everything well, even when pushed to its limits, which explains why it carries a high price tag.
Credit to the narrow and wide shoulder lug groove, it's also noticeably quieter and smoother than other equivalent tires for light trucks. Not to discount the fact that it scores well in the area of comfort and control as well.
Pros:
Doesn't make a lot of highway noise
Doesn't feel stiffer during turns
Makes the vehicle look far better
Good brand backing. Lives up to the hype
Doesn't wear out as soon as other tires
Cons:
Not sold at a temptingly low price
4. Continental CrossContact LX25 with EcoPlus+ Technology
Built for light trucks, the Continental CrossContact LX25 tire is a premium touring tire that brings a lot to the table. The EcoPlus technology in it improves tread life, saves fuel, and delivers better than expected wet traction.
Continental CrossContact LX25 with EcoPlus+ Technology Highlights: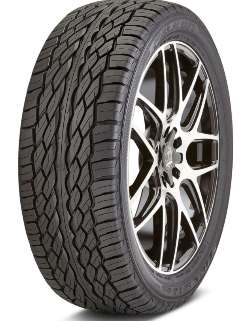 For those who don't know, the Continental tire uses low rolling resistance technology to better a car's fuel mileage. The tread life is also at par with the rivals (70,000-mile). Not to mention that its circumferential ribs curbs cabin noise to a great extent.
Furthermore, the sipes on it provide more biting edges for better traction on slippery surfaces. On top of this, the absorption layer underneath the tread provides a good steering response at all times. In other words, it allows you to ride smoothly and comfortably.
Pros:
Decently priced for the features
Excellent braking and quiet rolling
Looks good on most light trucks
EcoPlus technology to improve tread life
Good low rolling resistance to improve fuel mileage
Driving feels safe. The tire stays glued to the road
Cons:
Not suitable for towing large/heavy trailers
5. Terra Grappler G2 Tire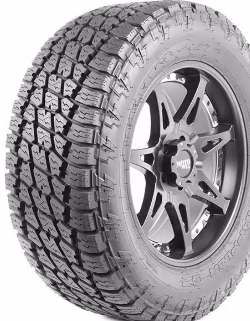 This next-generation all-terrain tire is designed to meet the everyday driving needs of light truck drivers. Seriously, it can keep up with a lot of on-road and off-road adventures. The sidewalls in it are stiffer than other models, which can improve cornering to a great extent.
Even at high speeds, it rides smoothly without shaking a lot. The tire looks absolutely amazing as well, which is a nice bonus. Plus, it makes less noise than other typical all-terrain tires in its league. The tire is computer analyzed/designed to limit tire noise when driving.
Terra Grappler G2 Tire Highlights:
The tire has added paddings at the right places to soften the road bumps. Additionally, it has full-depth sipes in it to provide better traction on wet and slippery surfaces. Plus, it has coupling joints to enhance the product's life.
Yes, it doesn't wear out as quickly as other tires that cost the same, which should tell you that it's totally suitable for daily driving. This tire is really a breath of fresh air in today's age and time of lackluster tires.
Pros:
Absolutely amazing snow/wet weather traction
Handles dirt-filled and muddy roads very well
Has a very eye-catching look and size
Excellent upgrade for most light trucks
Arrives nicely tagged with no defects
Renowned for its off-road capabilities
Cons:
Hums slightly on the highway
6. Bridgestone Dueler H/L Alenza Plus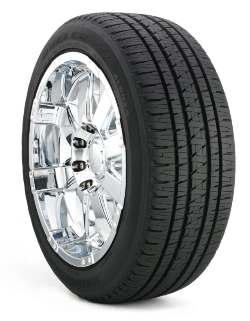 Designed for light trucks, the Bridgestone Dueler H/L Aleza Plus has a world-class projected lifespan of 80,000-mile. What sets this tire apart from the crowd is that it has all the new and progressive technological advancements in it.
Bridgestone Dueler H/L Alenza Plus Highlights:
The makers have utilized an all-new tread polymer technology to deliver stable, comfortable, and quiet performance. This technology also reduces carbon emissions, making it a great choice for all the environment-conscious truck owners out there.
Not to mention that it's versatile enough to cope up with any weather condition. Keep in mind that this specific model of the tire also reduces fuel consumption. Unlike the competition, it has a luxurious look and feels to it as well.
Pros:
Luxurious-looking light truck tire
Almost next to zero noise emission
Twin steel belts to improve the lifespan
Unmatched 80,000-mile warranty
Has the all-season versatility
Environment-friendly tire
Cons:
No upsetting qualities to bitch about
7. Goodyear Wrangler All-Terrain Adventure with Kevlar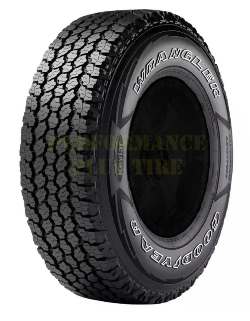 This Goodyear Wrangler tire looks good and rides smoothly on all surfaces. Believe it or not, it's usable even in deep snow. According to the company, you will get at least 60,000-miles out of it, which explains why it's promoted as a highly durable commodity.
The tough construction keeps the tire puncture and cut-free for long. In terms of quietness, it's right on the money too. Seriously, you won't find a more noise-free tire in the same price spectrum. It also vibrates a lot less than other comparable tires.
Goodyear Wrangler All-Terrain Adventure with Kevlar Highlights:
The price is a killer too. Equivalent all-terrain adventure tires for light trucks sell for far more. Plus, they don't offer the same riding comfort as this Goodyear Wrangler tire, which should tell you why this tire has been a hit among light truck drivers.
Given the technology behind the tire, it inspires enough confidence to drive fear-free on rain, mud, and snowy areas. Basically, it handles everything on its way like a true champ. Another inspiring thing about this tire is that it adds a meaner look to your truck.
Pros:
Absolutely awesome in all areas of use
Ample traction on mud, snow, and rocks
Road noise is as low as factory tires
Doesn't diminish fuel efficiency
Goodyear is a highly trustworthy brand
Stands behind its treadwear warranty
Less expensive than what it looks
Cons:
Vibrates a bit when it nears its lifespan
8. Continental TerrainContact A/T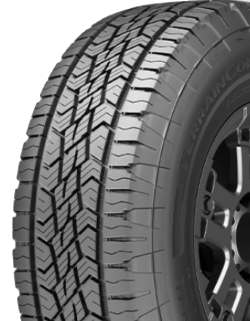 The Continental TerrainContact A/T has all the right properties to be the best all-terrain tires for light trucks. As advertised, it offers the safest ride over both dry and wet areas. The tire also remains stable and quiet on the highway.
Continental TerrainContact A/T Tire Highlights:
This tire lives up to its advertised claim of being able to conquer any surface. It offers superior comfort, stability, and performance on paved roads, grass, dirt, gravel, and other challenging surfaces. Seriously, it can handle different terrains without breaking a sweat.
The makers have also improved the look of this tire. It looks far more aggressive and classy than other models. The tire has a rim protector on it to enhance its working life. You get more mileage out of this tire too.
Pros:
A perfect balance of on and off-road manners
Ideal to be used in all weather conditions
Pretty smooth on all surfaces too
Stays quiet on the highway
Capable of hauling loads
Impressive treadwear warranty (60,000-mile)
Cons:
Not very reliable in deep mud
9. Cooper Discoverer H/T Plus All-Season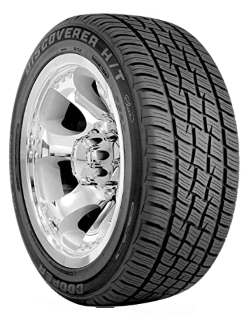 If you are looking for a sporty all-season tire for your light truck, you won't find a better tire than the Cooper Discoverer H/T Plus All-Season tire. It has a very different tread pattern, which enables it to provide better traction control than usual.
Cooper Discoverer H/T Plus All-Season Tire Highlights:
The tire remains pretty quiet. Even at 80 mph, you will barely hear a slight humming sound. Of course, it's good enough to inspire enough confidence in you to handle different terrains with great ease and confidence.
According to previous tire purchasers, you can easily get 60,000 to 80,000 miles out of this tire. Keep in mind that more than 90% of the reviews for this tire are positive. Overall, this tire is truly a perfect fit for a light truck.
Pros:
Not poor in appearance
Handles curve very well
Sidewalls to protect the rims
Doesn't fall apart easily
Arrives earlier than expected
Can be tried free for 45-day
Meets RAM guidelines. Has M+S markings.
Cons:
10. Milestar Patagonia M/T Mud-Terrain Radial Tire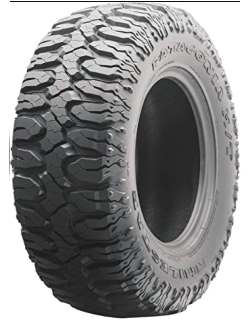 This light truck tire is worth taking a shot at. Not only is it inexpensive, but it also looks good enough to transform the look of your truck. Of course, it rides great too. It has a very aggressive tread pattern, which provides a superior grip when driving on sand, road, mud, dirt, or elsewhere.
Milestar Patagonia M/T Mud-Terrain Radial Tire Highlights:
The Milestar Patagonia M/T tire is surprisingly quiet for a tire of its nature. Honestly speaking, you won't hear anything at all. The tire also wears out evenly. Moreover, it airs down nicely. Therefore, it stays better balanced than other comparable tires.
It also behaves well at high speeds. Basically, this tire is best in every aspect of use. At the same time, it doesn't cost a bomb. It's totally worth rebuying if the price doesn't change. After all, it outperforms on all terrains.
Pros:
Does well on deep snow and heavy rain too
Can take you wherever you want
Pleasing performance at its price
Road noise is almost unnoticeable
No signs of premature wear and tear
Looks pretty badass on any light truck
Cons:
Takes a bit longer to brake on ice
Top 10 Best Light Truck Tires: Buying Guide
Needless to say, a wild enthusiasm is not enough to buy a well-made light truck tire. It's like going on a blind date, not knowing who will turn up. On a serious note, you should really know what you are getting into. After all, light truck tires don't come cheap.
Given the lackluster choices, you could easily end up harming your wallet. Rather than pitying later, it's better to arm yourself with enough information to make the right choice. Here are some pointers that can be of great help.
The size is the first thing you need to nail down. After all, bigger or smaller size tires can damage the rims. They can also affect the way you drive the car. In other words, your car won't be as stable as before.
We are not saying that it's a grave mistake to get a bigger or smaller size tire. But then, it's better not to experiment. You can easily find out the right size by reading the serial number on your old tires. If the serial number has faded enough to the point where you can't read it, contact the car dealer to find out the right size. Another alternative would be to look at the product manual.
How you drive your vehicle also plays a key role in choosing the right tire for your light truck. If the majority of your drives are on a highway, you need to choose a tire that's suitable for highway driving. If you need a tire that can keep up with heavy loads, you will have to choose a tire with a good load rating.
If you do both highway and off-road driving, you can go with an all-season tire. So, access your needs so that you can decide which tire will meet all your driving needs beautifully. All of this may sound like common sense. But, you may be surprised to know how many people overlook these basic things when buying a new tire.
Driven or not, all tires have a shelf life of their own. This is to say that a tire sitting idle in a showroom for many years can deteriorate on its own. Believe it or not, an old set of tires can pose life risks. Technically, they may be brand now. But, if they were made 7-8 years ago and not used, they are not actually new. Therefore, it's important that you get your hands on a recently manufactured tire. The good news is that you can easily find out the 'born' date of a tire. You just have to look at the set of numbers printed on the sidewall. If it reads '2620', it implies that the tire was manufactured in the 26th week of the year 2020.
When choosing a tire for your truck, go for a less noisy model. Needless to say, the ones that make a lot of noise can bother you and the passengers inside the car. Of course, all tires make some degree of noise.
But, the chosen tire must not be overly noisy to piss you off. Keep in mind, different tires from the same brand can also differ with respect to the noise level. So, do not make the typical mistake of assuming that all tires from a particular brand are as non-noisy as possible.
As described earlier, most light trucks get used a lot in the majority of US households. With fuel prices touching the sky, it helps to get a fuel-efficient tire. How much gas money can you save? Believe it or not, you might end up spending 5 to 10% less money on a gas pump, which may not seem a lot at first.
However, it will add up and save you a heck lot of money during the entire lifespan of the tire. Of course, don't believe all the dramatic claims made by the tire manufacturers about fuel mileage because fuel optimization is a subjective thing. It depends on other factors too.
Usually, tire manufacturers offer two types of warranty these days. They provide you protection against manufacturing defects. Plus, they offer a tread life warranty. Of course, not all car tire manufacturers provide a world-class warranty. It really guns down to the brand you choose.
So, take a good look at the terms of the warranty to be sure that your investment in the light truck tire is adequately protected. Should the tire not turn out as expected, you must have the option of returning it. Also, check who will bear the return shipping fees.
As obvious as this may sound, you should get a tire with a long tread life so that your investment in the light truck tire goes a long way. Most of the tire manufacturers these days list the expected tread life in the product description itself, which can range from 40,000 to 100,000, which, of course, makes the shopping process a bit easier.
The tread life really depends on the model and brand of the tire. Generally, tire manufacturers use their own testing methods to find out the estimated life of the tire's tread. So, it can sometimes be non-reliable, especially when you are dealing with a lesser-known brand. That said, you can easily get few years of use from a well-made light truck tire from a reputed brand.
Finally, don't forget to check out the reviews for a particular tire that catches your eyes. Seriously, reviews are a great way to find out the real truth. They expose the products for what they are. Of course, every tire will have its share of both negative and positive reviews. This is to say that you won't find a tire with 100% positive reviews.
So, accept this fact. After all, no matter how good a product is, it won't be able to please anyone and everyone. That said, maintain your distance from tires that have received boatloads of negative reviews.
Final Words:
Not many people succeed in buying the best tire for their car. We can't predict your story. But then, we are sure that these best light truck tires won't hurt your wallet or your sentiments because they are the best in their respective league.
Of course, you still have to drive carefully and take good care of the tires for them to last long enough to please the 'perfectionist' in you. Besides this, you should refrain from using them inappropriately. Whatever brought you here, we wish you years of safe and happy driving.