You don't need us to tell you that fuel prices keep ballooning every year. Of course, we are not here to discuss who is to be blamed for the rising prices. So, no blame game or accusations will be hurled at anyone in this article. Social media does enough of the blame game in today's age and time. Show us a social media platform where this isn't discussed elaborately without any blames bouncing back and forth.
Seriously, it almost seems like a norm to discuss everything on social media. Coming back to the topic, we will discuss the best low rolling resistance tires that will help you extract the most value out of your fuel money. By getting the best low rolling resistance tires, you will indirectly end up paying less for gas money. Good fuel savings aside, you should consider other features that matter to you. In other words, the shortlisted tire must also offer a safe, stable, comfortable, and predictable ride at all times. So, how do you get such a tire?
There's no question that we will introduce you to the best low rolling resistance tires that will meet all your needs beautifully. We will cover tires for different vehicle types too, which should tell you why we are reviewing ten products. Oh yeah! We will also include critical specifications that you need to consider when shopping for the best low rolling resistance tires. So, are you ready to knock off the fuel prices in your own way? Let's get started!
Top 10 Low Rolling Resistance Tires
1) Firestone Champion Fuel Fighter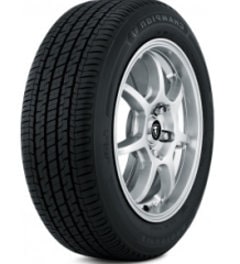 As expected, this tire will be easy on your wallet. Its noise level is also not bad, as confirmed by many past purchasers. Not to mention that the difference in ride quality is usually immediately noticeable. The best part is that the tire doesn't cost a world. Yes, the cost fits most budgets.
Firestone Champion Fuel Fighter Highlights:
Any good tire is known by its lifespan. And, the Firestone Champion Fuel Fighter doesn't disappoint in this area. Rather, it excels. The makers offer a 70,000-mile treadwear warranty on the tire, which is profound, considering the low cost of this tire. In wet conditions, the tire offers great grip and traction as well. It drives nicely on bumpy surfaces too. Basically, it does a great job of absorbing all the road bumps along the way. We are not saying that it's the best in this aspect. However, it does a better than 'decent' job on any given day.
Pros:
Truly improves fuel economy
Decent load capacity of 1433 lbs
Very little/low road noise
70,000 mile (limited) warranty
Cons:
Snow performance needs improvement
2. Michelin Premier A/S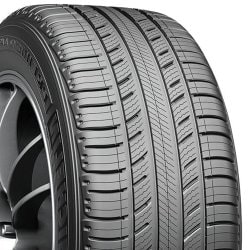 This is arguably one of the best made low rolling resistance tires out there, especially for its price point. Believe it or not, avid fans of this tire have happily reordered another set without any reservations. Speaking about the tire's performance, it actually justifies its price tag. It also turns out that the tire has received very low negative comments.
Michelin Premier A/S Highlights:
This tire is engineered for safety, comfort, and economical ride. It has all the suitable characteristics to offer excellent performance on wet surfaces. Yes, you can expect a smooth and noise-free ride at all times. It does carry a 60,000-mile warranty too. Plus, you get three-year flat tire assistance from the makers. In summary, this tire is truly optimized for best use.
Pros:
Precision-built to reduce vibrations
Good for everyday handling
Stays flexible in colder temperature
Cuts through snow easily
Cons:
3. Goodyear Assurance Fuel Max All-Season Radial Tire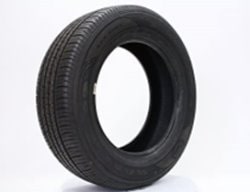 This nice-looking tire drives like there's no tomorrow, which should explain why the tire has received a great response from the customers. The comfort level is definitely acceptable as well. Not to undermine the fact that the manufacturing dates on the tires are very recent.
Goodyear Assurance Fuel Max Highlights:
This tire is popular among sedans, vans, coupes, and crossover owners. Drivers of these cars can expect both a smooth ride and good mileage from this tire. Like any other long-lasting American-made tire, this thing can also last for thousands and thousands of miles without any fuss. The tire truly wears evenly. In fact, the tire also does a great job of resisting abrasion. Just so that you know, the product doesn't carry a standard warranty like most other tires of this nature. As expected, you will have to bear this thing in mind when shopping for this Goodyear Assurance tire.
Pros:
Good job of resisting abrasion
Maintains excellent contact with the road
Phenomenal steering precision
Nice traction on wet surfaces
Suitable for mild winter too
Cons:
Makes noise during turns
Lacks product warranty
4. Ohtsu FP7000 All-Season Radial Tire
For budget shoppers, this tire should be a great bet. It doesn't cost as much as a valuable gem. At the same time, it has good enough merits to please the tire enthusiast in you. So, you are not risking your money by getting this price-friendly tire.
Ohtsu FP7000 All-Season Radial Tire Highlights:
The tire features a non-directional tread design for excellent all-around performance. It also prevents irregular wear and tear, allowing the tire to last reasonably long for a budget tire of this nature. The best part is that it has high volume circumferential grooves to deliver improved performance in wet weather conditions.
Pros:
No hiccups with delivery or packaging
Worth getting another one in future
Durability is not questionable
Performs nicely on the snow
Cons:
Takes few days of driving to break-in
5. Michelin Energy Saver A/S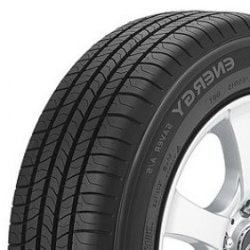 Suitable for car owners who are looking to maximize fuel economy, this tire will leave you with no regrets. This tire is not only maximized for fuel consumption, but it also has a special tread compound to give it a long life. Another great thing is that the tire barely makes you aware of the bumps on the road.
Michelin Energy Saver A/S Highlights:
The MaxTouch Construction truly maximizes the tire's ability to interact with the road, allowing the force of acceleration, braking, gripping to distribute evenly, leading to longer tread life. Not to mention that it also keeps the tire cooler for longer. The stopping power is praiseworthy too. Believe it or not, the braking distance is almost 8-feet shorter than the competition.
Pros:
Special tread compound to reduce CO2 emissions
Based on rolling resistance tests, fuel efficiency is verified
Doesn't get damaged or punctured easily
Guaranteed mileage of 60,000 miles
Cons:
Load capacity isn't the best (1477 lbs)
6. Continental TrueContact Tour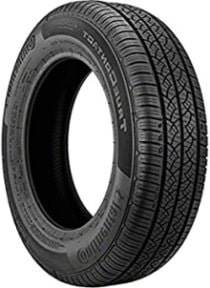 This tire offers a great grip, and it lasts long. Yes, careful drivers can truly expect a long tread life. Once you see the price it's sold for; you will also not argue over other things. Of course, it drives safe too, offering top-notch wet braking.
Continental TrueContact Tour Highlights:
Speaking about ride comfort, the Continental TrueContact Tour Tire features a Comfort Ride Technology to minimize vibration, bumps, and road noise. Passengers will hardly experience any discomfort during the ride, which goes to show the attention paid to the detail. Even though the tire is made outside of the USA (Germany), it does not lack in any critical area of use. This is to say that the focus has remained on pleasing the customers. On the whole, Continental has truly done a good job with this tire. The engineers truly deserve a pat on their back.
Pros:
Excellent wet/dry handling
No cabin noise or vibration
Rides smoothly on bumps
80,000-mile tread life warranty
Cons:
7. Bridgestone Ecopia EP422 Plus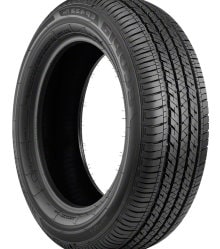 This make and model of low rolling resistance tire has little to no competition in its price segment. The reason being, the tire company has kept the quality high and the price reasonably low. Believe us or not, equivalent low rolling resistance tires usually sell for more.
Bridgestone Ecopia EP422 Plus Highlights:
This one can handle everything on its way like a champ. Yes, it's meant to deliver robust performance on almost any platform/surface. For those who don't know, it features a NanoPro-Tech Compound that provides it with a nice grip and traction, irrespective of the conditions outside. Subsequently, you will feel in total control of the car at all times. Of course, you will also feel pretty safe because of how responsive the tire is. Its cornering ability is truly second to none. No other tire in the same price range can come close. Keep in mind that the tire works well in light snow too.
Pros:
Optimized nicely for all seasons
Engineered for fuel efficiency
Usually arrives within a few days ( in good shape)
1356 lbs of load capacity
Backed by 70,000 tread life warranty
Cons:
Not meant for too much snow
8. Pirelli Scorpion Verde All Season Plus II Performance Radial Tire
This best low rolling resistance tire really stands out from the crowd. It's lighter, saves fuel, reduces CO2 emissions, and is ideal for high mileage. Did we mention that the tire doesn't cost as much as a Ferrari's spare part? As expected, the price is car-enthusiast friendly all the way.
Pirelli Scorpion Verde All Season Plus II Highlights:
This tire has a better grip and speed rating than the competition. The driving difference is immediately noticeable. It may not be dramatic enough. But then, it's good enough to praise the tire for what it is. Seriously, you will be impressed by the tire's handling abilities on any given day.
Even though the tire looks the same as any other tire in its price spectrum, it rides smoothly, and it causes less vibration than usual. In fact, the Pirelli Scorpion Verde Tire lasts long too. Even after thousands of miles, the car tire continues to look like new. The tread depth is really up to the mark.
Pros:
Projected lifespan is pretty good
Low noise and nice speed ratings
Suitable for trucks/ SUVs
Worth suggesting to others
Cons:
9. Michelin Defender LTX M/S All Season Tire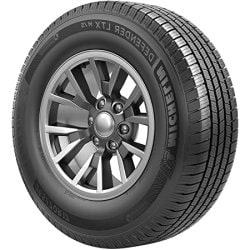 This one is as good as it's advertised to be. In short, the tire has managed to live up to its positive image. So, it's unlike anything that's hyped to boost its image or sales. Therefore, it will prove to be a correct purchase for anyone looking for a well-made low rolling resistance tire from a reputed brand.
Michelin Defender LTX M/S Highlights:
The tire works very well. In fact, even those who have used this tire always have said good things about it. According to them, the tire provides the same smooth ride as other pricier tires. For those who don't know, the company has used a hybrid design that provides a light look and a robust performance. Its tread life is legendary too. You can easily get 70,000-miles out of the tire.
Pros:
Better traction and handling
Equivalent to pricier tires
Longer tread life warranty
Cons:
Little road noise can be heard
10. Continental CrossContact LX Sport Touring All Season Tire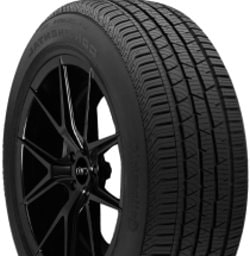 This all-season tire performs well in almost all conditions. Yes, both summer and winter driving will be good. Not to mention that you won't waste a lot of gas. On the contrary, this Continental tire will save you some gas money. Credit for this goes to the eco-friendly compound used to construct the tire.
Continental CrossContact LX Sport Touring Highlights:
The tire features ContiSilect technology, which enables it to offer a smooth, noiseless, and vibration-free ride. The advanced tread compound used in the tire also allows it to stop at a shorter distance in both wet and dry surfaces, preventing major accidents in the process. The steering response on this tire is also better than usual.
It's truly meant for all-weather driving conditions, including snow. Of course, it's not a dedicated winter tire. So, it won't perform as nicely as a snow tire in heavy snow. Besides this, you can expect solid performance from this Continental tire on any given day of the week.
Pros:
Manufactured for SUVs and cross utility cars
Designed to reduce carbon footprint
Lessens rolling resistance efficiently
Provides improved traction/handling
Cons:
Not geared for heavy snow driving
Best Low Rolling Resistance Tires- Buying Guide
Even though we have identified the top 10 low rolling resistance tires for you, there's nothing stopping you from exploring more tires on your own. If you would like to do so, please refer to the pointers given below:
Sedans and Minivan Owners
Depending on the make/model of the vehicle you own, you should choose an appropriate low rolling resistance tire to get the best benefit out of it. For instance, owners of sedans and minivans should go for touring and grand touring tires as these tires excel in almost all areas of use.
Not to discount the fact that most of the modern-day touring tires out there feature some sort of low rolling resistance technology to help lower the fuel cost. Another icing on the cake factor is the cost, which is usually lower than other low rolling resistance tires sold these days.
SUVs and Crossover Owners
For owners of SUVs and crossover cars, touring tires that are specifically geared towards these cars should be an ideal bet. They have the same qualities as a regular touring or grand touring tire. However, they are designed for compact cars, minivans, and sedans.
Passenger Tires
For compact cars, passenger tires should be a no-brainer choice. Of course, they are not as good as a touring or a grand touring tire. But then, they will do justice to their job. Not to mention that they will cost far less too. Plus, they will last long upon proper driving and care.
High-Performance Tires
With a set of high-performance tires fitted in your car, you can expect robust performance. You will be able to do a lot more than usual without any trouble. Of course, you can expect a bump in the price too as high-performance tires cost a decent chunk of money. So, they are highly suitable for drivers of sports cars.
The best part is that you can also expect higher fuel mileage from them. On the flip side, though, they don't last as long as touring or grand touring tires. So, don't expect them to last till eternity. In short, it's imperative to have realistic expectations from high-performance tires.
How Much Gas Money Can You Save?
As expected, there are many factors that will determine how much gasoline you will be able to save. The biggest factor, though, is your driving habit. Oh yeah! How well you drive your vehicle will eventually play a key role in determining how much gas money you will be able to save.
If you are someone who accelerates fast and brakes hard at all times, you will end up consuming a lot more fuel than usual. If you accelerate or brake gently, you could save as much as 10% in fuel costs, especially when you have fuel-efficient tires fitted in your vehicle.
Final Words About Low Rolling Resistance Tires
Honestly speaking, we felt like we did a superhero job by introducing you to the best low rolling resistance tires that the market has to offer. Like superheroes, we didn't defy odds or anything. But then, we tried our best to save you some gas money. Every bit counts, right?