SUVs have always been a crowd favorite. After all, the riding comfort that they offer is second to none. Not to mention that a modern-day SUV has all the deserving features to please the car enthusiast in you.
While there are a plethora of tires that go well with an SUV, not all tires are optimized for rugged performance in varied conditions/situations. Some tires are winter-biased, others are summer-biased, and so on.
This means that most tires don't perform admirably in all situations. That said, the modern all-season tires are something else. They are designed to tackle a variety of extreme terrain and weather conditions without doubling your expense on a tire.
So, it helps to get an all-season tire for your SUV in lieu of other options. Luckily, you don't have to browse the entire Internet to procure the best all-season tires for your SUV. Don't worry; it won't be a nightmare process.
Using our skilled eyes, we have carefully handpicked a few tires from the multiplying choices out there. Let's look at them now.
Top 10 All-Season Tires for SUV
1. MICHELIN PREMIER LTX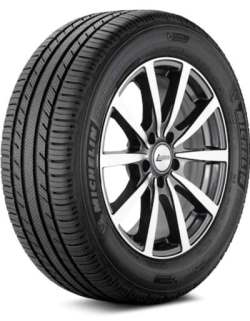 This all-season tire is far better than 'ok' or 'decent.' In fact, it can beat any other touring tire in its league. As advertised, the makers have utilized all the cutting-edge features to give it a revolutionary braking and driving ability.
Seriously, it has an awful lot of striking features to stretch the smile on your face. Of course, no surprises involved. This is to say that it actually lasts for the advertised tread life of 60,000 miles or at least comes close.
Michelin Premier LTX Tire Highlights:
This tire offers a smoother and quieter ride than the competition without compromising handling and traction, making it the best choice for difficult terrains and long-distance driving. As expected, the tread pattern is designed for both wet and dry conditions.
Credit to the MaxTough construction, you also get to enjoy unmatched stability, even at high speeds. Keep in mind that the Defender in it is made from a tough chip-resistant (EverTread) compound, which boosts the tire's life, no matter the surface.
On top of this, the contact patch is designed to remain connected with the road to evenly distribute the force of braking, cornering, and acceleration. As you can tell, this tire is meticulously crafted to go well with an SUV.
2. HANKOOK DYNAPRO ATM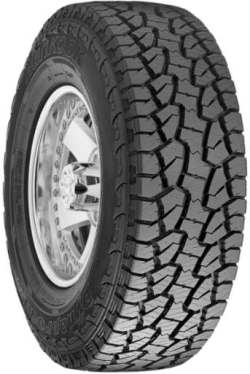 This is a fairly affordable tire that's excellent enough to scare its competition. Featuring an innovative tread design, it can overcome all road challenges without breaking a sweat. The tough design pattern and the block structure of this tire are really something else.
Hankook Dynapro ATM Tire Highlights:
Its internal structure includes sturdy steel belts that are reinforced with a spirally-wrapped (nylon) cap to provide great ride quality, even on off-road paths. You will also be surprised to see how quiet the tire remains while driving.
If faithfully rotated, this HANKOOK tire can easily last for many years. It has stone ejectors in it to prolong its lifespan. Another nice thing to know is that this tire drives smoothly, even when it nears the end of its tread life.
3. GOODYEAR ASSURANCE CS FUEL MAX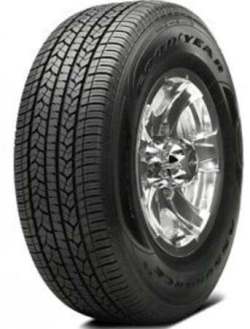 The Goodyear Assurance CS Fuel Max has been a huge hit among SUV car owners. The tire combines the best of various features to provide an amazing steering response at all times. It also wears down slower than the competition because of its non-compromising quality.
Goodyear Assurance CS Fuel Max Tire Highlights:
Specifically engineered for SUVs and CUVs, this tire features thick layers of tread, which provides extra grip during times of need. Subsequently, you will feel confident driving your family around in all conditions/situations. The road noise is also low enough to not bother the passengers.
Besides this, the tire utilizes the Fuel Max Technology, which is proven to make a car as fuel-efficient as possible. Not only will you be spending less on gas money, but you will also get to enjoy more traction on the road all year round. So, it's really bang-on in terms of key features.
4. GENERAL GRABBER HTS60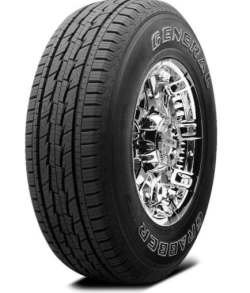 This SUV tire has competition-destroying properties, which explains why it pops in reviews that talk about the best all season tires for SUVs. We are not saying that you won't find a better tire for your SUV, but not at the same price as this tire.
General Grabber HTS60 Tire Highlights:
The General Grabber HTS60 is as heavy-duty as it can be, allowing it to perform well in both on and off-road terrains. It offers excellent highway stability as well. Not to discount the fact that it's much cheaper than other tires designed for SUVs.
Seriously, it offers the best synergy of comfort, stability, durability, price, and performance like no other comparable SUV tire out there. It even comes with a 65,000-mile tread life warranty. Plus, it has an absorbing layer to prevent road noise.
5. BFGOODRICH MUD-TERRAIN T/A KM3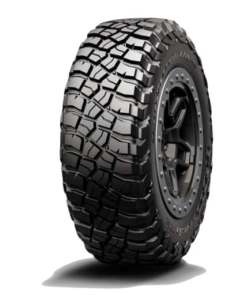 The BFGoodrich Mud-Terrain T/A KM3 offers unmatched traction on mud terrains. Believe it or not, nothing on a muddy terrain can prove to be a major challenge for this tire. It can handle good-sized rocks, gravels, boulders, dirt, and other odds like a boss.
Be it rain or snow, the tire grips whatever surface it's driven on. When installed on an SUV, you will find it more comfortable and less noisy, both at the same time. The tire also improves the car mileage, allowing you to cover some extra miles for the same amount of fuel as before.
BFGoodrich Mud-Terrain T/A KM3 Tire Highlights:
Designed for serious off-road driving, this tire offers excellent sidewall protection. It's good at absorbing shock as well. As you can clearly tell by now, it's aimed at drivers who like to take the less-traveled route. Of course, BFGoodrich is well-qualified to develop a product of this nature.
After all, they have been manufacturing tires for decades. They have equipped this tire with the strongest puncture-resistant compound, which should tell you that the tire will enjoy a good lifespan. Just so that you know, the tire has good road manners too.
6. FIRESTONE DESTINATION LE2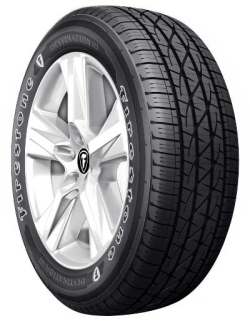 Made by an American tire company, the FIRESTONE DESTINATION LE2 beats its competition by a mile. Even though it doesn't cost a lot, it's built to deliver unmatched performance in all weather conditions. It also bears a long-lasting tread compound.
Firestone Destination LE2 Tire Highlights:
Designed for use on an SUV car, this tire can work as hard as you would want it to without eating a lot of fuel. Yes, the silica enhanced rubber compound in it improves the fuel economy, and, of course, the life of the tire too, which explains why we feel it's a good buying choice.
It also has amazing mud and water evaluation properties. In fact, it can be used in light snow as well. Basically, it can keep up well to both on-road and off-road driving. Keep in mind that the tire is optimized for low noise as well. You will hear noise only if you purposely try to listen for it.
7. COOPER DISCOVERER SRX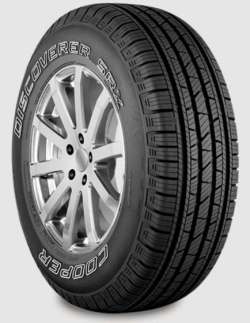 The Cooper Discoverer SRX is a premium touring tire that has a lot going for it. Yes, it's a great tire sold at a great price. As marketed, it makes use of cutting-edge technology to help you handle real-life road conditions like nobody's business.
It can really tackle variable conditions and fluctuating weather without any fuss. Plus, it won't cause your car to produce substantial road noise. So, passengers getting out of the car won't think that there is something terribly wrong with your SUV.
Cooper Discoverer SRX Tire Highlights:
The tire utilizes STABLEDGE™ PERFORMANCE technology to keep the tread blocks stable at all times during the ride, which should tell you that it's really capable of good driving performance, even in adverse conditions.
The wear and tear on the tire are minimal as well. The tread elements are really a cut above the scope. Long-life aside, the tire features a Wear Square visual indicator to help users gauge the remaining lifespan of the tire.
8. BRIDGESTONE DUELER H/L ALENZA PLUS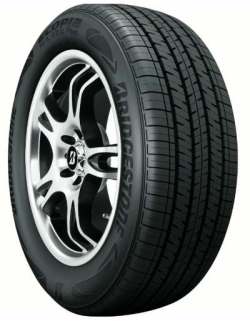 Touted as one of the best SUV tires, the Bridgestone Dueler H/L Alenza Plus is backed by an 80,000-mile warranty, which is hands down the best warranty for a product in this league. As advertised, the tire offers better than acceptable performance in dry and wet conditions.
Bridgestone Dueler H/L Alenza Plus Tire Highlights:
The tire features a silica-based tread compound, which not only provides a nice grip but also minimizes wear and tear. On top of this, the tire is filled with RIM Guard to keep it protected from rust and corrosion.
Its other strong points are quiet performance, a comfortable ride, and a clean look. Consumers have also mentioned that they were happy with the steering response of this Alenza Plus tire. The tire aids in the car's fuel economy as well.
9. MICHELIN DEFENDER LTX M/S
The Michelin Defender LTX M/S has all the competitive features in it. From the ride quality, traction, braking, cornering, and more, this tire shines in all areas of use. Even though it's not cheap, you won't feel like you paid too much for the tire.
For the record, this tire is as long-lasting as it can be. It also comes with a 70,000-mile tread life manufacturer warranty. Plus, you get three-year flat tire assistance. On top of this, Michelin offers a 60-day money-back guarantee.
Michelin Defender LTX M/S Tire Highlights: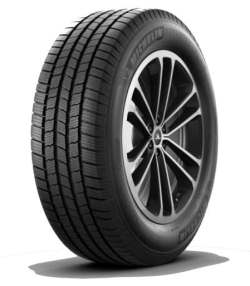 This Defender tire is constructed from (chip resistant) EverTread compound, which is to say that it can be used even on dirt surfaces. Of course, it can handle wet conditions too. No matter the road condition, the tire will offer a smooth, comfortable, and noise-free ride.
In fact, you won't find it hard to balance, even on deep snow. The tire also looks fantastic on an SUV. Seriously, you might receive compliments on how well it looks on your car. Moreover, this tire is not too difficult to install in an SUV.
10. FALKEN WILDPEAK A/T3W ALL TERRAIN RADIAL TIRE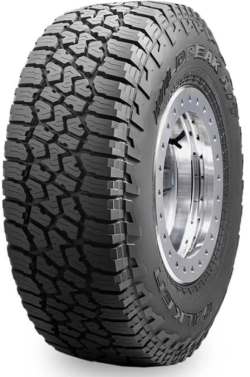 This Falken tire is a beast in its own rights. The tire can handle extreme loads, weather, and road conditions like a true workhorse. It looks spectacular as well. At the same time, the tire isn't overly flashy like others.
Falken Wildpeak A/T3W All Terrain Radial Tire Highlights:
This tire is impressive not only in papers but also in real life. For those who don't know, it has more tread depth in it than other comparable tires. So, it's not as noisy as them. In terms of ride quality, the tire seems more planted on the ground, allowing you to ride comfortably and even handle tight curves with ease.
The durability is unmatched too. Should the tire cover thousands and thousands of miles, it will still show very less signs of excessive use. Believe it or not, many of the previous shoppers have commented that they liked this tire more than the stock tires, which should explain the tire's growing popularity among SUV car owners.
Best All-Season Tires for SUV: Buying Guide
The joy of a new tire cannot be expressed in words. After all, it allows a car to perform at its full strength again. Of course, it does feel awful to end up with a lackluster tire. So, we will give you some valuable advice to avoid the wounded feeling linked with a lackluster tire.
Check the size:
The first thing you need to do is determine the size of the tire. Of course, you can always switch to a larger or smaller tire. But then, it would require some consultation with an expert. That said, it's best to stick to the factory size because many of the car components are designed based on the tire's diameter. Getting a tire of a different size can negatively impact a car's performance in one way or the other.
Check the price:
Once the size thing is sorted out, decide how much money you are willing to spend on the SUV tire. As expected, the price gap between two all-season tires can be huge. To stay within your budget, it helps to search for tires that fall within your tentative budget. Maybe, you should also consider stretching your budget for a well-made all season tire. After all, your SUV deserves the best all-season tire that the market has to offer.
Check the traction ratings:
Traction is nothing special but the tire's ability to provide a firm hold on the road's surface. Generally, all-season tires are designed to provide the best traction on wet surfaces. However, not all tires score well in this area of use. Therefore, it helps to check the traction ratings of the shortlisted tire. A or AA rating is said to be the best. It will allow a car to stop on wet roads at a reduced distance than a B or C-rated tire.
Check the treadwear rating:
The treadwear serves as a good indication of a tire's wear rate. In other words, a treadwear grade will give you a fair idea about how long the tire will last. Generally speaking, most tires have a treadwear rating of anywhere between 300 to 500. Needless to say, an all-season tire with a 500 treadwear rating will last longer than a tire with 200 or 300 ratings. So, use this rating to your advantage to procure a long-lasting tire for your SUV.
Check the treadwear warranty:
As hoped for, most of the well-constructed all-season tires come with a solid treadwear warranty of 50,000 to 85,000-mile. This is to say that you can easily expect the tires to last for five-plus years, no matter the surface. The key thing over here is to get your next SUV tire from a renowned brand and not some no-name brand. Tires from no-name brands do not generally come with a generous treadwear warranty.
Check for reduced fuel consumption:
With the rising gas prices, it helps to pay attention to this feature as well. Ideally, you should look for an all-season tire that can save you some gas money. For you to spend less money on a gas pump, you must get a low rolling resistance tire. Believe it or not, some reliable tests have confirmed that it's possible for an SUV driver to save a good chunk of money by choosing a tire with low rolling resistance.
Check the reviews:
Most tire shoppers generally include a review discussing their experience with the tire they got. By the way, not all reviews are helpful. However, some of them provide a good insight. From the reviews alone, you will know whether or not the tire will live up to your expectations. Basically, you will have a clear mind to decide whether to get the product or not. As they say, reviews can make or break a product, which is actually true in today's age and time.
Be ready for the worst:
If 8o% or more of your driving is on rough/uneven terrains, you should get a tire that can handle the worst conditions and situations without any hiccups. To determine how well the tire can handle the anticipated load, you need to check the load rating of the shortlisted tire. Pay attention to the tread design as well. It must be able to handle the worst roads without any issues, or else it will beat the purpose of getting an all-season tire.
Important Note: There are a few simple things you can do to prolong the life of the new SUV tires. First and foremost, keep checking the tire pressure as tires lose air naturally with time. Underinflated tires can wear out sooner than usual. The good news is that it hardly takes a minute or two to keep an eye on the air pressure.
Air pressure aside, pay attention to the vehicle's alignment as well. Needless to say, you will have to address the alignment issue before you install the new tire to prevent the new tire from wearing out quickly. New drivers might have to take help from a professional to correct the vehicle's alignment.
Final Words About All Season Tires for SUV:
These top ten all-season tires for SUVs don't come with a world of concerns like other inferior-made SUV tires. This should explain why some of the tires in this list don't sell at a bargain price. Frankly speaking, their high price is a representation of their high quality.
Of course, you can always walk away from them and choose something cheaper, without the risk of getting judged by us. But then, it's important to know that the only likable thing about other comparable tires would be the low immediate cost. In other words, you won't get the same durability, comfort, or performance as these tires.