Let's face it; Toyota Tacoma has set a new benchmark in the pickup truck segment. From its unwavering toughness to its good looks, reliability, and more, it has all the competition-destroying features in it. Seriously, there's no cheapness in this vehicle. Utility-wise, it can tow, haul, and do everything else that's normally expected from a light-duty pickup truck of its nature. The best part is that it comes in many variants.
Most of them can easily accommodate both tall and short guys. Gas mileage is also tremendously better than its competing cousins. The car has a bulletproof construction to it as well. With good care, it can last forever. The car also requires fewer trips to the garage because of how maintenance-free it is for the most part. Of course, you can damage anything. But that's not our point. We are just trying to hammer the fact that a Toyota Tacoma car can survive for many years and beyond with very little maintenance. Issues, if any, can also be fixed inexpensively.
Speaking about the car's performance, its off-road abilities are second to none. Yes, the car can perform better than others in harsh territories. It drives comfortably too. The car has praiseworthy crash test ratings as well.
In the car world, the Toyota Tacoma car draws a great resale price too. By the way, both the newer and older models fetch a good resale value. Everything considered, this car provides a great ownership experience like no other car in its spectrum.
But wait! You won't get the best out of a Toyota Tacoma car without a dependable set of tires. This is where you need to be watchful. Given the plateau of choices, you could end up with a showpiece and not a workhorse. To save you from the innocent mistakes you might make during the tire shopping process, we have reviewed the best tires for Toyota Tacoma. We have also included a short buying guide, which will prepare you to shop better.
Top 10 Tires for Toyota Tacoma
1. Goodyear Assurance CS Fuel Max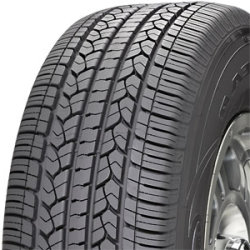 This is one of the strongest contenders on this list. Make no mistake; the Toyota Tacoma tires reviewed by us are included below in no particular order. So, your excitement won't turn into disappointment, regardless of the tire you choose. Coming back to the Goodyear Assurance CS Fuel Max, it's as good as it can be for a USA-made tire of its nature. It comes with a factory warranty too; 65,000 miles/6 years. Should you not like this Goodyear tire, you can also return it within the first 60 days.
Goodyear Assurance CS Fuel Max Highlights:
The tire is designed to perform well in all seasons. It has the required toughness to handle a little bit of off-roading as well. The comfort level is also there. You won't feel any noise, vibration, or hardness on the road, which should tell you that Goodyear has truly optimized this tire for a smooth and comfortable drive. You will also be pleased to know that you will get good gas mileage out of this tire. So, it's a great choice for those who are looking to squeeze every penny out of their gas money.
Pros:
Made with better materials than the competition
Features strong shoulder blocks for solid handling
Causes no issues, even during cornering
Will require you to spend less on gas money
Cons:
Not meant for serious off-roading
2. Michelin LTX A/T2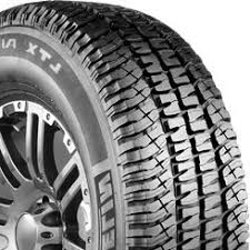 If you don't want anything less than a top-notch tire for your Toyota Tacoma, you should get the Michelin LTX A/T2 without any second guesses. This tire is a phenomenon, in its own right. It's expensive, though, which is a representation of its high-end quality. As marketed, the tire offers all-weather condition comfort throughout the year. It can last exceptionally long, even when you test the tire under severe conditions.
Michelin LTX A/T2 Highlights:
This Michelin tire comes with a load capacity of 3525 pounds. So, you can afford to load the car with people, luggage, and whatnot without worrying about the tire going flat in the middle of the journey. Of course, you can also drive through unknown areas because this tire can handle even big potholes without any issues. No matter what, the tire will tackle everything like a champ. You will be happy with the low road noise too.
Yes, this tire is quieter than any other tire you may have owned. Additionally, it vibrates a lot less. Not to mention that you will get good gas mileage too. Keep in mind that the tire has received good reviews as well. We are talking about dozens of positive reviews across many relevant web platforms. In fact, the Michelin LTX A/T2 tire often pops up in discussions that talk about the best tires for a Toyota Tacoma.
Pros:
Performs well in any condition
Off-road action is too good
Less road noise than other tires
Provides excellent durability
Cons:
The only issue is the high price
3. Sumitomo Tire Encounter 235/65R18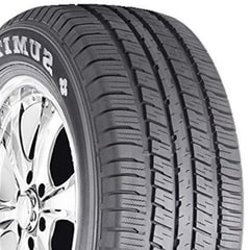 This Sumitomo tire really nails it. It offers reliable traction, smooth handling, comfortable ride quality, and awesome tread life like no other Toyota Tacoma tire in its price segment. It's truly built to provide a confident driving experience on the road, irrespective of the weather condition. In short, it will tackle the job of daily commute like a boss. As hinted earlier, no other Toyota Tacoma tires come close.
Sumitomo Tire Encounter 235/65R18 Highlights:
This tire features non directional 5 rib tread pattern, which allows it to provide great traction on wet as well as dry surfaces. It also comes with deep circumferential grooves, which provide enhanced cornering abilities. Not to discount the fact that the tread is optimized for low road noise. Even at high speeds, you will barely hear next to no road noise. The looks are good too. It has solid black lettering on the sidewall that really pops out.
Seriously, you might have people come up to your car just to praise the tire for its good looks. Given the good looks, the car's resale value will also bump up. If you are planning to buy this tire, make sure to keep your expectations high because the Sumitomo Tire Encounter 235/65R18 will meet them on any given day.
Pros:
Takes road driving comfort to the next level
Confident handling in all weather
Best-in-class 60,000-mile warranty
Cons:
4. Pirelli Scorpion Verde All Season Plus
This tire lives to its advertised promise of offering a quiet, controlled, and comfortable ride. It also provides excellent stability in corners. The buying price is reasonable as well, especially for the tire's features and properties. Admittedly, it's not too cheap. But then, the quality is substantially better than other Toyota Tacoma tires sold these days. Basically, the tire comes with everything you would normally need/expect from a product of its type.
Pirelli Scorpion Verde All Season Plus Highlights:
The traction is unimaginably good on wet and dry surfaces. The nice thing is that it performs well throughout its lifespan. This is to say that it won't start to lose its traction in a year or two. The tire's construction is also as good as you would expect for the money spent on it. Seriously, you won't really feel like questioning the product's durability.
Even if you be hard on the tire, it will last for many years. Oh yeah! You will love the tire's looks as well. Unlike the competition, the tire has a sporting vibe to it. It's also worth bringing to your notice that it's an environmental-friendly tire. It's designed to enhance fuel economy while reducing C02 emissions. Compared to other cheaper tires, it also balances easily. For the quality and craftsmanship of the tire, you will have no major complaints. You might even recommend the tire to family and friends.
Pros:
Can handle snow/mud without losing its grip
Has an environmental-friendly construction to it
Predictable performance in the corners too
Cons:
Given the quality, the tire's price is not low
5. BFGoodrich All-Terrain T/A KO2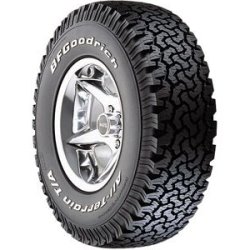 This all-terrain tire comes with a lot of likable features. As promoted, it's perfectly suitable for both on and off-road purposes. The real beauty of this tire is that it can take you anywhere, irrespective of the weather condition it encounters. Industry experts have also long agreed that it's one of the most long-lasting all-terrain tires out there. Built with damage-resistant tread compounds, the tire will let you squeeze every penny spent on it.
BFGoodrich All-Terrain T/A KO2 Highlights:
The high void interlocking tread blocks utilized in this tire offer solid grip and traction, even on loose and slippery surfaces. In fact, it offers a nice grip on turns as well. The tire also has an array of sipes to provide better biting edges than usual. Not to mention that the tire provides a quiet and vibration-less ride on the highway, despite the aggressive tread pattern. Believe it or not, most Toyota Tacoma owners have appreciated this tire for its quietness.
Appearance-wise, it looks great too. There's no cheapness at all. It might make your vehicle look brand new. And, there's no need for constant repairs as the tire is built with chip and tear-resistant compounds. The tire balances easily with less weight too. In short, the BFGoodrich All-Terrain T/A KO2 Tire is exactly as described by the makers. It turns out that the only time this tire will disappoint you is when you do reckless driving.
Pros:
Probably worth more than its current cost
Less road noise than other brand tires
Riding is as smooth as it can be
Cons:
Expect a slight decline in mileage
6. Bridgestone Dueler A/T Revo 3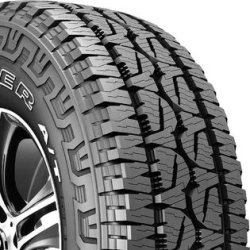 Designed to fit your active lifestyle, the Bridgestone Dueler A/T Revo 3 runs strong under all conditions. Seriously, it can go through all the weather elements without any fuss. Its construction quality is also noteworthy. Even if you be brutal on this tire, it will last longer than other cheaper tires. It's definitely a high-end tire, which explains why it's expensive. You will literally have zero issues with this tire throughout its lifetime.
Bridgestone Dueler A/T Revo 3 Highlights:
The highway comfort is too good. It stays remarkably silent and vibration-free during the ride. You will feel the difference the minute you drive off from the tire shop. The tire won't skip a beat, even on off-road trails. Of course, it holds up well in the snow too. In fact, it works favorably in the slush too. The best part is that the tire transitions very well from the highway to the nearest rough road. In conclusion, the tire serves its purpose very well at all times.
Pros:
Mounts easily with very little weight
Good enough to handle bad conditions
Works well in several inches of snow too
Durability is better than expected
Cons:
Cost is on the higher side
7. Forceum M/T 08 Plus Mud Tire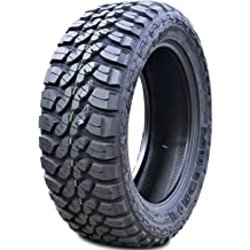 This mud-terrain tire meets its purpose of offering a solid off-road driving experience. Unlike other cheaper tires, the Forceum M/T 08 Plus Mud Tire has some modern twists to it as well. For instance, it features larger than usual knobby blocks to establish strong traction. Seriously, this thing can get you out of deep mud in an instant. It also has a self-cleaning mechanism to take care of trapped mud/materials.
Forceum M/T 08 Plus Mud Tire Highlights:
The grip is great. Because of how well it grips the surface, the tire will enable you to take your Toyota Tacoma almost anywhere you want. You will be able to cover a lot of ruff terrains too. Believe it or not, absolutely nothing will stop this bad boy from performing its work dutifully. This should tell you that the tire is really well-made for its price. Of course, you will be happy with the looks too. It definitely has a charisma of its own.
Pros:
Doesn't require crazy weights for balancing
Doesn't sway. And, it drives without vibration
Product reviews are positive and helpful too
Provides a stylish appearance to the vehicle
Wears even and lasts easily for many years
Cons:
Noisier on pavements/highways
Not meant for regular highway driving
8. Hankook Dynapro AT2 RF11 Tire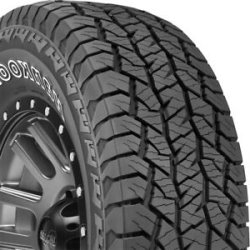 Anyone interested in a well-made tire for a Toyota Tacoma can consider the Hankook Dynapro AT2 RF11 without any reservations. The tire looks damn good on a Toyota Tacoma, and it drives beautifully. It's pretty lightweight too. So, it won't impact your gas mileage. Plus, it won't cause your vehicle to make a lot of noise. It's not the best vehicle for off-road purposes. Still, you will be able to use it for light off-roading without any issues.
Hankook Dynapro AT2 RF11 Tire Highlights:
The tire comes in expected shape and condition because of the well-thought product packaging. Frankly speaking, the packaging is good enough to survive abuse from a reckless delivery guy. Not to mention that the tire holds up well to a lot of use. The tire's price point is clearly not the cheapest. But for the tire's quality and performance, it's spot on. In fact, you might even agree to pay a bit more.
Pros:
Stays extremely quiet on the road
Rides well even when it ages
Holds up really well over time
Arrives within the promised timeframe
Cons:
Not meant for serious off-road action
9. Hankook Optimo H724 All-Season Tire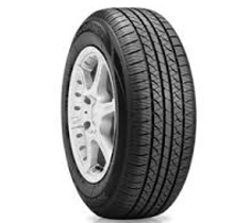 This is another solid tire from the same brand that doesn't have any worrisome properties to it. The good news is that it costs almost half as much other high-priced all-season tires with similar product specs. It's nearly as good as them too. Of course, a few notches down should not bother you because you are paying a lot less too. So, don't drop the initial idea of getting this tire.
Hankook Optimo H724 Highlights:
This tire looks nice and rides well. The performance is actually better than decent, which you wouldn't usually expect from cheaper tires. Even when you drive at 80+mph, there will be zero noise or vibrations. It's also optimized perfectly for maximum water evacuation. Speaking of the product's durability, the tread is great enough to provide many years of use.
Pros:
Pitch design technology to deliver a noise-free performance
Jointless full cover to improve braking performance
Features hard bead filler for long-lasting performance
Surprisingly affordable for its properties
Cons:
Has a short return duration of 30 days
10. Cooper Discoverer AT3 4S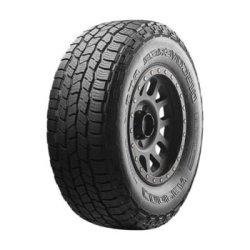 This one looks 'wow' on a Toyota Tacoma. It has a nice beefy look to it. The performance is impressive too, which explains why we are reviewing this product. The aggressive tread pattern might fool you into believing that it's a loud tire. However, there's a small twist. It performs quietly, which is, of course, pleasing to know. At high enough speed, you will hear some noise, which is not overbearing, though.
Cooper Discoverer AT3 4S Highlights:
At its price, this tire blows off its competition. Keep in mind that it's not sold at a bargain price. Even at a higher price, though, the tire has enough mind-blowing features to scare its competition. To begin with, road handling is as safe as it can get. And, the tire won't disappoint you in any road condition or weather situation. It will also last well past the advertised warranty of 65,000 miles.
Just so that you know everything about this tire, it's also certified for its winter handling capabilities. Yes, it has received the legendary 3-Peak Mountain Snowflake Symbol, which technically classifies it as one of the best winter performance tires. This thing will also clean the mud by itself on dirt roads. Moreover, it performs well in deep snow as well.
Pros:
Not overbearingly loud even at top speeds
Easily the best tire for winter driving
Self cleans itself on mud/dirt roads
Tire is proudly made in the USA
Cons:
Drops your fuel mileage by just a little
Best Tires for Toyota Tacoma – Buying Guide
We don't want to completely influence your purchase decision, which explains why we are providing you with a buying guide in addition to the product reviews.
Purpose of Use
The purpose of use will be the deciding factor for the most part. Will you be driving off-roads frequently or occasionally? For off-roading enthusiasts, a good mud-terrain tire or any other equivalent heavy-duty tire would work. Of course, these tires won't perform very well on the highway. For frequent highway-based drivers, you should invest in an all-terrain tire. An all-terrain tire will work best on the road. At the same time, you will be able to use it for light off-roading action as well.
Noise Level
If you want to enjoy your rides to the fullest, make sure that you pay attention to the noise level of the tire. As you might know, some tires can really make your vehicle unbearably noisy. On the other hand, some tires offer remarkably quiet performance. Of course, don't expect to get 100% noise-free off-road tires. Off-road tires are bound to make more noise than highway geared tires. So, set your expectations right to avoid disappointments arising out of non-realistic hopes.
Manufacturing Date Code
Once manufactured, tires stay good only for a set number of years. So, make sure that the vendor is shipping tires with the recent date codes. You can interact with the seller before placing an order to ensure that you are getting recently manufactured tires. Of course, be willing to accept genuine reasons if the tire is from a good brand. There are times when the date code is not mentioned on the tire.
Tire Warranty
No matter what brand you go for, make sure that the brand backs its product. This is to say that you should check the product warranty to find out how favorably the damages are covered. These days, it's not uncommon for tire companies to offer a generous warranty on their products. Usually, tires come with a warranty of anywhere between 40,000 to 80,000 miles. Some companies also offer to refund your money if you return the tire within the first 30 or 60 days.
Final Words
Choose your next tire wisely to get the most out of a Toyota Tacoma car. We have already given you enough information to handpick the best tire from the sea of choices at your disposal. Happy tire shopping!