Not a lot is written or spoken about low-profile tires. So, you won't magically learn a lot about them. Of course, they do have a lot of meaningful benefits to offer. But then, there are some minor downsides too. For instance, they do make your wheels more vulnerable to damages from potholes and other road bumps.
They are also typically more expensive than a traditional tire as they are trickier to manufacture. That said, the advantages override the disadvantages, which explains why tire enthusiasts are happily willing to own them, regardless of the downsides discussed earlier. To begin with, low profile tires look great on a vehicle. Without a doubt, they are truly a look enhancer.
They also lead to more precise car handling. Side swaying is far lesser than usual too. Not to discount the fact that low profile tires are known to withstand higher forces during cornering as they increase the tire's rigidity. Theoretically, their lifespan is also the same as your regular tires. This is assuming that the tire is used correctly throughout its lifespan.
Now, having weighed the pros and cons of having a low profile tire, let's get to the top 10 tires in this product category. Should you decide to go with a low profile tire, you won't find better choices than those discussed below in today's age and time. This should tell you that it's worth considering these low profile tires in lieu of other choices without any second thoughts.
Top 10 Low Profile Tires
1. BFGoodrich g-Force Sport COMP-2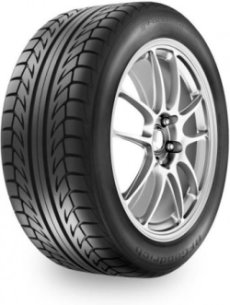 This low profile tire is designed to be a killer product. Seriously, it has many positive attributes to it to shine apart from the crowd. This should explain why both novice and professional drivers are a fan of this tire. As advertised, the tire is not only designed to enhance the look of your vehicle but it's also designed to make your vehicle perform better than before.
BFGoodrich g-Force Sports COMP-2 Highlights:
This tire lives up to its reputation of offering the very best of everything, which includes fast acceleration and hard cornering without any issues. Furthermore, it provides additional grip for a smooth and comfortable ride. In short, this tire is truly designed for high-speed and respectable performance.
To expand your pleasantness beyond measures, we would also like to highlight the fact that this tire has received a plethora of positive reviews. So, it will definitely solve all your driving problems or rather meet all your expectations that you may have from a low profile tire of this sort. You will also not have to worry about being bogged down by punctures as this tire is pretty sturdy and durable.
Advantages:
Features g-Control sidewall inserts for improved stability
The brand behind the tire is synonymous with quality
The tire looks absolutely stunning on any vehicle
Performs well even when pushed to its limits
Disadvantages:
Noisier for something of its type
2. Hankook Ventus S1 Noble2 Performance Radial Tire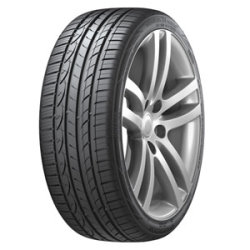 The Hankook Venture S1 Radial Tire is well-made with a good tread pattern to not wear out quickly. The sidewalls come with high-hardness bead fillers that result in improved handling. It also leads to better steering response. Without a doubt, the tire offers a nice grip as well on most surfaces.
Hankook Venture S1 Radial Tire Highlights:
The price of this tire is low for its qualities. In short, it's a bargain deal. Of course, better low-profile tires are available. But then, they cost far more too. Unless you receive a defective tire, there's no way you will be disappointed with this tire. Your car will feel glued to the ground at all times, offering you a secure feeling in the process.
Those who have reported about the tire's lifespan have also said good things about it. According to most past shoppers, the tire can easily last as long as other pricier tires. The tire also looks as described. In fact, it looks a tad bit better in person. It will definitely contribute to the look of your vehicle.
Advantages:
As pointed out, the ride comfort exists
Rides with ease on most surfaces
Looks stunning on most vehicles
The load capacity of 1477 pounds
Good for those who don't want to pay a premium price
Disadvantages:
Doesn't perform very well in the snow
3. Bridgestone Potenza RE980AS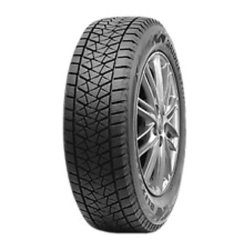 This improved low-profile tire is redesigned with better features to meets its purpose of delivering quality service to the end-user. Just so that you understand clearly what this means, the tire is engineered with more technologically advanced features to keep up with the competition. Unlike the past, it's also now backed with a 50,000-mile limited tread life warranty.
Bridgestone Potenza RE980AS Tire Highlights:
This tire easily provides the best handling response ever. It's also the quietest low-profile tire around that you can find nowadays. It's quite responsive too. The best part is that it's usable in wet conditions. As confirmed by previous purchasers, the ride quality is up to the mark as well. Other all-season tires usually fail to provide such grip and traction on most surfaces.
As marketed, the tire also reduces the risk of hydroplaning. Drivers of luxury vehicles can consider this tire in a heartbeat because of how good it looks and runs. It truly lives up to its promise of crisp handling all throughout the year. The tire will get you around almost everywhere with great ease. Just like many others, you will be a returning tire shopper for sure.
Advantages:
Very nice handling at all times
Quiet for a high performing tire
Does well in the rain too
Worth buying the tire again
Disadvantages:
Will slip a bit when it's brand new
4. Bridgestone Potenza RE050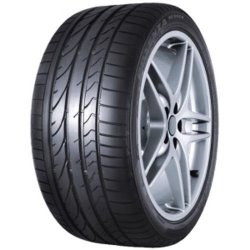 This is another well-made tire from the same brand as before. Of course, the price tag is different. This one costs far more because of its superior quality. Seriously, it has all the pleasing qualities in it. The only time you will not like this tire for what it is when you are not thinking right. Frankly put, it's maddeningly difficult to find an equivalently good low profile tire these days.
Bridgestone Potenza RE050 Highlights:
This tire is a workhorse in its own rights. It's built with the right combination of material and tread pattern to enable it to perform like nothing else out there. From the shape, fullness, durability, and construction, everything is almost spot on. For those who don't know, it also has a solid load capacity of 4495.2 pounds, which is far better than most tires in the same category.
To eliminate unwanted gaps between the tire, the makers have used O-Bead strands in the tire's construction. To resist premature wearing and chipping, the company has utilized long-length carbon structures. So, a lot of smart product engineering has gone into making this tire what it is today. This tire has really raised the bar for other low-profile tires out there.
Advantages:
Tread compound resists cracking and tearing
Has spiral wrap to boost high-speed driving capability
Is computer-optimized in every imaginable way
Features rim guard to protect the wheels from damages
Disadvantages:
No major disadvantages to crib about
5. Continental Extreme Contact DWS06 All-Season Radial Tire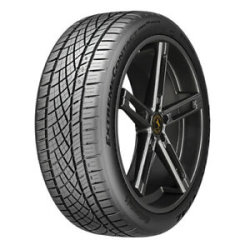 This all-season tire is as good as any other low profile tire under its specs. At the same time, it costs far less. The noise it makes is also lesser than the competition. Of course, it's not a dedicated winter or summer tire. So, you will have to keep your expectations real. That said, you can expect this tire to do most things without any hiccups.
Continental Extreme Contact DWS06 Highlights:
The warranty on this tire is good for something of its sort. You get a 50,000-mile limited warranty, which is actually better than what other companies offer for equivalent tires. As an added bonus, this thing also has this QuickView Indicator that will show you whether or not the tire is wearing evenly.
Advantages:
Features X-Sipe technology for improved braking
Capable of providing year-round traction
50,000-mile warranty on the tire
Disadvantages:
No added features to resist punctures
6. Michelin Pilot Alpin PA4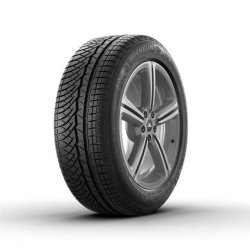 This expensive tire has no dark secrets. Yes, it's actually as good as it's advertised to be. It's equipped with quite a lot of handy features that ensure that it doesn't malfunction like other tires out there. In other words, this low profile tire is perfect in every imaginable way, which explains why it carries a high price tag.
Michelin Pilot Alpin PA4 Highlights:
This tire features a unique tread design that allows it to deliver outstanding traction on almost all surfaces. Its snow performance is really a cut above the scope. The way it handles snow-covered and icy surfaces are really unimaginable, to say the least.
The new Helio Compound used in the tire allows it to remain flexible even in freezing temperatures. Keep in mind that the tire is also tested for its high standards in many capacities. Gladly enough, the tire has scored high marks in all tests. It's currently being tested further for its high-performance manufacturing.
Advantages:
Features outstanding sipes
Offers fantastic grip at all times
Comes with a 30,000-mile warranty
Worth every penny spent on it
Disadvantages:
Expensive for many shoppers
7. Michelin Pilot Sport A/S 3+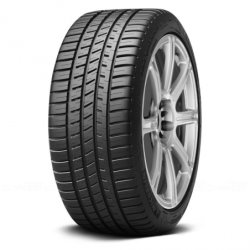 Like most Michelin high-performance tires, this one doesn't come at a shoestring budget. Yes, it's pretty expensive. But then, the price tag is justifiable by all accounts. As advertised, the tire is super responsive and supremely durable. It's top-notch, all the way. The grip and traction are up to the standard as well.
Michelin Pilot Sport A/S 3+ Highlights:
The cornering ability of this tire is like nothing else out there. Its unique rib design really helps with sharp cornering at any given time. The braking distance is remarkably short too. The tire also bears a 45,000-mile warranty, which is not bad for a low profile tire of its nature.
Advantages:
Meant for high-end sports cars and sedans
Better dry and wet grip than the competition
Stays super-responsive on the road
Disadvantages:
Expensive like other Michelin tires
8. Bridgestone Turanza QuietTrack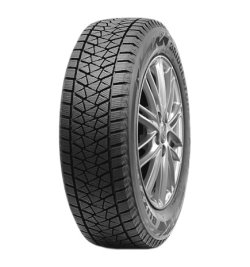 Designed to fit the most popular cars of today, the Bridgestone Turanza QuietTrack Tire is a result of great product engineering. As marketed, this tire is truly capable of delivering a fantastic driving experience for many years and beyond. Clearly, the product engineers didn't miss a beat. The tire's price point is also in harmony with other low profile tires of this nature.
Bridgestone Turanza QuietTrack Highlights:
The makers have used special noise-dampening features in this tire, which means that it's able to deliver a quiet and comfortable ride at all times. The Bridgestone Turanza QuietTrack Tire provides total control of the vehicle on wet and snowy surfaces too. The ingroove ridges in it provide nice snow traction. So, it's a good all-around tire with vital features to it.
Oh yeah! The tire is built to be in the business for a long period, which explains the confidence behind offering a highly generous tread life warranty of 80,000 miles. In summary, it won't be an understatement to claim that this tire is built for outright performance. It really comes close to beating its competition. That said, the tire doesn't come cheap.
Advantages:
Delivers an impressively quiet ride
Works in snowy conditions too
Long tread life warranty of 80,000 mile
Disadvantages:
Not for budget-focused shoppers
9. Falken Azenis FK510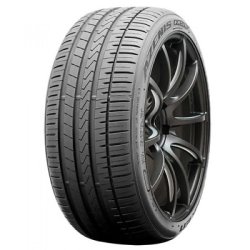 For the summer months, the Falken Azenis FK510 Tire should be a no-frills choice. It really has all the go-to features to perform phenomenally well in summer conditions. In fact, it's easily one of the favorite low profile summer tires out there. As promised, it offers an exciting drive on the streets and on the tracks too.
Falken Azenis FK510 Highlights:
The way the tire communicates with the surface is second to none. You won't really be able to find any fault with the handling abilities of the tire. It doesn't feel sluggish or slow. On the contrary, the tire keeps you in total control at all times while providing a secure feeling. It also handles high-speed cornering very well.
For a low profile tire, it's totally flawless. It may not make a world of difference in every driver's life. But then, you will get more than what you may have asked for. Keep in mind that the tire also looks new for a long period. Yes, you will really appreciate the product's looks and longevity.
Advantages:
Ride quality is smooth
Long-lasting tire
Usable on tracks
Easily controllable
Stays pretty quiet
Disadvantages:
10. Bridgestone Dueler H/P Sport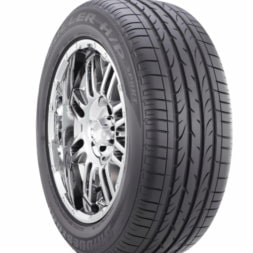 The Bridgestone Dueler H/P Sport Tire doesn't come with the risk of an embarrassing performance. This explains why we have high regard for this all-season tire. As pointed out by past purchasers, it handles wet and dry surfaces very well. The ride quality is quiet, vibration-free, and, of course, comfortable.
Bridgestone Dueler H/P Sport Highlights:
This low profile tire is good enough to survive harsh conditions. We are not saying that it's the best tire out there for severe snow or heavy rains. But then, the tire does what's expected out of it. Yes, the wheel won't start to fall off when challenged to its limits. Even though there's no treadwear warranty on this product, we believe that it's built to last.
Advantages:
Unbeatable in its price segment
High level of grip on wet/dry surfaces
Performance is up to the mark
Disadvantages:
No official treadwear warranty
Low Profile Tires: Frequently Asked Questions
What legal things should you know?
Nothing too technical, but you should know a few basic things to keep legal issues at bay. As you might already know, the overall diameter of the tire changes. The allowable diameter change varies from state to state. The point here is that you need to stay within the allowed limits.
You need to keep the load-bearing capacity of the tire in mind as well. The tires are supposed to bear the load of the entire vehicle. So, there can't be any compromises in this regard. Technically, your car won't be considered road-safe if the load index isn't sufficient enough to bear the weight of the vehicle.
Final Words About Low Profile Tires:
Low-profile tires are everywhere these days. They are strongly recommended by industry experts too. Needless to say, they have developed a fan following of their own. If you would like to get one today, you know which one to get without frying your brain in the process.