Many of the ATV tires sold these days are designed for solid mud performance. Unfortunately, they don't perform very well in the snow. But, of course, you are not alone if you are looking for an ATV tire that can perform well in the snow too. Now you might be pondering, "Damn, how do I make the right choice? After all, you can't simply stick to your guts and spend hundreds of dollars on a tire, hoping that it will meet all your expectations beautifully.
We aren't lying. You will lose your precious dollars by not researching the best ATV tires for snow. To have fun on the frozen lake in your city, you will have to get an ATV tire that provides outstanding grip and traction on ice/snow.
As expected, what will follow is the list of top 10 ATV tires that literally outperform others in the snow.
The fact that we are reviewing 10 different ATV tires, you will be in a position to decide easily, based on the product features that appeal to you the most.
Top 10 ATV Tires for Snow
1. Carlisle AT489 All-Season Bias Tire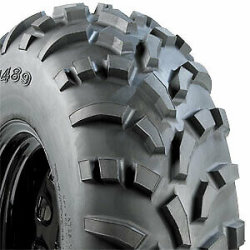 The Carlisle AT489 Tire will dissolve any issues that you may have with inexpensive ATV tires. Seriously, there are no glaring problems with this ATV tire despite the low asking price. In other words, this tire will perform well throughout. Plus, the tire will last long enough to make you feel that you truly got your money's worth out of it.
Carlisle AT489 All-Season Bias Tire Highlights:
As advertised, this ATV tire performs like a champ on snowy surfaces. Even though it doesn't have deep and large lugs like other expensive ATV tires, it won't get stuck in deep snow. Not to mention that the tire will perform well in dirt and gravel too. The mud performance is pretty ordinary, though.
Pros:
Manufactured in the United States
Features highly durable treads
Usable in most weather conditions
Hooks hard. So, it will hardly ever get stuck
Cons:
Mud performance isn't up to the mark
2. Kenda K587 Bear Claw HTR ATV Radial Tire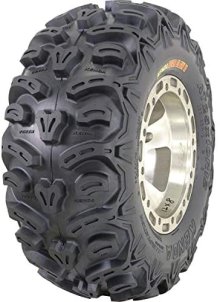 This tire is designed to meet the needs of a modern ATV. It has an 8-ply radial casing, which ensures excellent handling at all times. It also features tall knobs that will help you get out of deep snow and mud without any issues. The tire arrives promptly too.
Kenda K587 Bear Claw HTR ATV Tire Highlights:
The grip strength of this tire is almost too much. Yes, it won't cause your vehicle to slip, even on slippery surfaces. Construction-wise, the tire is right on the money too. Believe us or not, it will seem almost impossible to puncture this thing. Not to discount the fact that the product images fail to express how good this tire looks.
Pros:
Good all-round ATV tire for snow
Looks great on a modern ATV
Moves through the mud with great ease
Even tire shop guys praise this tire
Cons:
Deserves better packaging
3. GBC Spartacus Radial ATV Tire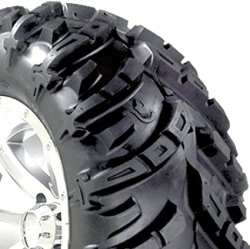 Super tough and durable, this 8-ply ATV tire can tackle almost anything. So, you can use it on rough terrains without worrying about potential damage. In other words, the tire won't let you down on sand, mud, snow, or river crossings. Oh boy! The mud performance is exceptionally good.
GBC Spartacus Radial ATV Tire Highlights:
This tire drives well on both light and deep snow. It has deep lugs to help disperse slush and snow. Better still, it has the same tough construction as other pricier ATV tires for snow, which explains why this radial ATV tire is well-liked by the masses.
Pros:
Looks great when mounted
Feels stable on the turns
Comes in excellent shape
Doesn't have a strong odor
Cons:
Doesn't perform very well on ice
4. Maxxis Snow 2 Ply 22-10.00-8 M910 ATV Tire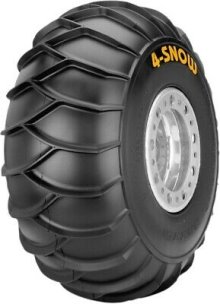 Maxxis is one of the few tire companies out there that make dedicated winter tires for ATV. This tire from them is a masterpiece in its own rights. It's designed with a soft tread compound on purpose, which allows the tire to remain flexible even in freezing temperatures.
Maxxis Snow 2 Ply 22-10.00-8 M910 Highlights:
Unlike other competing ATV tires, the tire diameter expands (up to 40%) at the time of acceleration for improved traction and better ground clearance. Consequently, you will be able to use this tire on ice, snow, mud, or sand without any problems. It's not meant to be used in warm months, though.
Pros:
Excellent all-round ATV tire
Flexible in cold seasons
Reversible tread design
Can be used in the sand too
Cons:
5. Kenda K299 Bear Claw ATV Bias Tire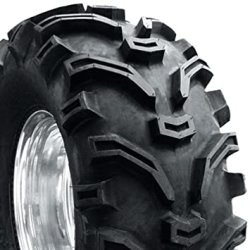 This ATV tire can handle a mix of everything—deep snow, sand, mud, poo, gravel, and whatnot. It also self-cleans itself while resisting mud and snow. The tire has strong beads on it too. So, the tire won't pop off when you hit large rocks. On the whole, this tire will truly make a huge difference in your ATV driving.
Kenda K299 Bear Claw ATV Bias Highlights:
This tire can go over huge rocks and branches without any fuss. Seriously, you won't have to worry about cuts or punctures. The price of the ATV tire is also lower than what you would normally pay for equivalent tires at a local auto shop. On the whole, the tire is incredibly good at its price point.
Pros:
Arrives nicely strapped
Really easy to put on
Has solid beads on it
Quieter than expected
Cleans itself nicely
Pricing is fair too
Cons:
Should be warm during installation
Can slip a little bit on dry ground
6. Interco Swamp Lite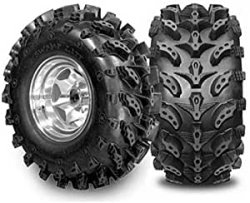 This tire performs great on both packed and unpacked snow, which you don't often see with other ATV tires sold nowadays. Of course, it rides well on a variety of different terrains, such as mud, sand, gravel, etc. The tire looks pretty badass as well.
Interco Swamp Lite Highlights:
Unlike other ATV tires, this tire stays highly responsive at top speeds. Given how well it's constructed, the tire also remains remarkably stable during high-speed driving. As a result, you will feel secure at all times. The reviews about the tire lasting long are absolutely correct as well.
Pros:
Features strong sidewalls
Has a very beefy look
Performance is awesome
Gets out of deep snow easily
Cons:
Little difficult to mount
7. Sedona Coyote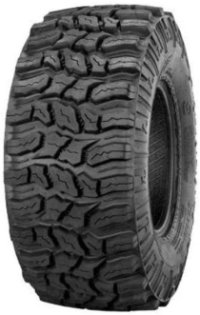 This is a solid ATV tire that's both inexpensive and durable. As marketed, its works well on most surfaces, irrespective of the weather conditions. Believe it or not, even several inches of deep snow won't slow your vehicle down. The tire digs in like nothing else out there yet offers a smooth ride.
Sedona Coyote Highlights:
The Sedona Coyote is one of the newest tires in the company's tire line-up. Made from puncture-resistant compounds, you will see a lot of improvement in this product. Despite all the major improvements, the company has kept the cost of this ATV tire pretty low. As expected from a 6-ply ATV tire of this nature, it works well in packed and unpacked snow. The siped treads allow the tire to perform well in the snow. The best part is that the tire doesn't get out of control at high speeds. It's not the best tire for mud driving, though.
Pros:
Features a proprietary Smooth-Ride technology
Amazing traction in almost all conditions
Works great on hard-packed surfaces too
No fitting/mounting issues
Cons:
Not the best choice for mud driving
8. ITP Mud Lite AT Tire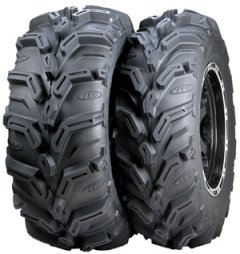 Sized perfectly to fit most modern ATVs, this 6-ply mud tire has no competition in its price segment. As marketed, it runs awesome on both heavy mud and wet snow. Keep in mind that the tire is American-made, and it rides smoothly on all surfaces. The price is also good compared to competing ATV tires.
ITP Mud Lite AT Tire Highlights:
Weight-wise, the tire is lighter than most ATV tires out there. So, it won't slow you down. At the same time, this ATV tire is nicely constructed to last long. Believe us or not, the sidewall is tough as hell. In fact, the IPT Mud Lite AT Tire receives full marks for product durability.
Pros:
Can fit high-performance sports ATVs
Not only fits good but also looks good
Hardly gets stuck even in deep mud
Longer than usual tread life
Cons:
No major concerns to report
9. MASSFX ATV TIRE 27X9-14 Single ATV Tire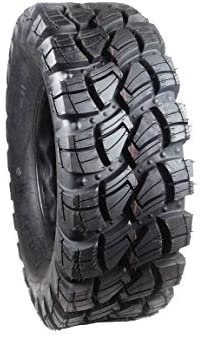 This inexpensive ATV tire will give you no trouble. It not only looks excellent, but it also handles everything very well. Honestly speaking, you will be floored to see how smooth it rides on just about any challenging surface. In fact, the traction is way better than stock tires.
MASSFX ATV TIRE 27X9-14 Single Highlights:
The MASSFX tire features a rugged tread pattern, which allows you to plow it through deep snow and mud without any hiccups. It's also constructed well enough to resist punctures and cuts. Plus, it has extra sidewall protection for added durability. There's no question about this ATV tire not lasting for many years to come. Keep in mind that it's also hard to beat this dual compound 6-ply ATV tire on the price and shipping timeframe.
Usually, the tire gets delivered way before the scheduled delivery date, as confirmed by previous tire shoppers. Oh yeah! The tire is neatly packed as well to prevent damage during transit.
Pros:
Made from high-grade rubber
Lug design for superior grip
Extra sidewall for protection
Can handle the roughest trails
Cons:
Meant only for off-road use
10. SunF Power I ATV Tires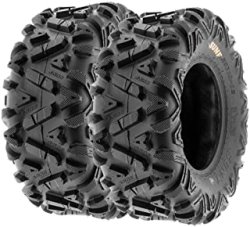 This tire is a great tire for taking on heavy snow and ice. Honestly speaking, it provides plenty of traction to push through uneven snow terrains without any hassle. You will hardly ever get in trouble because this thing won't sink your vehicle. The tire will hold up well to abuse too.
SunF Power I ATV Tires Highlights:
The tire has an angled knobby design, which allows it to perform well on almost any surface you put it through. In fact, you can also expect good performance on the sand. As such, the tire comes with a 6-ply rating, enabling low-pressure driving without any issues. The durability is good too. Not to undermine the fact that you can buy this SunF Power I ATV Tire based on the good reviews alone. So, you won't need anyone's two cents on this purchase. Keep in mind that SunF is also well-known in the industry for producing some of the best economical ATV tires.
Pros:
Won't slow down your ATV
Usable on sand and road too
Doesn't wobble even at high mph
Fresh manufacturing dates
Cons:
Bit louder than stock tires
What Type Of ATV Tire Is Suitable For Snow?
As hinted earlier, not all ATV tires can cut the deal. Some of them really suck in the snow. In short, you can't expect dependable performance on snowy surfaces from all ATV tires. It's also important to know that only a few companies make dedicated ATV tires for snowy surfaces. So, what are your options?
For you to have the most fun in the snow, your next ATV tire must navigate through snow easily. If you have read this article closely, you will already know which ATV tires to choose for your vehicle. The ones recommended by us will keep you floating on top of the surface. In other words, you won't be stuck deep down in the snow in the middle of an ordinary snowy day.