Let's face it, tire inventions have seen new heights over the years. But anyone with a basic understanding of tires will tell you that there are at least ten crappy tires out there for every good one sold in the market these days. Yes, there are a bunch of unsatisfying 10 ply tires available nowadays.
Needless to say, the failure of humans to choose the best 10 ply tire from the available choices contributes to the overall misery. It's hard to admit, but we all make some unbelievably stupid decisions, and the by-product turns out to be inefficient tire combined with plenty of grief.
Keep in mind that the good 10 ply tires for towing won't come looking for you. Luckily, you have landed at the right destination to learn everything you need to know about the best 10 ply tires for towing. From virtually no awareness, you will learn a lot about 10 ply tires today.
So, let's begin the countdown of the top 10 ply tires for towing. Best products aside, we will also include a valuable buying guide towards the end of this post so that you enjoy the freedom of choosing any 10 ply tire you like.
Top 10 Ply Tires for Towing
1. Kumho Crugen HT51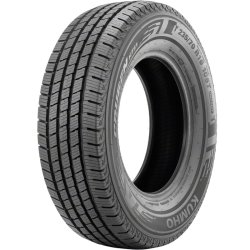 This tire will be easy on your personal finance. For its heavy-duty abilities, it's sold at a surprisingly low cost. The tread block on it is also optimized to last irrationally long. Subsequently, your truck tire won't experience abnormal wear, punctures, or vibration. It is also quieter than the previous models. Not to mention that it offers amazing stability, even at high speeds. This should tell you that the company has really raised the bar on this tire.
Kumho Crugen HT51 Highlights:
The tire scores high marks in all aspects of use. The grip and traction are good in relative terms to equivalent products. As advertised, the stopping distance is short too. The tire is 3PMSF-rated as well.
Another key thing to note is that the Crugen HT51 tire doesn't make a lot of noise during highway rides. Keep in mind that the reviews for this tire are also unusually high and positive too. Ratings indicate that it works well in both wet and dry conditions.
Pros:
Mounts and balances fine
Rides smooth and stable
Never loses traction
Stays quiet for long
Doesn't get stuck easily
Cons:
Not the best tread life warranty (45,000-miles)
2. Goodyear Wrangler MT/R with Kevlar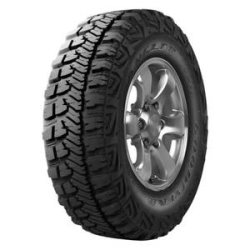 If you need a well-made tire from a big-name brand, feel free to take a shot at the Goodyear Wrangler MT/R Tire. With no built-in flaws, this Wrangler tire is as good as it can get. It's also an economical option.
Yes, the company has deliberately kept the price low to attract more buyers. At the same time, the quality is not compromised. As advertised, the tire works well in mud and even on rocks. The traction is also best-in-class.
Goodyear Wrangler MT/R with Kevlar Highlights:
This tire has a load capacity of 1653 pounds. With a speed performance rating of H, T, and V, the tire can suit a wide variety of towing vehicles. It has strong casings. So, it can be used to haul heavy cargo as well.
Keep in mind that the tire is also designed to handle sharp and fast corners like a champ. For the money spent, the Goodyear Wrangler MT/R Tire is remarkably sturdy too. It has an enhanced tread compound, which helps it to enjoy a long life.
Pros:
Year-round driving with ease
Wide circumferential grooves
Designed for today's vehicles
Cheaper than equivalent tires
Cons:
3. Bridgestone Blizzak LT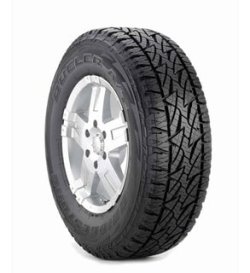 This heavy-duty winter performance tire is ideal for towing purposes. It offers remarkably precise handling and control, even in the toughest snow. This thing can also tackle wet and icy conditions like a hot knife through butter. The best part is that it's well-made enough to last for many winter seasons.
Bridgestone Blizzak LT Highlights:
This tire features zig-zag center grooves. This zig-zag geometry does a wonderful job of mitigating hydroplaning. Better still, the tire comes with straight outer grooves to help evacuate water and slush from the tire's footprint without any issues.
Keep in mind that the tire also offers 30% more biting edges than the preceding model. Credit to the outstanding longitudinal traction, this tire won't get stuck anywhere. The stopping distance is short too. In summary, it's truly the best 10-ply tire out there for winter driving conditions.
Pros:
Rugged commercial-great LT compound
Works great on ice/snow/water
Doesn't get stuck in deep snow
Not too loud on the pavement
Cons:
4. BFGoodrich All-Terrain T/A KO2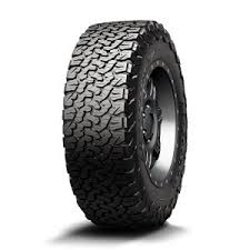 With a load capacity of 3750 pounds, this all-terrain tire is a beast in its own rights. It can haul a serious amount of load without any issues. In short, this tire is great for towing purposes. The tough and bruise-resistant sidewalls allow it to enjoy a great lifespan too.
BFGoodrich All-Terrain T/A KO2 Highlights:
This tire features a protruding sidewall rubber for increased traction on all driving surfaces. Better still, the tire has 3-D sipes that provide far better biting edges than the competition.
It also comes with an advanced deflection design, which protects the tire from splitting and snagging. Not to discount the fact that the tire has received the RMA certification too. So, it can be used in severe snow conditions as well.
Pros:
Excellent off-road abilities
Stays stable under heavy load
Optimally made to last long
Advanced footprint for even wearing
Cons:
Not the quietest tire around
5. General Grabber HTS60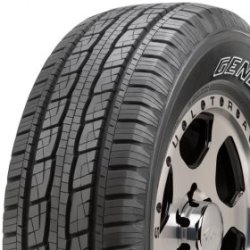 This bad boy is as tough as it can get. Featuring a damage-resistant compound, you won't find a more lasting tire in its product category. Seriously, this all-season tire offers a perfect synergy of performance and durability like nothing else out there. It's perfectly suitable for SUVs, Crossovers, and light trucks.
General Grabber HTS60 Highlights:
The tire features a nice absorption layer, which isolates a vehicle from road annoyances. You can really expect a smooth, comfortable, and quiet ride at all times. The best part is that the tire offers unmatched stability at high speeds, even with a trailer attached to it.
Besides this, the price point of the tire is lower than what you would normally expect from a tire of this quality. Normally, an all-season tire of this quality would sell for far more. This General Grabber HTS60 Tire is also backed with a 50,000-mile warranty, which is pretty good to know.
Pros:
Cut and chip resistance tire compound
Mounts easily. Compliments the car
Better than equivalent pricier tires
Comes with a 50,000-mile warranty
Lives up nicely to most expectations
Cons:
Balancing takes some effort
6. Michelin Defender LTX M/S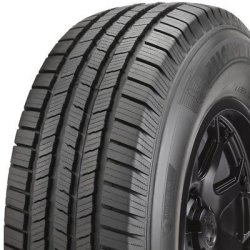 If you need a well-made tire that can provide you a competent feel in almost any situation, the Michelin Defender LTS M/S tire should be on your radar. For the record, the tire does well in all areas of use, such as traction, comfort, braking, and cornering.
The compound on this tire offers excellent traction, even in heavy rain. As far as the durability goes, it doesn't prove to be a bummer. The tire can easily last for thousands and thousands of miles. In fact, this Michelin tire comes with a warranty of 70,000-miles.
Michelin Defender LTX M/S Highlights:
Unlike other competing tires, the Michelin Defender LTS M/S tire continues to ride great even after a lot of use. Yes, this thing keeps going strong even when it's nearing its end. Credit to the MaxTouch construction, the tire also remains stable when tested with heavy loads.
The tire has received amazing reviews too. According to past purchasers, it's the best tire anyone can buy for safety, smooth ride, and excellent mileage. For the money spent, you couldn't have hoped for a better-performing tire. In short, you will like what you ordered.
Pros:
Arrives in a beautiful condition
Available in E load range
Doesn't make a lot of road noise
Lasts long with periodic rotations
Looks like brand new for long
60-days satisfaction guarantee
Cons:
Not suitable for the harsh snow
7. Forceum M/T 08 Plus Mud Tire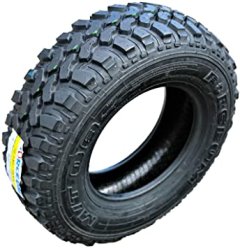 The Forceum M/T 08 Plus Mud Tire rides great with little road noise. It's a tad bit expensive than other affordable models, but the mud performance is superior too. It holds the surface very well. In fact, the tire works great in the snow too.
Forceum M/T 08 Plus Mud Tire Highlights:
The tire is good enough for standard towing needs. For those who don't know, this Forceum tire is capable of handling 3086 pounds of weight. When you have four of these all-season tires on your truck, you can expect to tow a heavy trailer without any fuss.
The tire has a good working life too. As marketed, it wears really well. The tread is really fantastic. Even if you have an automobile expert look at it, he will agree that it's a great tire. Above all, the tire has praiseworthy looks as well.
Pros:
Load range rating of 'E'
Rides buttery smooth
Can handle hard cornering
Moves water very well
Remains quiet at high speeds
Cons:
8. Fortune Tormenta M/T FSR310 Tire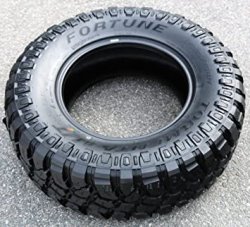 Suitable for light trucks, the Fortune Tormenta M/T FSR310 Tire offers a lot for its price point. It has an ideal tread design and aggressive block pattern to deliver unmatched steering response and driving stability, even under enhanced load. The strong tread compounds also protect the tire from getting damaged easily.
Fortune Tormenta M/T FSR310 Tire Highlights:
The tire features a self-cleaning tread compound that prevents mud, rock, snow and other road annoyances from sticking to the tire's footprint. Better still, the tire maintains its contact with the ground to provide you with better control throughout the drive. You will truly appreciate the enhanced driving control.
The best part is that the tire maintains its shape for a long period, even when it's subjected to a lot of rigorous use, which speaks volumes about the tire's craftmanship. It has a strengthened internal structure that allows it to handle heavy loads without getting damaged in the process.
Pros:
Generous (load) capacity of 3086 pounds
Optimized off-road grip
Can keep up with rigorous use
Maintains its ideal shape for long
Cons:
9. Maxxis M8008 ST Radial Trailer 205/75R14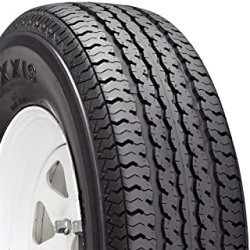 This tire is a wonderful tire for anyone who wants to enjoy a trouble-free drive. It drives well, and it maintains proper air pressure for longer than expected. Of course, it's reliable too. So, you won't experience the worst blow out of your life.
Maxxis M8008 ST Radial Trailer 205/75R14 Highlights:
Like other well-made tires, the Maxxis M8008 tire utilizes an advanced tread compound for better fuel economy, improved tread life, and decreased rolling resistance. With a load-bearing capacity of 2040 pounds, this 10 ply trailer tire can be used for towing purposes too.
Pros:
Solid double steel-belted construction
Mounts properly and stays properly inflated
Load handling is better than expected
Lives up to the reputation of the company
The only trailer tire you might ever use
Cons:
Surprisingly, it doesn't come with a warranty
10. Carlisle Radial Trail HD Trailer Tire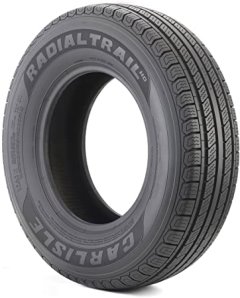 This tire is rated as one of the best tires in its category. So, you won't have to do a lot of research before purchasing it. Seriously, this trailer tire is as good as it can get. Even if you drive a lot, you won't be able to wear the tire out before its warranty.
Carlisle Radial Trail HD Trailer Tire Highlights:
The tire has a maximum load capacity of 2830 pounds. And, it's compatible with a host of cargo and utility trailer brands out there. The speed rating of this tire (82 mph) is also far better than other comparable trailer tires used for towing purposes.
Not to discount the fact that the price is smoking hot for the quality of the tire. It's absolutely hard to beat this trailer tire at its price point. Much better tires are available, but they are sold at an expensive price tag.
Pros:
Designed for both long and short distances
Requires minimal weight for balancing
Neat packaging. Arrival is usually prompt too
Can easily last for many seasons
Cons:
Has a profound rubber smell initially
Best Ply Tires for Towing: Buying Guide
This is where the actual secret sauce comes in. Everything discussed below will make so much sense that you won't handpick a lackluster tire ever again in your life. Having said that, let's begin with this best 10 ply tire buying guide.
Check the Load Rating:
The load rating is the key thing over here. Unlike the past, the modern-day 10 ply tires don't feature a lot of 'piles.' Yet, they are as sturdy and durable as tires that come with a very large number of piles. Yes, the high-tech tires of today can deliver excellent results without a large number of plies.
So, don't focus on the number of plies. Instead, focus on the 'load range' rating of the tire. Your best bet would be to choose a ply tire with a load range rating of 'E.' A tire with a load range rating of E will meet the same needs as a 10 ply tire, which explains why it's so popular in the trucking/towing industry these days.
Look for LT Tires:
When looking for the best tire for towing, always make it a point to prioritize the LT (light truck) versions because these tires are designed for heavy hauling. LT tires are maximally inflated on purpose, which enables them to do a better job than the rest. Not to mention that their heavy-duty construction also resists punctures.
Highway Tires for Road Drivers:
If most of the towing work needs to be done on the road, go for a highway tire because almost all the highway tires out there are readily available in the E load range rating. Also, every one of them is available in the LT version, making them a suitable choice for larger pickup trucks and vans that are constantly used for towing purposes.
All-Terrain/Mud-Terrain Tires for Off-Road Drivers:
If you do a lot of off-roading, then a highway tire won't do the trick for you. You will have to choose a tire with better traction. All-terrain tires are good enough for off-road driving as they can handle dirt, rock, snow, sand, and everything else on their way like a boss. It's also important to know that all-terrain tires are more chip and puncture-resistant than your regular tire.
Mud-terrain tires would be another great choice for off-road drivers. In fact, they can prove to be a better choice than all-terrain tires. The drawback usually comes into play only when you drive on the roads. Both all-terrain and mud-terrain tires will make substantial noise on the highways. So, you should be willing to live with this annoyance.
Final Words About Ply Tires For Towing
This sums up our short journey with all you guys out there. Should you need additional assistance in choosing the best 10 ply tire for towing, don't hesitate to comment below. Unlike others, we do not reply in the form of generic answers. As expected, we will suggest something that will make sense.