Irrespective of the time spent researching the best tires for Toyota Prius, it's not easy to settle down on a product that might please you till death. Frankly speaking, the tire choices are plentiful, and there's a lot to compare. All of this might confuse the heck out of you.
Keep in mind that just because the tire has high performance stamped on it in bold letters on the sides doesn't mean that it's a true workhorse. With a Prius, you should aim for a quiet, comfortable, and fuel-efficient tire that can keep up with changing weather conditions without any issues.
As described earlier, it won't be an easy task to find such a tire from the minefield of choices made available to us. To help all the Prius owners out there, we have handpicked a few well-made tires that are good enough to put other lackluster tires to shame. We are pretty sure that you will be 100% smitten by most of these tires.
Top 11 Tires for the Toyota Prius
1. Firestone Weathergrip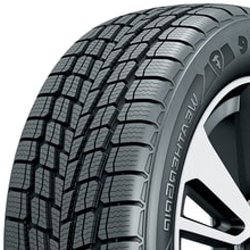 This tire will go well with your Prius. Looking at the product features, it's a safe bet to claim that it will also live up to your expectations. As advertised, it has the riding silence of a touring tire. At the same time, it's rugged enough to last long. Not to mention that this tire is designed to do well in all weather conditions. In short, the Firestone Weathergrip tire is good enough to provide a smooth, stable, comfortable, and quiet ride.
Firestone Weathergrip Highlights:
As marketed, the Firestone Weathergrip is far better than your regular 'touring' tire. The tire features a long-lasting, rugged directional tread design for superior handling on wet and dry surfaces. Unlike the competition, the tires perform well even at high speed because of how good they hold the road at top speeds, which should explain why most of the race/sports cars make use of such directional tires. Keep in mind directional tires also do a great job of resisting hydroplaning.
Furthermore, this tire bears a three-peak mountain snowflake (3PMSF) symbol on the sidewall, which means that it meets the performance criteria of handling severe snow. Testing has confirmed that the tire truly provides improved snow/ice/mud traction beyond a regular touring all-season tire. The tire's footprint is also substantially rounded on purpose to deliver a comfortable and fuss-free ride on any given day.
To top it all, this tire is sold in many different sizes to fit various cars. The best part is that the starting price of the Firestone Weathergrip Tire is quite economical. The warranty terms are satisfactory as well. The tire comes with a solid tread life warranty of 65,000-mile, which is very good for a car part of its nature. In summary, the Firestone Weathergrip Tire checks out all the right boxes to be one of the best tires for Prius.
Pros:
Can handle tough weather like a champ
Ensures smooth cornering and braking
Ride quality is definitely praiseworthy
Exceptional grip on wet and dry surfaces
Has received severe snow handling ratings
Has fuel-saving attributes/properties
Tread life is surely better than expected
Cons:
Gets a little noisier at higher speeds
2. Michelin Premier A/S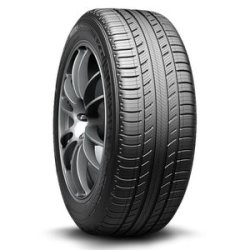 This tire is a game-changing product in its segment. Tested by many drivers, it has received high ratings from most of them. The vast majority of them have commented that the ride comfort of this tire is second to none. Seriously, it's good enough to be among the most expensive tires out there. However, it doesn't cost a bomb. Because of its cost efficiency and performance, it can prove to be a great fit for hybrid cars like Prius.
Michelin Premier A/S Highlights:
The Michelin Premier A/S tire offers best-in-class braking performance. Frankly speaking, its braking performance cannot be compared to equivalent all-season tires, especially on wet roads, which should explain why it's considered to be one of the best tires for Prius. What also sets this tire apart from the crowd is its EverGrip technology, which ensures shorter stopping.
The EverGrip technology also provides a solid grip and long-lasting winter performance. Michelin has used a nice blend of silica and sunflower oil in this Premier tire in lieu of other cheaper materials to improve the tire's grip on snow and wet grounds. The tire truly exhibits good handling capabilities even in freezing temperatures. Furthermore, the tire utilizes additional grooves, which helps it evacuate more water, even when the tire wears out with age.
As expected from a tire brand like Michelin, this tire is also engineered to last long. It comes with a solid 6-year/60,000-mile tread life warranty (whichever comes first), allowing you to enjoy unparalleled peace of mind. Of course, all of this comes at a cost. Although you get more than your money's worth from the Michelin Premier A/S tire, don't expect to procure this high-quality product with a highly conservative budget in mind.
Pros:
Comes with a promise of quieter performance
Features nice grooves to resist hydroplaning
Reduces the stopping distance on wet surfaces
Has enhanced tread compound for longevity
Expected lifespan of the tire is really good
Does a better job of fuel saving
Fits most hybrid cars like Prius
Cons:
Not sold at a bargain/low price
3. Goodyear Assurance Fuel Max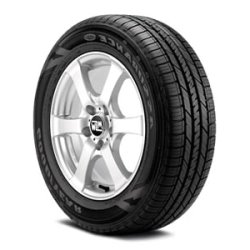 The next tire that earns a spot on our list as one of the best tires for Prius cars is the Goodyear Assurance Fuel Max tire. Appreciated for its fuel-saving capabilities, this Goodyear tire has a lot going for it. For instance, it has an asymmetrical tread design with 3 (independent) central blocks that contribute to a smoother ride by improving the vehicle's steering and handling effort. Independent shoulder tread blocks are also incorporated in this tire to reduce tire noise while riding. So, it's a real marvel in its own rights.
Goodyear Assurance Fuel Max Highlights:
The Goodyear Assurance Fuel Max is designed to work well in all weather conditions. As expected, a lot of thought went into designing the tread pattern of this tire to make it suitable for both dry and wet conditions. Yes, the tire provides enhanced traction on dry and wet surfaces. Steering response and cornering are also up to the mark. Plus, the tire doesn't struggle to last long. Given its quality, you can expect a long service life from this tire.
As far as the fuel-efficiency goes, the Goodyear Assurance Fuel Max Tire is bang on the money. The rubber-silica compound in it decreases the rolling effort for every turn. Subsequently, it saves you gas money. Thanks to the diagonal grooves, a great deal of water is also conveniently evacuated from under the tire, leading to a reduced risk of hydroplaning. Better still, the tire looks cool on a vehicle. It really has a style-boosting appearance to it.
Pros:
Unlike the competition, this tire uses more eco-friendly material
Lives up to its promise of delivering a smooth and comfortable ride
Has equal thickness on the sidewalls to provide stable cornering
Hydroplaning resistance on this tire is better than the competition
Can save hundreds and hundreds of miles worth of gas in the long run
A good tire investment for any old or new Prius car
Cons:
Snow performance is not as good as a dedicated winter tire
4. Bridgestone Ecopia EP422 Plus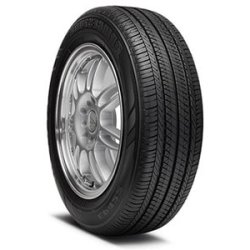 This is a highly suitable tire for any environment-conscious car owner out there. The reason being, almost 5% of the tread compound in this tire is made from recycled ground rubber. This tire also has a fuel-saving aspect to it. It utilizes the 'Fuel Saver Sidewall' compound, which reduces the rolling resistance, leading to less fuel consumption than usual. Needless to say, it has other excellent features too that make it a perfectly suitable tire for a car like Prius.
Bridgestone Ecopia EP422 Plus Highlights:
This tire comes with advanced traction technology for solid year-round performance on both wet and dry terrains. Keep in mind that it also has a silica compound in it to offer superior traction in wet conditions. Furthermore, the tires come with circumferential grooves to effectively displace water through the tread pattern, resulting in improved performance in rainy seasons.
Inside the tire, there are two steel belts that do a great job of prolonging the life of the tire by making it resist punctures. Like other grand-touring tires, it's effectively designed to cover a lot of miles annually without any issues. As expected, the projected tread life of this tire is 70,000-mile, which is along the lines of other well-made tires out there. Needless to say, this generous warranty will safeguard you against premature wear and tear.
Literally, every tire manufacturer offers such a warranty these days. However, tires from Bridgestone are actually built to last long. If you make proper tier maintenance a habit, there's no way this tire will wear out anytime soon. It's a great choice for the mighty Prius. That said, it can go well with other hybrid or passenger cars. The handling is truly suitable for every situation.
Pros:
Channels out the water very well to reduce hydroplane risks
Lives up to the hype of being a fuel-efficient commodity
Behaves well in wet and slippery surfaces as well
Does a good job of minimizing road vibrations and noise
Delivers good braking performance for a safe driving experience
Has a sporty look to it. It's shipped in secure packaging too
Available in many sizes ( 15 to 18-inch rim diameters)
Cons:
Not the best tire for highly demanding terrains
Tire's price point is not the cheapest around
5. Uniroyal Tiger Paw Touring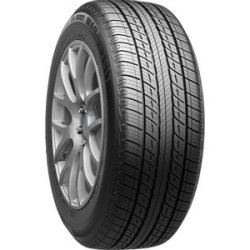 This one is a well-designed tire that can keep up with year-round use in moderate climate. Its unique tread pattern allows it to function well on most surfaces without any fuss. Of course, it's not a full-blown replacement to a dedicated winter tire. But then, it's a good starting tire for moderately-sized vehicles like Toyota Prius. Depending on the tire size you order, it can fit many other vehicles too.
Uniroyal Tiger Paw Touring Highlights:
As advertised, it's an all-season tire. However, it's better to get this tire if most of your driving is on clear ground. This isn't to say that the tire can't handle bad weather. It's actually prepared for occasional bad weather days too. It's just that the performance will be remarkably better on clear roads as opposed to snowy or wet surfaces.
Credit to the outstanding shoulder tread block design, the tire responds well to steering, braking, and acceleration. In fact, handling is one area where this tire excels over its peers. The tire is truly designed to maintain good contact with the ground at all times, allowing you to take sharp turns around the corner without experiencing any slippages. Braking is exceptional even in wet conditions.
Needless to say, you won't get a smooth and noise-free ride as you would get from a more expensive tire. However, you will find the noise-level quite tolerable for a budget-friendly tire. In other words, the compromises made to keep the cost of the tire low are pretty fair. Basically, there are no major grievances in this tire to bitch about it.
Pros:
The rounded channels funnel water from the tire very well
Has full depth channels to effortlessly drive through deep puddles
Provides an accurate steering feel even at high speeds
Doesn't come at a premium price tag to scare you off
Has a stellar 70,000-mile tread life warranty on it
Cons:
Not suitable for severe weather conditions
6. Bridgestone Turanza QuietTrack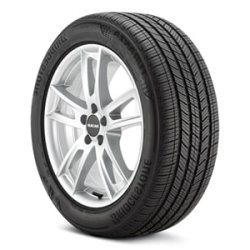 This one is a well-engineered all-season touring tire that has all the latest technological features in it, which allows it to deliver a quiet and comfortable ride. The tire is made available in 37 different sizes, and it bears long-lasting treads. Seriously, the tread life is phenomenally good. The makers offer a warranty of 80000-mile on this tire, which should suppress any doubts that you may have about the product's durability.
Bridgestone Turanza QuietTrack Highlights:
The tire sports an asymmetric tread pattern to deliver equally strong performance on dry and wet surfaces. The asymmetric tread pattern also ensures even wear and tear on the tires, which translates to better product durability. Another advanced feature of this tire is the ComfortCruise Technology, which leverages the contact patch and rounded footprint to deliver a smooth, comfortable, and noise-free performance on most surfaces.
The hydroplaning resistance on this tire is up to the mark as well. Frankly speaking, it can compete with the best tires out there in this area of use, which means that the wheels will remain stable even in heavy rains. In fact, the tire exceeds expectations on both wet and dry surfaces. Believe it or not, it offers more than 40% better traction on snowy surfaces. Given the features, it's easy to tell that the tire manufacturer has definitely considered the customer's wish-list when designing this product.
Pros:
Features QuietTrack technology to dampen road noise
Offers limitless comfort during all your rides
Provides nice grip and control on all surfaces
Does a great job of reducing vibration and shock
Price is truly good for the product features
Will fit into most of the commonly used cars these days
Cons:
No ground-breaking flaw to crib about
7. Kumho Solus TA31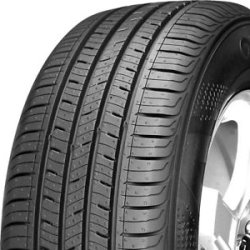 The Kumho Solus TA31 is one of the most affordable tires for Toyota Prius. Of course, do not let the low cost of the tire fool you into believing that it's not as well-made as other expensive tires out there. It may be less capable in some areas, but it's far better than other Toyota Prius tires sold in the same price spectrum. In short, it offers all-season riding comfort and stability like no other modestly priced car tire out there.
Kumho Solus TA31 Highlights:
This tire incorporates an asymmetrical tread pattern and an all-season tread compound that allows it to deliver predictable traction on any given surface. The unique tread pattern also lowers rolling resistance. This is to say that you can expect marginal gains in the fuel economy as well. Additionally, the four main grooves in it do a great job of channeling the water out from the treads to provide nice grip and traction on wet surfaces.
Both braking and steering are spot on as well. The combined force of continuous center rib and notched intermediate ribs offer good directional control, particularly on the highways. Seriously, the highway stability is second to none. The tire also has well-engineered sipes to deal with wet, dry, icy, or loose pavements. The tire will exhibit comfort, even on a bumpy road. The road noise is there. But then, it definitely curbs the cabin noise to a certain extent.
Keep in mind that the tire company behind this product has been making economical and high-quality tires for several decades. Their mission is to provide the best car driving experience to the masses without the customers having to spend a ton of cash. Of course, they also take great pride in their work. Gladly enough, the Kumho Solus TA31 Tire lives up to the company's image. Not only does the tire perform as expected on both wet and dry surfaces, but it also lasts long.
Pros:
Bears advanced dual compound for excellent tread life
Performs admirably well in all seasons
Features silica particles to provide better grip
Has cutting-edge 3D sipes to improve traction
Comes with a rock-solid 60,000-mile warranty
Tailored to the needs of both regular and luxury cars
Cons:
Expect the tire to be noisier at higher speeds
8. BFGoodrich Advantage T/A Sport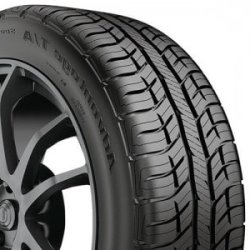 This list would have been incomplete without this tire. It's not the most economical grand touring tire out there. But then, it offers you much more than your money's worth. Tires with similar features as this product usually sell for twice the price or more. As you would normally expect from an all-season tire, this BFGoodrich tire delivers excellent comfort without compromising on the tread life.
BFGoodrich Advantage T/A Sport Highlights:
The tire bears a very sporty look. Performance-wise, it's along the lines of a sports tire too, which means that you can expect better handling and agility. As advertised, it bears a continuous center rib that offers better stability to the vehicle, even at high speeds. In other words, this tire truly justifies the word "sport" used in its name. Not to mention that the beefy sidewalls give it a nice visual appeal.
The tire also has 3D active sipes and (two) circumferential grooves like other well-made tires to provide a solid grip on wet and snowy surfaces. It really has weather-defying features. To top it all, the tire has a perfect-sized footprint to it. The highly optimized footprint serves two purposes. They improve the tread life, and they help in delivering a quiet performance. The tire provides good cornering and steering response as well.
The design focus has also been on lowering the rolling resistance to improve the gas mileage, and of course, to minimize road noise. Inside the tires, there are dual steel belts (reinforced with nylon and single-ply polyester casing) that boost the life of this tire. For those who don't know, the BFGoodrich Advantage T/A Sport tire is backed by a 60,000-mile warranty. In short, this all-season tire gives you very few reasons to complain about it.
Pros:
Lives up to the promise of improved handling, traction, and comfort
As advertised, the tire is highly suitable for everyday driving
Can handle a wide range of road and weather conditions
Footprint is nicely optimized for high-speed driving
Sports a new and attractive look that sets it apart from the rest
Backed by the manufacturer (60,000-mile tread life warranty)
Cons:
Winter performance is not up to the mark
9. Yokohama Avid Ascend GT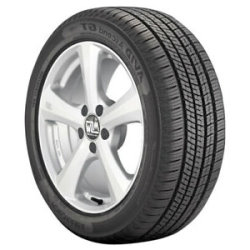 This tire is infused with all the right ingredients to make it a highly suitable all-season touring tire for Toyota Prius. It utilizes TriBLEND Compound Technology to deliver better ride performance than usual. Seriously, you can expect remarkable handling and braking on both wet and dry surfaces. It also has the right proportions of silica and low-Tg polymers compound in it to provide a tenacious grip on almost any surface. So, this tire brings a lot to the table.
Yokohama Avid Ascend GT Highlights:
Yokohama describes this tire as a tire that's engineered to provide a well-balanced and comfortable ride, even in changing weather. Like many other well-made all-season touring tires, the primary focus has been on comfort and long-mileage while keeping the cost of the tire low. Gladly enough, the Yokohama Avid Ascend lives up to the company's mission statement, which should explain why this tire has been a hit among Toyota Prius owners.
Unlike the competition, the tire bears a BluEarth symbol, which means that it's an eco-friendly tire. Believe it or not, it's one of the very few tires out there that has won this prestigious badge. In short, the Yokohama Avid Ascend GT tire is as fuel-efficient as it can get. The tire's contact patch is also well-engineered to distribute the car's load better, leading to less wear and tear of the tires. As such, the tire comes with a good warranty too.
Pros:
Features notched tread blocks and triple 3D sipes for superior traction
Meets the robust fuel-efficiency criteria to earn the BluEarth badge
Incorporates pitch-cancellation technology to reduce road noise
Has asymmetric tread design to provide superior grip
Comes with a 65,000-mile warranty (tread life)
Cons:
Does slip a bit in aggressively wet conditions
10. Kumho Ecsta LX Platinum
This grand touring all-season tire was developed to fit sporty cars, luxurious sedans, and hybrid cars. The company behind the tire takes great pride in developing innovative tires that are exported worldwide. As expected, the Kumho Ecsta LX Platinum lives up to its promise of being a high-performing car tire. Frankly speaking, it's as capable as other expensive tires designed for Toyota Prius. It's perfect for long rides.
Kumho Ecsta LX Platinum Highlights:
This tire provides excellent traction, outstanding responsiveness, and amazing riding comfort. It features an asymmetric tread design to facilitate good performance in both wet and dry road conditions. Another nice thing to know is that the tire has a jointless nylon cap embedded in it, which helps to decrease the noise level and harmonic vibrations during your rides, of course, to enhance the comfort level.
Furthermore, this tire features a fashionable sidewall design, which complements the look of a vehicle. The tire is quite affordable as well. In fact, the price tag is a bargain for such a sturdy tire of this quality. Even though the makers offer a tread life warranty of only 50,000-mile, the tire is good enough to last for many years and beyond. A lot of past tire purchasers have confirmed this thing.
Pros:
Beats other competitors in its price range
Nice handling characteristics and traction
Very efficient at water evacuation
Tire doesn't lose its shape easily
Top-notch braking performance
Performs well at highway speeds
Cons:
Treadlife warranty is only 50,000-mile
Snow performance is below par
11. Goodyear Eagle LS2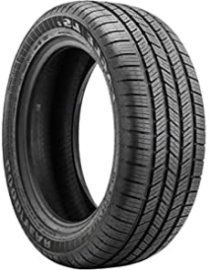 This is one of the cheapest tires that Goodyear makes. The quality isn't cheap or flimsy, though. In fact, the Goodyear Eagle LS2 is good enough to improve your ride quality. The fact that the tire doesn't cost a bomb, you won't end up spending a lot even if you get four of these. Of course, if you mount/install the tires yourself, you will be able to save more. Also, keep in mind that the tire looks spectacular on a Toyota Prius car.
Goodyear Eagle LS2Highlights:
The tire has a good amount of tread on it. So, it can handle everything you throw at it without any issues. Past users have commented that they have gotten over 75,000-miles from the tire, which should tell you that the tread life is exceptionally good. Most of them have even commented that the tire rides like a dream and that they would get the exact same Goodyear tire when the existing ones wear out. It's truly well-engineered for relentless comfort and all weather-traction.
Better still, this tire features computer-aided tread blocks to reduce the road noise during your drives. It also has wide circumferential channels that improve car handling and cornering. It shortens the braking distance as well. Better still, the tire does a wonderful job of hydroplaning resistance. The best part is that it doesn't lose its ability to perform well when the treads wear down with age/use. As you can tell by now, this tire has better overall features than equivalent products.
Pros:
Better rolling resistance to boost fuel-efficiency
Compares well to other expensive car tires
Provides good grip on uneven surfaces as well
Price is actually the best for such a high-quality tire
Available in many popular sizes (15 to 20-inch diameter)
With regular rotations, you can expect the tire to last long
Cons:
Ice and snow traction could have been a little better
Final Thoughts On the Best Tires for Toyota Prius
We compiled this list of the best tire for Toyota Prius based on the product's prices, quality, durability, overall performance, and of course, the tire manufacturer's reputation in the market. There can be some arguments on the shortlisted products, which explains why we have included ten-plus products in this list. Given the choices, you will definitely find a winner in them.