Believe us or not, car tires are far more complex to build than what it may seem on the surface. Since it's the only thing that remains in constant touch with the ground at all times, there's literally no room for errors. Any car expert will tell you that tires play a vital role in safety, fuel efficiency, eco-friendliness, and overall driving performance.
From quick stops to sharp turns, they help us with everything. Yet, we rarely think about them.
Our focus usually centers around looks, brand, mileage, and other things along the same lines. Tires are the last thing on our minds until we are in need of new ones. During times of need, they suddenly become the most important thing in our lives. Needless to say, a well-made tire must offer a nice blend of comfort, balance, traction,
stability, and whatnot. Designed to perform like a champ on and off-road, all-terrain tires are gaining widespread popularity these days. Of course, how well an all-terrain tire will perform on the highway will depend entirely on the brand and product. Having said that, let's introduce you to the best all terrain tires for highway.
Top 10 All Terrain Tires for Highway
1. Bridgestone Dueler A/T Revo 3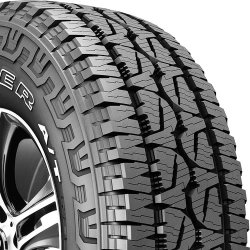 Bridgestone is a tire brand that has been around for ages. They have the best product engineers in their team, which should explain why their tires are such a hit with the masses. Speaking about the Bridgestone Dueler A/T Revo 3, it's a masterpiece in its own rights. As advertised, it provides the required comfort, quietness, smoothness, and ruggedness during your highway rides.
Bridgestone Dueler A/T Revo 3 Highlights:
The Bridgestone Dueler A/T Revo 3 tire has all the advanced engineering to it. To begin with, it features a uniform outer tread block edge, which offers a lot of stability when driving on the highway. It also has loads of sipes in the tread block to improve the tire's traction on wet or snowy surfaces. Plus, this thing has big grooves to channel out the rainwater, which allows the tire to remain in close contact with the ground.
The grip is excellent as well. You will have no issues taking sharp turns around the corner. As expected from a reputable brand like Bridgestone, this tire is also built to last for several years and beyond. Yes, the tire can keep up with hundreds and thousands of miles. You will truly be able to enjoy a safe and comfortable ride on the highway and even on some serious terrain because of how well-made the tire is.
Keep in mind that this tire requires less rolling effort than usual, which is to say that it's quite fuel-efficient. Given how well the tire is constructed, the risk of punctures and cuts is also very low. Another noticeable thing about this tire is its looks. Seriously, it looks damn good. In short, the Bridgestone Dueler A/T Revo 3 stands out both in the area of looks and performance. Seriously, you will struggle to find an equally good all-terrain tire at its price point.
Pros:
Excellent traction on both wet and dry surfaces
Staggered shoulder lugs for better off-road driving
Tire treads are good at evacuating water
Highway stability is literally unmatched
Behavior during ABS engagement is satisfactory
Slow aging. Tire treads won't wear out soon
Built to maximize car mileage. Definitely a fuel-saver
Backed by a generous (60,000 miles tread-life) warranty
Cons:
2-ply construction makes it less suitable for rocky surfaces
2. BFGoodrich All-Terrain T/A KO2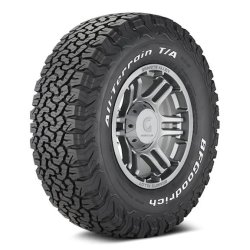 The BFGoodrich All-Terrain T/A KO2 has all the shining characteristics of a well-made all-terrain tire designed for solid highway performance. Seriously, this all-terrain tire doesn't have too many glaring problems to bitch about. It has some issues, for sure (discussed below). But then, the flaws are minor enough to be overlooked.
BFGoodrich All-Terrain T/A KO2 Highlights:
As advertised, it's meticulously designed to be suitable for a variety of different driving conditions. In other words, it will give you a certain amount of both highway and off-road performance. So, you will no longer have to worry about higher sway while driving your car. The tire provides better traction for acceleration, stopping, and turning on mud, sand, snow, streets, etc.
Better still, it has specially designed tread rubber that causes less wear and tears from regular driving. You will also be impressed by the noiseless ability of this tire. If you are used to a lot of tire noise, you might even think that your vehicle is turned off. The handling is spot-on as well. Not to discount the fact that you might notice a slight increase in the fuel mileage too. Look-wise, the tire looks better than most stock tires out there.
Frankly speaking, the tires look great on most vehicles. You will hardly face any issue, even when the tires grow old from constant use. Yes, the BFGoodrich All-Terrain T/A KO2 will age gracefully. In conclusion, you can definitely consider this tire if you have plans on putting on loads of miles on your vehicle. Your vehicle will definitely drive better on all surfaces.
Pros:
Very good highway performance
Excellent mud/stone ejection technology
Deep tread depth for improved traction
Tire wears out flat and even from all sides
Noticeably less-noisier than other models
Offers superior grip on most surfaces
Consumes less fuel than usual
Comes with 50,000 miles treadwear warranty
Cons:
Larger rocks can be an issue
3. Kumho Road Venture AT51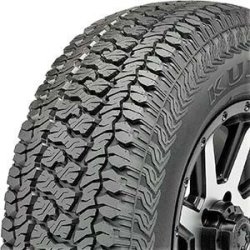 As you might already know, Kumho has proven its worth in the USA market. They have been creating well-performing tires for decades now. The Kumho Road Venture AT51 is one of the most popular products from this brand. The tire is advertised to offer better traction, increased comfort, and a long tread-life. It's also created to withstand cuts and punctures like a champ, which should tell you that the tire won't get bruised easily from serious off-roading.
Kumho Road Venture AT51 Highlights:
As marketed, the tire truly delivers top-notch performance on snow, mud, and streets. Credit for this goes to the angled chamfer, nice grooves/sipes configuration that provides better grip and traction on almost all ridable surfaces, including wet roads and snow. It also has sufficient depth to conveniently drain out all the water from the tire's surface. Plus, the tire has tapered blocks, which provides an easy way to clear out the residue dirt, or mud.
Keep in mind that the company has paid considerable attention to make this tire both noise-free and comfortable for highway driving. From the symmetric tread design to the two-ply polyester cord body and variable pitch tread blocks, the makers have truly done everything they possibly can to eliminate road noise. Better still, this tire has a dual silica compound in it, which provides the tire with better wear life.
Credit to this special compound, you can expect better fuel efficiency as well. In short, the product engineers have spent a lot of time perfecting things. They have also succeeded, for the most part. Believe us or not, the Kumho Road Venture AT51 pops up in many reviews that discuss the best all terrain tires for highway. Many reviewers have commented that Kumho hasn't compromised on innovation and quality for competitive pricing.
Pros:
Can withstand heavy snowing
Improves car's handling on all surfaces
Offers a stable ride at all times
Manageable noise levels during rides
Reduces heat build-up/wear and tear
Priced below other comparable tires
Product is also warranted for six-years
Cons:
No major setbacks to crib about
4. Continental TerrainContact A/T
German engineering can be seen on this product. This is to say that the Continental TerrainContact A/T tire is a cut above the scope. So, you can expect outstanding drivability on highways. Off-road performance may not be as good as driving on the streets or highway. However, it can keep up with occasional off-roading. As such, this car tire is ideal for SUVs, CUV, and light trucks.
Continental TerrainContact A/T Highlights:
This tire is one of the most responsive all-terrain tires available these days. It comes with a whole bunch of patented features and technology. For instance, the makers have used +silica-enhanced tread compounds in this tire, which provides substantial benefits. This special compound not only boosts the tread-life of the tire, but it enhances the grip strength as well, especially on wet surfaces.
What's also worth mentioning is that the tire has full-depth sipes and traction grooves for better traction on wet, snow, and other ice-covered surfaces, allowing you to focus just on driving and not worry about anything else. The icing on the cake is the patented TractionPlus Technology, which reduces road noise so that you can enjoy a pleasant drive on any given day. Even better is the fact that Continental TerrainContact A/T tire is backed by a 72-month limited warranty. Furthermore, the tire comes with a solid 60,000-mile treadwear warranty.
Not to mention that the tire wears out evenly across the tread. The stable tread block pattern helps the tire to avoid unnecessary friction, leading to symmetrical wear and tear. Please bear in mind that the wear rate is also slow because of the excellent construction quality. Moreover, the tire is delivered in excellent condition without a speck of dirt or debris on it.
Pros:
Proudly made in the home ground (United States)
Unexpectedly quiet for an all-terrain tire
Performs surprisingly well in most weather
Can cover thousands of miles before rotation
Runs smoothly even at highway speeds
Can handle sharp turns smoothly
Satisfactory stopping distance too
Roadside assistance is offered for no extra charge
Cons:
Not so good at handling sharp rocks
Not suitable for serious off-road enthusiasts
5. Pirelli Scorpion All Terrain Plus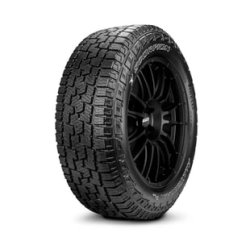 This is a well-rated tire that does what it's supposed to do. Going by the reviews, the tires have impressed the vast majority of the past owners out there. Most of them have commented that the tires are suitable for any situation. In short, the Pirelli Scorpion All Terrain Plus tires perform well, even when they are tested to their limits. The road handling capabilities are truly up to the mark. They also have an aggressive look to them.
Pirelli Scorpion All Terrain Plus Highlights:
As marketed, this all-terrain tire remains quiet and comfortable on the streets. That said, it can get a bit noisy when driven over rough terrains, such as mud, sand, or snow. Of course, this isn't to say that it's not capable of off-road driving. It's just that most of the miles should be covered on the road. Basically, the tire is designed to deliver high performance on the streets/highways. For those who don't know, the tire has an ingenious tread pattern that conveniently evacuates water, mud, stones, and other things under the footprint like there's no tomorrow.
The sipes under the tread blocks provide a nice grip on wet/icy surfaces. The tire also has reinforced sidewalls for better corner stability and steering response. Another striking thing about the Pirelli Scorpion All Terrain Plus tire is that it has the three-peak mountain snowflake symbol on it. This symbol suggests that the tires have been tried and tested to perform well in dangerous winter driving conditions. Of course, they won't replace a proper 'winter' tire. But then, they fare far better on snow than other equivalent all-terrain tires out there.
Pros:
Good for long-distance driving
Unquestionable highway stability
Can be trusted over large rocks
Resistant to cutting/chipping
Better braking than equivalent products
Comes with a 50,000-mile warranty
High level of performance in freezing conditions
Cons:
Gets noisy when driven on rough surfaces
6. Falken Wildpeak AT3W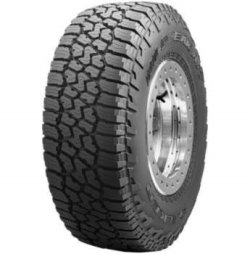 If most of your driving is on paved highways, you shouldn't hesitate to pull the trigger on the Falken Wildpeak AT3W tires. Of course, they don't go crazy on snow or wet surfaces. That said, the snow performance is up to the mark. Basically, this is a well-rounded all-terrain tire that performs well, both on and off-road surfaces. As advertised, it has great quality and appearance to it.
Falken Wildpeak AT3W Highlights:
As hinted earlier, this tire is as good as it's advertised to be. When the makers claim that this tire performs like a beast on the highway, they aren't lying. It has an outstanding tread pattern with deep grooves that provide ample traction in both wet and dry terrains. It's also stable around the corners because of the nice grip and traction.
Plus, the road noise is noticeably better in comparison to equivalent products.
Moreover, road bumps don't create too much of a scene because of how well-constructed this tire is. Thanks to the increased width, stability is solid as well. Keep in mind that this tire is highly rated for ice and snow riding, allowing you to drive confidently in chilling seasons. Everything considered, your ride quality is bound to be better than usual. Another nice thing about the Falken Wildpeak AT3W tires is that they look sharp on any vehicle.
Additionally, they aren't really beefy like other tires out there. So, you won't need a tire lifter to haul this thing to your vehicle. Considering all the product features, you shouldn't really be worried about ordering this tire online.
It does have a distinct smell to it, which you will notice immediately upon unboxing the package. The good news is that the smell doesn't stay there for too long. It goes away on its own after a few days.
So, it shouldn't serve as a major deterrent. Just so that you know, Falken also offers a 50,000-mile treadwear warranty on this product, which is simply amazing.
Pros:
Good all-round traction on all surfaces
Definitely boosts the highway mileage
Provides nice grip on sharp turns
Almost as quiet as stock tires
Can handle bumpy rides as well
Suitable for budget-minded car enthusiasts
Looks better in person than shown on the images
Cons:
Smells a bit rubbery at first
7. Yokohama Geolandar A/T G015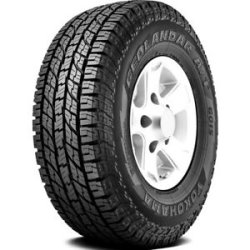 Developed for drivers of SUVs and light trucks, the Yokohama Geolandar A/T G015 is a tough and durable tire that can withstand both on and off-road terrains like a true hero. It's best suitable for highway driving, though, because of how noiseless, stable, and steady it remains when driving on the streets. Of course, it drives smoothly on rough terrains as well. But, don't get this tire if you drive mostly on gravel or dirt roads.
Yokohama Geolandar A/T G015 Highlights:
This one offers ample traction for braking, turning, and acceleration. Snow traction may not be the best in its category. So, don't expect miraculous performance on snowy surfaces. However, the performance is 'better' than decent. It's nicely optimized to provide a nice grip in the rain as well as snow, which is to say that it won't suck when tested on wet or icy surfaces. Unlike other tires, it also provides great stability at higher speeds.
The stopping distance is also remarkably short for a product of its nature. It's also designed to last long. Yes, the tread-life is definitely good —as confirmed by a lot of car owners out there. Better still, the multi-pitch tread variation allows it to run almost noise-free on the highways.  The best feature is the 'edgetic grooves' that do a wonderful job of expelling water out of the tire's footprint. The fact that the tire is sufficiently wide and flat, it also absorbs road bumps better than usual.
It causes less slippage as well when driving on wet surfaces. Not to undermine the fact that the tire has sidewall protectors on it to protect the interior components.
Pros:
EnduroCore technology for enhanced durability
Yokohama's Enduro Compound for better braking
Excellent traction, stability, and handling
Good companion for long-distance driving
Puts on a good show on the highway
Good at absorbing road bumps
Brilliant tread-life warranty
Cons:
Snow and mud driving aren't its forte
8. Michelin LTX A/T 2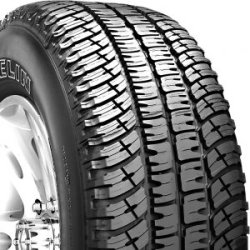 This one is a solid all-terrain tire for highway driving. It's more along the lines of a do-it-all tire as it can drive well on off-roads as well. Its performance may not be as outstanding on off-roads as on the road. However, it can handle occasional off-road driving without any issues. As far as the highway performance goes, it offers a quiet, smooth, comfortable, and safe ride on any given day.
Michelin LTX A/T 2 Highlights:
This tire is designed with user comfort in mind. It makes use of MICHELIN® Comfort Control Technology, which greatly reduces road noise and vibrations. Furthermore, the makers have used advanced truck rubber compounds in the tire to provide better traction on dirt, grass, mud, gravel, snow, and grass. The braking distance on this tire is also extremely short. The best part is that the tire doesn't forget its responsive nature on wet surfaces.
It will handle large bumps and potholes like a boss. In other words, it won't transmit a lot of vibrations when you drive on uneven surfaces. Plus, the tire won't skid when it's raining outside. Yes, the tire can handle rain really well. So, it's on par with other well-made all-terrain tires out there. Of course, it won't turn your car into a sports car. But then, you will enjoy your rides much more than before.
Keep in mind that the shape of the contact patch is also designed for optimum life. This to say that these tires won't retire soon. They will enjoy a long life, even under tough driving conditions. You will surely feel very confident taking long road trips.
Pros:
Level of quietness is praiseworthy
Good traction on all conditions
Can hold plenty of load
Suitable for long road trips
Chip and tear-resistant build
Product pricing is bang on
Mileage warranty of 60000 miles
Cons:
Not meant for serious off-road driving
Doesn't have the cheapest price tag around
9. Goodyear Wrangler All-Terrain Adventure Tire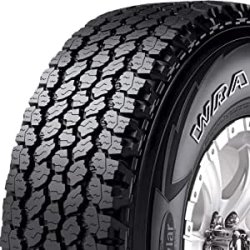 For those who don't know, Goodyear Wrangler is one of the most successful tire brands out there. They literally dominate this product space. Over the years, they have launched many successful on and off-road tires that were well-received by the masses. Does Goodyear Wrangler All-Terrain Adventure Tire live up to the company's image? Let's find out.
Goodyear Wrangler All-Terrain Adventure Tire Highlights:
The tire is approved for both highway and off-road use. That said, its off-road performance is second to none. A host of car owners have confirmed this thing. It's built with Kevlar, which gives it extra strength and durability. It also has superior traction on rain and snow. Many past users have praised this tire for its braking abilities both on dry and wet surfaces. As advertised, traction and handling are good on both surfaces.
What's also worth highlighting over here is that the tire is engineered for better rolling resistance. For those who don't know what rolling resistance is, it's the effort needed to keep the tire rolling. It's important to know that less rolling resistance results in better fuel mileage.
It's also less noisy on the highway. Another nice thing to know is that this tire is warranted for 60,000-mile of tread life. In a nutshell, the Goodyear Wrangler All-Terrain Adventure Tire guarantees smooth performance on all surfaces without wearing out soon. Therefore, you shouldn't hesitate to add this tire to your shopping cart.
Pros:
Looks great on most vehicles
Offers a smooth highway ride
Stays pretty quiet on the road
Has loads of biting edges
Great traction on slippery surfaces
Less expensive than comparable tires
Has heavy-duty compounds to resist damage
Can last for thousands and thousands of miles
Cons:
Not the best tire for driving on deep mud
10. Sumitomo Encounter AT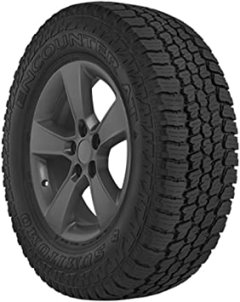 For budget-minded car enthusiasts, the Sumitomo Encounter AT can be a great choice. Its quality or performance won't blow your mind. But then, the price to performance ratio is excellent for the money spent on the tire. So, it's not a lackluster tire by any means. Despite the modest pricing, the makers offer a 60,000 mile treadwear warranty on this truck tire.
Sumitomo Encounter AT Highlights:
The Sumitomo Encounter AT is tough enough for all conditions and terrains. It has the required traction, stability, and balance to handle road, sand, and other driving surfaces. It features an aggressive 5-rib tread design and deep circumferential grooves to provide a great deal of skid resistance on any given surface. It will really keep you in control even in the toughest terrains out there.
The tires also feature 3-D wave sipes, which further improve the tire's performance in snow or ice. The sipes help to control the tire heat as well. Not to mention that the highly optimized tread pattern lets you enjoy highway rides to the fullest. Because of how well the tire is constructed, you can expect an extended tire life as well. As you can tell, the Sumitomo Encounter AT is one of the best entry-level all-terrain tires out there.
The company behind this tire (Sumitomo) is a big player in the tire industry. They have been around for decades, and they are one of the favorite tire brands among all the car enthusiasts out there. You can't really go wrong with this tire for the money spent on it.
Pros:
Suitable for light trucks and SUV drivers
Has three peak snow mountain symbol on it
Provides maximum features at a low price
Prevents stone and rocks from getting caught
Meets RMA severe snow requirement
60,000 mile warranty for peace of mind
Includes 2-year roadside assistance (free)
Cons:
Not as good as other premium tires out there
Final Words About All Terrain Tires For Highway
Vehicles that need all-terrain tires include SUVs, light trucks, pickup trucks, campers, or just about any other 4-wheel drive car out there. Of course, the height of the tire must not interfere with the car's performance. As long as you meet this basic requirement, you can take a shot at any of the best all terrain tires for highway listed above. In this day and age of poor-quality car parts, these all-terrain tires are nothing less than a modern marvel.