Despite the outrageous prices for parts, car enthusiasts swear by a Honda CR-V. According to past purchasers, the biggest selling point is the car's ability to offer a problem-free ride at all times.
Seriously, the car might get serviced only a few times throughout its lifetime. So, it will never happen that the car is spending more time in the local service center than in your garage.
In short, the car won't cause you major money problems. Whether your usage is for long journeys, daily commute to work, or highway-based, this car will beautifully live up to your driving needs. It truly rides well, it's dependable, and it has a softer roar than other comparable vehicles. Basically, the Honda CR-V doesn't suffer from any major drawbacks. With periodic maintenance, it will go on and on.
But, choosing the right tire is the key to get the best out of a Honda CR-V. You can't fit your previously favorite old tires in the newer models because the newer models come with bigger wheels. You will also suffer from bad fuel economy by choosing the wrong tire. Needless to say, there's no better way to improve the vehicle's performance than to upgrade to a good set of tires.
Fortunately, there is a myriad of quality options available depending on your driving needs and budget. As expected, some people may want to keep the cost down. Others might not have an issue with a higher budget.
So, it also guns down to a lot of personal things. In your best interest, we have reviewed the six best tires for a Honda CR-V car to help you easily choose something that fits right into your budget.
Top Tires for the Honda CR-V
1. Pirelli SCORPION VERDE All-Season Radial Tire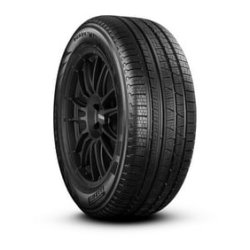 This high performance, all-season tire is extraordinarily good for its price tag, which explains why we have no reservations in recommending this tire. On the first impression, it may seem that there is little difference between this and equivalent tires. However, the difference is significant enough to matter. If driven well, this nice-looking tire will please you till death. It's a perfect fit for a Honda CR-V.
Pirelli SCORPION VERDE Highlights:
This tire lives up to its advertised benefits of providing excellent mileage. Because of how sturdy it is, the tire also lasts meaningfully long. By the way, it comes with a treadwear life indicator too, which will clearly tell you when the tire is nearing its end, allowing you to replace the tire in a timely fashion.
Of course, the riding is smooth and quiet too. The road noise is low to no as well. This is to say that it makes a little noise only at high speeds. The best part is that it's lighter than other comparable tires for crossovers and SUVs. Keep in mind that the tire is also constructed with eco-friendly features to be easy on the environment.
Pros:
Asymmetric tread pattern ensures longer tread life
Possesses necessary traction to handle all conditions
Designed with fuel-efficient features
Offers terrific value for money
Cons:
Nothing much to bitch about
2. Michelin Defender LTX M/S Tire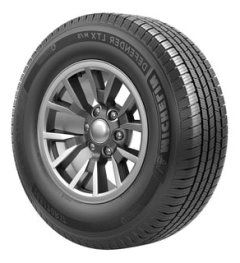 This is one of the best capable tires you can get in its price range for a Honda CR-V. As marketed, the tire offers a safe, comfortable, and predictable ride at all times. Nothing about this tire will cause you a dilemma. Seriously, it maintains its composure even in extreme road situations. Unlike the competition, the tire also resists punctures and damages, allowing it to last long.
Michelin Defender LTX M/S Highlights:
Michelin has put great efforts into making this tire as durable as it can be, which explains why the company is able to offer a robust warranty on the tire. You get a long-lasting 70,000-mile warranty on this tire. You also get 3-year flat tire assistance. Plus, there is this 60-day money-back guarantee offer too. In short, your investment in the tire is totally protected.
Pros:
Excellent load capacity of 3195 pounds
MaxTouch Construction to reduce noise
Has a shorter stopping distance than other tires
Feels 100% safe even in extreme driving conditions
Features "Evertread" compound for product longevity
Cons:
Not everyone will find the cost reasonable
3. Firestone All Season Touring Tire 225/65R17 102 T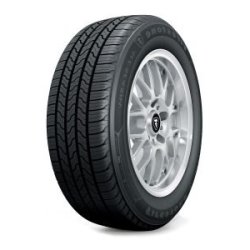 This Firestone all-season touring tire runs great on a Honda CR-V. The tire literally has all the conquering features in it, which explains why it's preferred over other competing products. Honestly speaking, you will have no problems with this tire in both wet and dry conditions. This should tell you that it won't prove to be a bad investment in the long run.
Firestone All Season Touring Tire 225/65R17 102 T Highlights:
The tire has all the features to maintain constant road contact while not making a lot of noise on the road. The continuous center rib really does an outstanding job of reducing noise. Credit to the spiral nylon wrap, the tire also stays in shape for many years to come. Just so that you know, Firestone offers a warranty of 65,000-mile on this tire. They know that this tire of theirs is built to last.
Pros:
Features 5-degree noise reduction technology
Is computer-optimized for robust performance
Resists tearing, cracking, and chipping
Usually arrives when said
Cons:
Doesn't carry the best looks
4. Bridgestone Dueler H/P Sport A/S Tire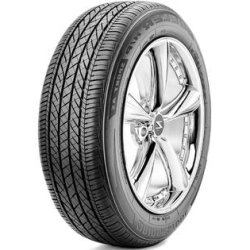 This tire is good enough to be considered without any second guesses. The tire's quality may not be out of the world. But then, this sporty tire doesn't have any glaring issues to crib about. As marketed, it manages to deliver a quiet and comfortable ride without any drama or trauma.
Bridgestone Dueler H/P Sport A/S Highlights:
This tire can handle changing weather conditions like a champ. In fact, it can even handle snow, provided it's not snowing heavily. This should tell you that it's built with an all-weather grip and traction. It's also computer optimized to deliver all the meaningful benefits that a tire of this nature can offer.
Above all, the tire is constructed with a low tread resistant compound to deliver more miles while saving some gas money as well. It's truly quite fuel-efficient. It also has an LL carbon compound in it to prolong its lifespan. Even though it lasts reasonably long, the product warranty isn't the best around.
Pros:
Has the best looks for a tire in its specs
Handling is good on wet and dry pavements
Can cope very well with changing weather
Has received plenty of 4 and 5-star ratings
Cons:
Tire is warrantied only for 40,000-miles
Not the cheapest tire for a Honda CR-V
5. Laufenn G Fit AS Tire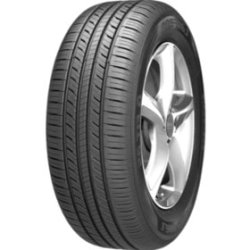 This tire is literally sold at a throwaway price. By no means, it has all the divine features of other high-priced tires in its class. But then, this Honda CR-V tire is well-equipped with decent features. So, it's not a cheap rip-off product, which explains why it has not received a flood of negative reviews.
Laufenn G Fit AS Tire Highlights:
There are many obvious reasons to fall in love with this cheap tire. As advertised, the tire lives up to its advertised benefits of offering year-round traction. Better still, it comes equipped with chamfered groove blocks, which provide excellent grip on wet and snowy surfaces. The tire has noise blocking features too.
Furthermore, the tire utilizes two high-tensile steel belts to improve its handling characteristics. Look-wise, it also gives a good impression, which you wouldn't normally expect from a cheap tire of its sort. The product durability is not the best, though. It definitely won't last as long as other pricier all-season tires.
Pros:
Sold at an outrageously low price
Reduces shock from road bumps
Can be used in bad weather too
Tire comes in the right size
Cons:
Not a long-lasting tire
Roars at higher speeds
6. Bridgestone Blizzak DM-V2 Winter/Snow SUV Tire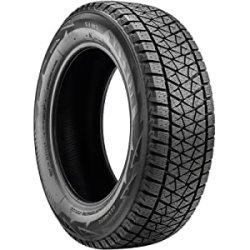 This is seriously one of the best winter tires you can get for your Honda CR-V. The tire's traction is literally the finest on snow and ice. In short, whatever you read in the product description is true. The tire is actually graced with all the necessary features to battle severe weather conditions. The best thing is that the tire's performance won't decline after a lot of use.
Bridgestone Blizzak DM-V2 Highlights:
The tire features an adaptive NanoPro Tech Multicell compound that enables it to handle even slush-covered roads without any fuss. The circumferential grooves on it do a good job of channeling out water. The tread life of the tire is also decent. It's not as short as other tires sold in the same price spectrum. The tire can last for many years upon proper care.
Pros:
-Can handle cold weather like a champ
-Performs well on the highway too
-Available in a long list of sizes
Cons:
-Not a UTQG rated tire