Snow tires have a notorious dark side. We mean to say that not all snow tires do their job very well. Yes, it's a true story in today's age and time. The worst part is that you can't get someone on the phone easily to solve your issues.
Seriously, today's snow tires for SUVs epitomize a lot of bad properties. It's often the no-name brands that provide lackluster tires. You really need to have a bull's eye to separate the best snow tires from all the junk out there.
The good news is that you are only a few breaths away from the best snow tires for SUVs. Yes, we have done enough groundwork to test the muddy water. So, we can tell you exactly which tire is worth your hard-earned money.
Don't worry; it's not a tall order. But then, we have included ten different snow tires (mostly from different brands) so that you have plenty of choices at your disposal. So, let's jump into this best list without any further ado.
Top 10 Snow Tires for SUV
1. General AltiMAX Arctic 12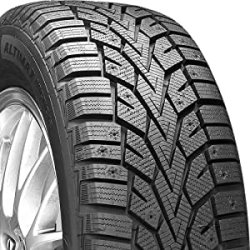 This tire proves a point. All affordable snow tires don't suck. On the contrary, some tires can take you by surprise. The General AltiMAX Arctic 12 has a lot of properties to sort of surprise you in a good way. Believe it or not, it's truly designed to meet the highest demands at challenging temperatures. This means that the makers haven't cut corners to keep the tire's cost reasonable.
General AltiMAX Arctic 12 Highlights:
If you have any intentions of buying this tire, you will be pleased to know that it delivers a high-quality driving experience on any given day. The snow traction is definitely superior to the competition. It literally has all the snow-conquering abilities that you would normally expect from a well-made snow tire for an SUV. As far as the tread life goes, it's second to none as well.
Simply put, this is a far better snow tire than what is normally sold these days. In other words, you will truly like what it does, especially for its reasonable price point. The tire has received a myriad of glowing reviews too. In fact, the tire often pops up in popular blogs and websites that discuss the best snow tires for SUVs in today's age and time.
Pros:
Impressive performance on snow-covered areas
Winter sipes to reduce squirm and tire friction
Technologically advanced pattern for better working life
Features raised ridges for improved grip during cornering
Optimized for stud application whenever needed
Cons:
Performance on dry surfaces isn't up to the mark
2. Cooper Discoverer True North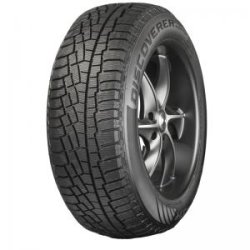 This is another well-made snow tire that proves that you don't have to drop a lot of money to acquire a well-constructed snow tire from a good brand. Judging by the past reviews, it's also apparent that the makers have been consistent batch after batch. This means that the quality has been maintained throughout. So, new shoppers can expect the tire to perform well in snowy conditions.
Cooper Discoverer True North Highlights:
Cooper has used the highest silica content in this tire to make it super-durable in chilling conditions. The soft rubber not only improves the tire's performance in the snow but also promotes good working life. Believe us or not, there have been zero compromises on the control or handling abilities. So, you will no longer look for a more responsive winter tire.
On the whole, this snow tire from Cooper is ideal for daily commuters who need to plow their way through heavy snow on a regular basis. How can we forget to highlight the fact that the tire meets the required snow performance criteria? Keep in mind that the tire is also fitted with a noise-dampening feature to reduce road interaction noise. On all accounts, it's truly a well-rounded snow tire.
Pros:
Can handle unpredictable winter conditions
Has more high-density sipes than the competition
Doesn't get trapped in heavy snow
Features noise dampening structures
Has received 3 Peak Mountain Snow Certification
Cons:
Ice traction isn't the best
3. Sumitomo Ice Edge Studable-Winter Radial Tire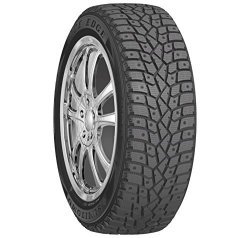 The Sumitomo Ice Edge Winter Tire is good enough to make you feel almost invisible to bad weather conditions. Seriously, this tire can go through some pretty bad snow/ice without any drama. You won't get stuck even once in this tire, even on severe snow days, which might absolutely amaze you. It's truly one of the most reliable snow tires out there.
Sumitomo Ice Edge Studable Highlights:
You can go fast on this tire. In fact, this tire can go through a foot or two of heavy snow without any fuss. It's a bit loud, though, which is what you would normally expect from an aggressive tire of this nature. The price of the tire is particularly good too, considering the features and qualities. As far as durability goes, it can go through many winter seasons without a doubt.
Pros:
Gets through snow really well
Has 3D sipe technology for better tread bite
Features triangular center tread blocks
Can be studded for winter use
Cons:
Not very quiet performance
4. Cooper Evolution Winter 205/50R16 87T Tire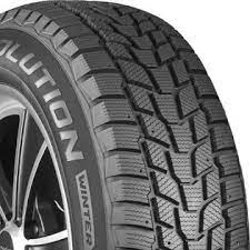 This SUV winter tire is a good choice for demanding buyers. It doesn't cost a ton of money. Plus, it's not faulty in any way. Solid brand backing also exists for this product. If you follow Internet advice, you will be pleased to know that the tire has mostly received positive remarks from past shoppers. A few bad ones are from those who had unrealistic expectations.
Cooper Evolution Winter 205/50R16 87T Highlights:
The tire is nicely studded to deliver outstanding ice traction. By the way, it's also rated to perform well in severe winter conditions. It can truly conquer heavy snowfalls like there's no tomorrow. Just so that you know, the tire company offers a standard limited warranty on this product too.
Pros:
Can handle severest snows
3 Peak Mountain Rated
Good stability in all weather conditions
Multi-angled sipes for better grip
Cons:
Dry traction can be improved
5. Yokohama iceGUARD G075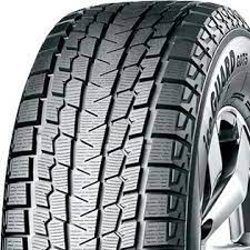 In all fairness, this snow tire has little to no match in its space, which should explain why it's been a hit among snow tire enthusiasts out there. As advertised, it works amazingly well on expected surfaces. The best part is that it hardly ever gets stuck or punctured. In fact, nothing about this tire will actually cause you any issues.
Yokohama iceGUARD G075 Highlights:
This tire features a unique tread compound that makes it particularly good at handling harsh winter conditions. Your SUV will power through both packed and unpacked snow without any issues. The tire runs great on ice-covered areas too. Of course, it makes you feel amply safe as well.
Keep in mind that the tire has received the necessary Snowflake symbol as well, which signifies that it's truly one of the best tires in its product category. Another great thing about this snow tire is the low rolling resistance technology incorporated into it, which leads to increased fuel economy.
Pros:
Great for snow driving
Can handle icy areas too
Plenty of tread to last long
Sold at a decent price point
Cons:
6. Continental VikingContact 7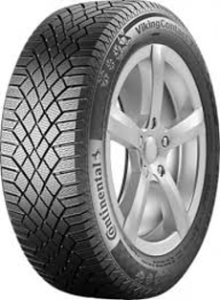 This snow tire is something else. Believe us or not, very few tires can handle harsh snow as good as this Continental VikingContact 7 Tire. Frankly speaking, it really has nothing in it to stop you from loving it for what it is. In other words, this tire will give you all the confidence you need to push your SUV through the harshest winter condition, of course, without costing you a fortune.
Continental VikingContact 7 Highlights:
This tire grips the surface very well. In fact, it won't feel slippery even on slippery roads because of the amazing grip and traction. It's not so rough too. On the contrary, the tire offers a smooth and comfortable ride. Needless to say, expect some noise. That said, the noise level is tolerable. The price is also by far the best for a tire of its nature.
Pros:
Provides a safe and comfortable ride
Stopping distance is definitely acceptable
Best in class snow traction
Dry handling is also good
Sold at a nice price point
Cons:
Not the quietest snow tire
Doesn't have a warranty
7. Firestone Winterforce 2 UV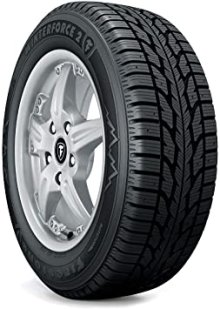 This tire is packed with all the advanced features that a well-made snow tire should possess. At the same time, the tire isn't harsh on your paycheck. Of course, your general driving skills will also improve because of how good this tire is. The tire works amazingly well across most wintery surfaces/conditions. You just need to get the tire installed properly, and it will do the rest for you.
Firestone Winterforce 2 UV Highlights:
As marketed, the tire runs quiet and smooth. The grip is also as good as advertised. As a result, you will never feel insecure behind the wheels. You will also feel more relaxed knowing that this tire will have zero issues going on packed or unpacked snow. Your SUV will handle corners with great ease too. The dry handling isn't the best, though. But then, you will be able to live with it.
Pros:
Not too expensive
Steers and stops easily
Doesn't disappoint in the rains
Performs well on ice with the studs attached
Cons:
8. Nokian NORDMAN 7 SUV Performance-Winter Radial Tire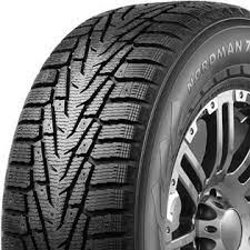 This is easily one of the best-fitted snow tires that you can possibly find around. You will perhaps have the best driving experience with it in snowy conditions because of how well it grips the ground underneath it, providing the safest ride in the process. Is it noisy like other winter tires? The good news is that it's not as noisy as others.
Nokian NORDMAN 7 SUV Performance Highlights:
This tire handles the road it's driven on beautifully. Snow aside, it performs well on ice and other wet surfaces too. The tire is also good at stopping and accelerating. The handling characteristics are up to the mark too. Plus, this thing looks pretty awesome.
Frankly put, it performs more like a snow tire as opposed to an all-season tire. Keep in mind that the tire doesn't have studs already on it. However, it's fully prepared for studs. In other words, the tire doesn't come studied. The tire comes prepared for studs, though. According to reviews, the tire wears well too.
Pros:
Good snow and slush performance
Not rather loud like other tires
Short braking distance at all times
Cons:
Does not come with a mileage warranty
9. Bridgestone Blizzak DM-V2 Winter/Snow SUV Tire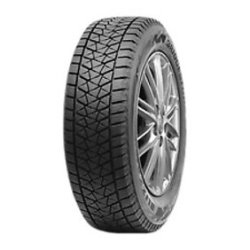 No other tire out there can handle unpredictable snow as well as this tire. Seriously, this snow tire is a masterpiece in its own rights. In other words, you can totally count on this tire to help you sail smoothly through many winter seasons without any hiccups. Engineered for cars like SUVs and light trucks, the tire runs smoothly even in harsh conditions.
Bridgestone Blizzak DM-V2 Highlights:
As advertised, the Bridgestone Blizzak DM-V2 Winter/Snow SUV Tire will give you all the confidence you need to handle unpredictable freezing temperatures. The Multicell compound used to construct the tire allows it to remain flexible in dipping temperatures. It also has 15% more block edges to efficiently channel out water from the tire's footprint. Plus, it's equipped with 3D zigzag sipes to deliver more grip on the snow.
The tire truly provides amazing traction on snow, ice, and even slush. You will love it for its looks alone. Seriously, the makers have paid attention to every detail, which enabled this tire to stand out from the crowd, which explains why it's a crowd-favorite product.
Pros:
Optimized for winter conditions
Ensures enhanced ground contact at all times
Increased blocked edges for better handling
Has hydrophilic coating to evacuate water
Cons:
Price may not suit everyone's wallet
10. Toyo Observe GSi-6 HP Tires 225/50R18XL 99V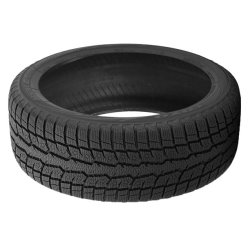 This snow tire may not be for everyone because of how much it costs. Of course, it doesn't cost a bomb. But then, the price is not too low either. In other words, you can't expect to procure this snow tire at a shoestring budget. That said, the tire's qualities are good enough to justify its price tag. Between budget and premium options, this tire is a good choice. Its price actually falls somewhere in between.
Toyo Observe GSi-6 HP Tires 225/50R18XL 99V Highlights:
This tire will leave you with no reason to be worried about the snow because it can drive well on snow, rain, ice, slush, and greasy roads without any fuss. In fact, you can expect no slippages even on less desirable road conditions. It also offers a secure feeling with little road noise during driving. The product installation is a snap too.
Pros:
Rides well on the snow
Braking on ice is also good
Distributes pressure evenly for even wearing
Cons:
Not the most efficient fuel snow tire
Final Words About Snow Tires For SUV
Purchasing a well-made snow tire is all about proper research work. As for the price, you can pay as per your budget. If you haven't noticed yet, we have included both premium and budget tires for your SUV. So, you will surely find a price-friendly snow tire that will fit right into your tentative budget. Happy shopping!