Not all tires are apt for snowy conditions. Even the ones with good reviews can perform badly in deep snow. In short, a general-purpose tire won't cut the deal. Whether you own a truck, SUV, or crossover utility vehicle, a set of good all-terrain tires can cater to your snow driving needs beautifully on any given day. For a tire to perform well in the snow, it must feature an aggressive tread pattern, best-in-class traction, and whatnot. A well-rounded all-terrain tire has all these properties and more.
Of course, we didn't start this conversation to tell you that you can get any all-terrain tire that meets your eye. It's definitely not a wise thing to do in today's time. Although we don't like to badmouth any brand, we would like to highlight the fact that most of the all-terrain tires sold these days don't fare well in snow and other challenging terrains. We won't touch on these bad products, but we will definitely let you meet the top 12 all-terrain tires for now.
As expected, we will provide you a nice insight. So, it's time to get excited. After all, this review will help you bypass a ton of crappy tires. You must realize that this will save you a lot of time and effort. It will also save you from the pain of late-night waking, which is usually required for shortlisting the best tires from the crappy ones. So, let's get started.
Top 12 All-Terrain Tires for Snow
1. Falken Wildpeak AT3W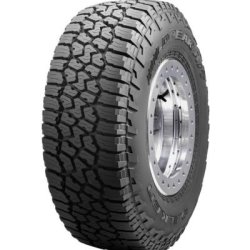 Highly rated for both snow and rice, the Falken Wildpeak AT3W tire is a workhorse in its own rights. Believe it or not, no other all-terrain tire can come close to beating it. Great performance aside, this tire also looks sharp and beefy on a vehicle. With this tire on, you will feel as if you are driving a new vehicle.
The best part is that the tread on it is solid enough to handle rough abuse for tens and thousands of miles. Seriously, you won't see noticeable wear for a long time.
Falken Wildpeak AT3W Highlights:
The product engineers have smartly incorporated a lot of features in this tire. For instance, they have utilized heat diffuser technology in the sidewall for internal cooling. The tire also has 3D Canyon side technology for better stability. Moreover, this all-terrain tire provides enough traction to handle deep snow with ease. Plus, it doesn't make a lot of road noise when you drive on highways. The price of this Falken Wildpeak AT3W tire is also significantly lower than equivalent tires.
Pros:
Pretty quiet for an aggressive pattern
Works great even on the snow
Superb handling on sharp turns
Doesn't slip/skid at all
Good mileage all-terrain tire
Wears out pretty evenly
Cons:
2. BFGoodrich All-Terrain T/A KO2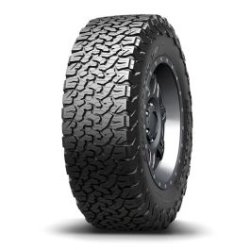 This all-terrain tire is awesome on snow and quiet on the roads. It's super lasting too. Previous users have confirmed that they got the advertised miles (50,000-miles) from this tire before replacement. They also noticed a slight increase in their fuel mileage.
BFGoodrich All-Terrain T/A KO2 Highlights:
The tire has enough traction to get you out of deep snow/mud, which explains why it has the 3PMSF symbol on it. For those who are not aware, this symbol is awarded to tires that can keep up with harsh winter conditions. Of course, the braking is praiseworthy too. Not to mention that it drives comfortably, even on bumpy roads. It also has this advanced deflection technology that deflects objects that can damage the sidewalls. Plus, it has raised bars to release stuck mud. Seriously, this thing drives better on all surfaces.
Pros:
Derived from a race-proven tire
Chip, cut, and puncture-resistant
3D active sipes for better bitings
Meets severe snow driving requirements
Saves money. It doesn't consume much fuel
Advanced tire footprint for even wearing
Arrives well-packed in visibly good condition
Cons:
Slightly noisier on the highways
3. Continental TerrainContact A/T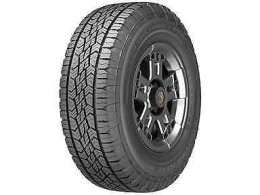 This tire enjoys an unmatched reputation in the market. It performs phenomenally well on dry and wet pavements, providing a high level of comfort, grip, and traction during the ride.
Continental TerrainContact A/T Highlights:
The tread pattern includes deeper threads and multiple ribs to provide superior driving performance. The tire is steel-belted, which results in outstanding longevity. It truly lasts long with regular rotation.
This Continental tire looks great on a vehicle too. Plus, it remains astonishingly quiet on highways. It's balanced nicely too. Your truck will drive like a car again. On the whole, there's no reason why this tire won't please you.
Pros:
Performs reliably on the snow
No additional noise on the highway
Smooth riding even at high speeds
Has the best price for its features
60,000-mile warranty on the tread
Good enough to be reordered
Cons:
Not sold in Arkansas state
4. Scorpion All Terrain Plus Tire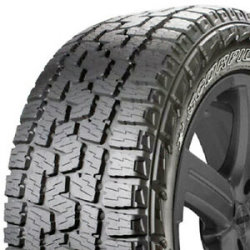 This all-terrain plus tire is designed to deliver top-notch performance on rocky surfaces, fluffy snow, tough roads, deep mud, and other tough surfaces. Its aggressive tread design is truly robust enough to keep up with a lot of driving. As marketed, it efficiently evacuates water, mud, sand, ice, stones, and other obstacles under its footprint. Of course, there's no compromise made in the area of comfort and safety to keep up with the product's durability.
Scorpion All Terrain Plus Tire Highlights:
The sipes used in this tire offer a nice grip on all paths, including slippery surfaces. As such, the tire has received both M+S and 3PMSF certifications, which should tell you that this tire will provide better snow traction than other comparable tires. At 2535, its load capacity rating is also far better than average. It can be balanced easily too at any local tire shop near you. Another nice thing to know is that this tire doesn't require loads of weight to balance out.
Pros:
Outperforms most tires in its price range
Excellent deep snow performance
Looks awesome for an inexpensive tire
Vibrates very little
Doesn't wear out fast
Cons:
Gets a bit noisy at high speeds
5. Goodyear Wrangler All-Terrain Adventure w/Kevlar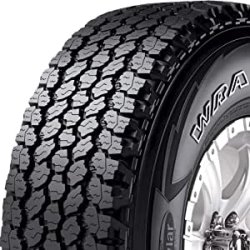 If you need an all-terrain tire that can work outstandingly well in winter conditions, this Goodyear Wrangler Tire should be on your radar. Seriously, this good-looking tire is capable of providing a smooth and stable ride on all surfaces.
Goodyear Wrangler All-Terrain Adventure w/Kevlar Highlights:
Goodyear has put a lot of thought into the making of this tire. The tire is designed for all types of vans, trucks, and SUVs. It comes with a layer of Kevlar to resist cuts, chips, and, of course, tear. So, it's definitely long-lasting. This Goodyear tire also carries the 3PMSF symbol. This means that it's proven to work in extreme winter conditions, including snow and ice. It's one of the toughest all-terrain tires out there. Just so that you know, Goodyear provides a fantastic 60,000-mile warranty on this tire.
Pros:
Solid sidewall structure to prevent punctures
Provides solid grip on snow-covered surfaces
Dependable for both on and off-road driving
Can last really long if not abused in any way
Less expensive than comparable all-terrain tires
Cons:
Mud performance could have been better
6. Yokohama Geolander A/T G015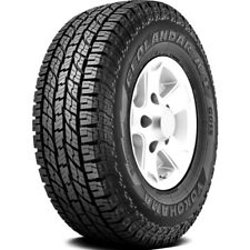 If you need a reliable all-terrain tire at a budget price, you should add the Yokohama Geolander A/T G015 to your shopping cart. The tire grips well on dry and wet roads. Seriously, it can withstand off-road challenges while providing a long tread life.
Yokohama Geolander A/T G015 Highlights:
For those who don't know, the tire has earned the severe snow handling certification, which explains why it drives so well on snowy or icy surfaces. This bad boy is totally ready to keep up with your next adventurous trip. The best part is that this tire will remain unaffected by its competition because of how good it is. Its durability is actually better than other tires from more recognized brands. The tire also lowers rolling resistance, saving you some gas money in the process.
Pros:
Developed specifically for light trucks and SUVs
Has triple SD sipes to boost the tire's life
Offers relentless grip even on slippery surfaces
Doesn't get bumpier when you drive fast
Remains almost whisper-quiet on the road
Cons:
Sidewalls are prone to cuts
7. Bridgestone Dueler A/T Revo 3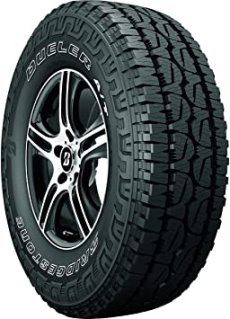 This Bridgestone tire is engineered to fit your active lifestyle. As advertised, it performs well on both wet and snowy surfaces. Not to mention that the road performance is satisfactory too. Bridgestone also backs the tire with a 60,000-mile warranty.
Bridgestone Dueler A/T Revo 3 Highlights:
This tire features wide circumferential grooves, excellent water evacuation pathways, and well-made sipes that dig into snow and ice like nobody's business. The sipes on it also result in shorter than usual braking times. Unlike the competition, the tire won't get stuck in one place. It may not be as optimized for on-road performance as off-road performance, but you won't miss out on a lot. It still drives smoothly, comfortably, and almost noise-free on the roads.
Pros:
Versatile enough for trucks, CUVs, and SUVs
Puncture and cut-resistant internal structure
Qualifies for 3-Peak Mountain Snowflake symbol
Hardly any compromise in fuel efficiency
Fairly good load capacity of 3640 pounds
Attractive enough to garner compliments
Cons:
Not for budget-conscious tire purchasers
Doesn't work great on deep mud
8. Falken WILDPEAK 225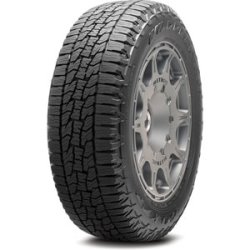 This tire pulls out a miracle on snow. Seriously, its performance on the snow is second to none. The traction is truly excellent for its intended purpose. The tire can get through deep snow with no trouble.
Falken WILDPEAK 225 Highlights:
This tire is cheaper than other all-terrain tires in its league. However, it has almost the same features as its expensive counterparts. From the aggressive sidewalls to phenomenal braking force, this tire has it all. The tire's strength and the resulting durability are non-questionable too. This tire will truly make you feel safer than usual. Given the tire's sturdiness, you will hardly worry about a flat tire. Overall, it's very good for an entry-level all-terrain tire.
Pros:
Both road and snow response is good
Rides well in the rain too
Road noise is pretty acceptable
Mileage warranty of 65,000-mile
Securely packaged to prevent damaged
Review scores/ratings are excellent
Cons:
Fuel economy might drop a bit
9. Kenda Klever A/T KR28 All-Terrain Radial Tire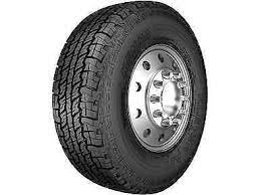 This tire drives marvelously on snow. According to past users, this tire can handle 3 to 4 inches of deep snow like a hot swiss knife through butter. Of course, throttle pressure would be needed. However, you will feel totally safe and secure.
Kenda Klever A/T KR28 Highlights:
This tire is also known for its toughness/sturdiness. The tire features a 3-ply sidewall design to boost its life. Better still, it has dual steel belts to enhance its toughness. Believe it or not, the Kenda Klever tire can resist punctures and cuts, even on the harshest terrains. You will hardly see any traces of wear and tear, despite covering loads of miles on it. Keep in mind that the tread life is warranted for 60,000 miles. The best part is that this all-terrain tire has protective rubber covering on it to avoid massive losses in tire pressure.
Pros:
Excellent braking, handling, and acceleration
Low noise level even at higher speeds
Braking distance is not too long
Excellent load range rating (E)
Available in 14-18 inch sizes
Balances without any issues
Cons:
Not suitable for high-speed highway driving
10. Cooper Discoverer AT3
This all-terrain tire drives almost silently, smoothly, and seemingly efficiently, which explains why it's not priced along the lines of other cheaper tires. It's actually good enough to command a higher asking price. As expected, its off-road performance is up to the mark too. Yes, it functions well in snow, ice, and mud as well. The braking force is like no other tire out there. This Cooper tire also balances like a dream.
Cooper Discoverer AT3 Highlights:
The tire is made in America. So, you can afford to be optimistic about its lifespan. According to previous shoppers, the tire can easily last over 60,000-miles. Of course, it's suggested that you rotate the tire every 5,000 miles to get the best use out of it. The tire's quality is really supreme. Even nails and screws won't penetrate deep into this tire. Therefore, the tire won't spend too much time in the repair shop.
Pros:
Better than decent snow performance
Fantastic water traction and fuel mileage
Road noise is lesser than other models
Can haul heavy loads without any fuss
Shows bare minimal signs of wear
60,000-mile (treadwear) warranty
Cons:
Given the quality, it costs high
11. Travelstar EcoPath A/T All-Terrain Radial Tire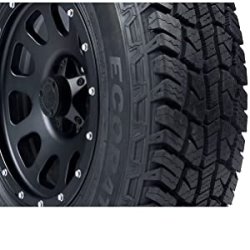 This all-terrain tire has a great appearance and quality. Believe it or not, the tire can plow through deep snow for hours at a stretch. The tire won't skid, slip, or get stuck even once. As expected, it drives quite wonderfully on the streets too.
Travelstar EcoPath A/T Highlights:
Unlike the competition, this all-terrain tire can perform well in all weather. This is to say that you can be assured of a safe, secure, smooth, and comfortable ride at all times. Of course, the noise level is not too bad either. The price is fantastic too for an aggressive pattern all-terrain tire. Similar tires actually sell for far more. Keep in mind that this tire is good enough to improve your gas mileage too.
Pros:
Can be mounted easily in light trucks and SUVs
Has a real aggressive look to it
Carries an affordable price tag
Road noise is dramatically less
Normal wear pattern. Wears slowly too
Generous treadwear warranty of 50,000-mile
Cons:
Load rating for everyday use and not extra load
12. Kumho Road Venture AT51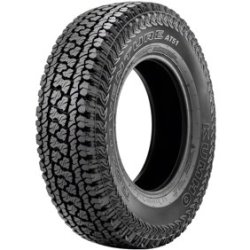 If you would like to take the inexpensive route, you should get the Kumho Road Venture AT51 tire right away. For its price, this all-terrain tire is a satisfaction bomb. It's nice, quiet, stable, durable, and balanced, all at once. Believe it or not, the ride will be smoother than many other costlier tires. Experts confirm that this tire is actually 'Three-Peak Mountain Snowflake' rated, indicating that it's legally certified to handle severe snow.
Kumho Road Venture AT51 Highlights:
Unlike the competition, this tire features a deeper (tapered) tread block that minimizes the penetration of rocks into the tire. Moreover, the dual silica compound in it keeps the tire cool internally. It also encourages even wear. The operating life of this tire is fantastic too. The makers actually provide a 55,000-mile warranty on this tire. Practically, nothing is average about this all-terrain tire. As advertised, it can go through deep, crusted snow like it's nothing.
Pros:
Looks and rides great
Not too difficult to balance
Satisfactory tread thickness
Provides extra traction for winter use
Three-Peak Mountain Snowflake rated
Looks like new for a long period
Not sold at a dreadful price
Cons:
Somewhat noisy on the highways
Not as better as other expensive tires
Best All-Terrain Tires for Snow: Buying Guide
This section will provide you with a sneak-peak of the shopping process so that you don't blow away your money on lackluster tires. To be able to do responsible shopping, please keep reading.
Understand the markings
Most of the well-made all-terrain tires out there usually have the "M+S" and "3PMSF" markings on the sidewall. These recognizable markings have great significance from the performance perspective. "M+S" mark stands for 'mud+snow.', which is to say that the tire can handle muddy and snowy surfaces.
On the other hand, "3PMSF" stands for 'three-mountain snowflake.' A tire with a "3PMSF" symbol is expected to handle even severe snow like a boss because it's severely tested in harsh conditions. Ideally, a "3PMSF" rated tire provides better snow performance than an "M+S" rated all-terrain tire. As expected, tires with the "3PMSF" symbol usually cost more too.
Look at the tread compound
Tires need to have specific tread compounds to perform well in the snow. Only then will they will provide maximum traction and safety in extreme winter conditions. Generally speaking, all-terrain tires with deeper and highly prominent tread patterns are far more suitable for snow driving than most summer or regular car tires.
In short, you should choose a tire with more tread blocks than usual with small sipes built within it for better bites into the snow. Not to mention that the internal tire construction must be robust enough to resist cuts and punctures to a great extent.
Check the tread warranty
Usually, most of the reputed tire companies do not shy away from backing their products. It helps them edge out the competition. After all, it's often used as a selling point by many tire care manufacturers. Typically, most of the all-terrain tires come with a warranty of 40,000 to 60,000-mile.
Of course, you are expected to follow their rules to be eligible for a warranty. So, do read the fine prints carefully so that it doesn't prove pointless to even try for a claim when the need arises for the same.
Pay attention to the sidewall
For those who don't know, the tire's sidewall reveals a lot of critical information about the tire, such as the tire's size and capabilities. Although a tire with a lower sidewall contributes to the looks, it fails in the performance department. In short, it won't provide the best off-road performance.
Honestly speaking, snow drivers will benefit a great deal from taller sidewalls. It will provide them with a comfortable ride even on tough terrains without damaging the tire in the process. So, forget the style. Instead, go for substance, and choose an all-terrain tire with taller sidewalls.
Check the noise level
The all-terrain tires for snow are not the silent type. In fact, tires of this nature can make a roaring noise, which, of course, can piss some drivers. The aggressive tread pattern is to be blamed for the loud noise. The good news is that many of the modern-day all-terrain tires are not as noisy as they used to be in the past. Just so that you know, they are smartly engineered with some comfort control technology to dampen both vibration and road noise, ensuring a smooth and comfortable ride in the process.
Pay the right price
All-terrain tires usually cost more than your regular tires. Of course, they are far better too. So, you will have to respect them for what they are. In other words, don't try to procure the cheapest all-terrain tire that the market has to offer. The ridiculously low-priced ones won't provide the driving pleasure you are looking for. In short, be prepared to spend a respectable amount of money, of course, after careful consideration.
We suggest that you don't experiment a lot. You can simply opt for the tires suggested above as they offer the best bang for your all-terrain tire bucks.
Final Words About All Terrain Tires For Snow
Driving on snow can be a highly dangerous affair. Needless to say, a bad tire can increase the risk by many folds. Therefore, it's of paramount importance to choose a suitable tire.
To stop gambling with your money, we suggest that you don't look for tires outside of the ones mentioned here because all the tires reviewed above are tested for their abilities.