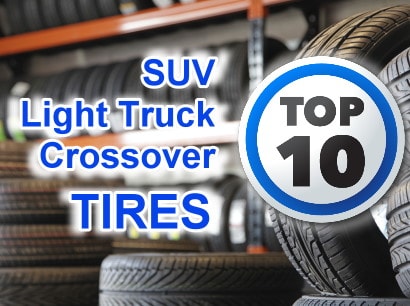 Here's our look at the top 10 all-season tires for SUVs and light trucks. We hope this list will help you in deciding on the best type of tire for your vehicle, whether you may already have an idea and just need to compare a couple of different models, or whether you are just getting started and need to know which models are better than others.
Please note that our list of the top 10 tires are based on several factors, including reviews and comments from other tire owners, as well as our own experience. (NOTE: Please click on any tire to find our detailed review and lowest tires price)
Although there are a number of very good SUV and light truck tires on the market today, you would be hard pressed to find one that matches the Michelin LTX M/S2. It not only has some of the best performance on the highway, but also has a tread life that is at the top of its class.
Michelin's MaxTouch Construction creates a tread design that provides excellent dry pavement handling and cornering, yet also enhances performance and safety on wet roads. Add in the fact that outside road noise is nearly non-existent and a 70,000 mile tread warranty, and it becomes easy to see why vehicle owners love this tire. It's available in a wide variety of sizes and prices are low for a tire that performs this well.
The Michelin Latitude Tour HP is another quality all-season touring tire for SUV and truck owners. Using their unique Secure Lock Tread Block Technology, which you can learn more about in our review, the tire offers excellent steering response and road manners regardless of road conditions.
You'll find the Latitude Tour HP available in a wide array of sizes and the 6 year or 45,000 mile warranty on W,Y or Z speed rated tires is among the best you'll find from any tire maker. Although we found the LTX M/S2 to be the best overall, this model does not disappoint in the least.
3. Goodyear Fortera TripleTred
The Goodyear Fortera TripleTred is arguably Goodyear's best SUV and light truck tire in their lineup. It provides some of the best in class winter weather performance for a non-snow tire, as well as excellent handling and response on rain soaked roads.
But don't be fooled, this tire is much more than a rain or snow performer, it also corners well on dry pavement and rides quite comfortably at the same time. The 6-year or 60,000 mile warranty helps put it high on our list.
4. BFGoodrich Long Trail T/A Tour
Building on their high performance T/A lineup, the BFGoodrich Long Trail T/A Tour tackles all types of weather and driving conditions without issue. You'll find above average traction when winter rolls around, yet it corners and handles very well when the roads are dry.
Riding comfort is nice and the 6-year or 60,000 mile tread warranty is solid as well. All in all, this is BFG's highest rated SUV and crossover tire.
5. Continental CrossContact LX
Continental has a number of different truck and SUV models on the market, but this Continental CrossContact LX is a favorite among drivers everywhere. Aside from the fact the tire just flat out looks good, the larger contact patch gives it optimal handling and stability on all types of roads.
This Continental tire is available in sizes to fit most every vehicle on the road today. The tire rides quietly on the highway and sports a 65,000 tread warranty, making it an excellent choice in all-season highway tires.
6. General Grabber HTS
When it comes to SUV/truck tires, a lot of drivers may not be familiar with the General Grabber HTS, but once they discover the performance and value this model offers, it becomes a different story.
A unique Stabilink system increases handling and cornering on dry roads, while three different types of siping built into the tread help evacuate more water from under the tread. With a 60,000 mile warranty it competes with anyone in its class.
7. Bridgestone Dueler H/L Alenza
Bridgestone offers a wide array of truck and SUV tires in this market, but far and away the Bridgestone Dueler H/L Alenza is one of their best. It sports a dual-layer tread design that extends the life and continues to deliver like new performance for the life of the tire. With excellent all-season drivability and a good warranty, this is another good choice in truck and SUV tires.
8. Yokohama Geolandar H/T-S G051
For highway driving and all-season tire needs, the Yokohama Geolandar H/T-S G051 combines very good year round traction and handling, with added comfort and a long tread life. We find it to be one of the better performing tires when it comes to grip and traction in the corners.
9. Goodyear Assurance CS Fuel Max
With a lower rolling resistance that maximizes fuel economy, the Goodyear Assurance CS Fuel Max is popular among tire owners looking to save a bit more money at the pump. Fuel economy is not the only component with this tire though, you'll also find solid all-season performance on the road, as well as a 65,000 mile warranty, all of which makes this a very good choice in tires.
10. Michelin Cross Terrain SUV
Coming in at number ten on our list is the Michelin Cross Terrain SUV, although it could be argued that it should be placed higher up in the ranks. The only reason it doesn't is not because of performance, but due to the lack of sizes that we would like to have seen.
The tire sports some of the best grip and traction on dry pavement in its class, and riding comfort and quietness is very good also. A 65,000 mile warranty makes it a nice all around model for those looking for 16,17 or 18 inch series tires.
Also check top 10 Touring Tires or 10 Best All-Season Tires