Michelin is well known for producing tires that feature a smooth ride to go with good all season performance, and the Michelin Symmetry tire fits right into this category. The unique Variable Pitch Tread Design gives this tire it's quiet ride, while Compliance Cushion technology make for a smoother driving experience.
This Michelin all-season radial uses a special tread compound that is designed to give it a much lower rolling resistance, as well as better fuel economy. There's also Michelin tires very good warranty program to back up the tire as well.
Price Range
Michelin Symmetry prices range from around $105 for a 15″ series, to $130 for a 16″ series tire. Get the best tire price with coupon below, find some of other Michelin tire rebate.
Who Are Michelin Symmetry Tire Designed For?
These Michelin tires are ideal for drivers of minivans and full sized sedans, as well as luxury car owners who want a quiet, comfortable all-season tire.
Michelin Symmetry Tire Sizes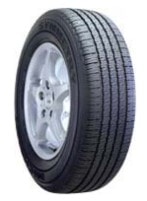 205/65R15
205/70R15
215/70R15
215/65R16
225/60R16
225/70R16
235/60R16
Pros
Low rolling resistance provides improved fuel economy
Very good all-season traction
Quiet and comfortable ride with excellent tread wear life.
Cons
Limited in number of sizes available
Warranty
The Symmetry includes a solid 6 year/65,000 mile tread life warranty. You'll also get a uniformity warranty of one-year/first 2/32″ wear. Finally, Michelin has 6 year materials and workmanship guarantee that provides first year free replacement.
Michelin Symmetry Tire Coupon