Michelin Primacy MXV4 tires feature a unique all season tread design that not only provides a safe and confident driving experience, but also one that is noticeably quiet and comfortable as well.
The tire itself includes what Michelin terms MaxTouch construction, which provides for the best footprint possible, resulting in better tread wear and a longer lifespan. The symmetric tread pattern has Active Sipes for better handling in the rain or snow, while a continuous center rib aids in wet pavement driving.
The comfort that this tire provides comes from its Comfort Control technology. What Michelin has done is taken an advanced computer design to produce a tire that virtually eliminates outside road noise and delivers a smooth ride inside. Twin steel belts that are spirally wrapped add strength and durability to the tire.
Price Range
The Michelin MXV4 tire ranges in price from a low of around $100 for the smaller 15″ series, to approximately $265 for the larger 20″ model. You can also find coupons and rebates at various times of the year to reduce the price further. If there is valid Michelin tire rebate or coupon for this tire, it will be shown below the text. You can find other printable tire coupons here
Who Are Michelin Primacy MXV4 Tires Designed For?
Michelin developed the Primacy MXV4 tire for nearly every make and model on the road today. Whether it be the family minivan, crossover, sedan or coupe, this tire is designed for those looking for the best in a smooth, quiet ride, as well as outstanding performance in all types of weather and road conditions.
Michelin Primacy MXV4 Tire Sizes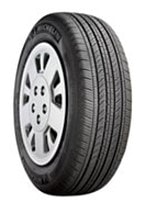 185/65R15
195/60R15
195/60R15
195/65R15
205/60R15
205/65R15
205/65R15
215/60R15
225/60R15
205/55R16
205/55R16
205/60R16
205/60R16
205/65R16
215/55R16
215/55R16
215/60R16
215/60R16
225/60R16
225/60R16
225/65R16
235/60R16
215/50R17
215/50R17
215/55R17
225/55R17
225/55R17
235/55R17
235/60R17
235/65R17
225/55R18
225/60R18
235/60R18
245/45R18
235/50R19
245/45R20
Pros
Dry and wet pavement traction is far above average
Ride quality and comfort is outstanding
Low road noise to go with good handling
Excellent tread wear
Cons
It's rare, but it is very difficult to come up with any cons against this tire other than perhaps the cost
Warranty
Michelin tires backs up the Primacy MXV4 with a solid warranty. It includes a 6 year or 60,000 tread wear guarantee and a one year or first 2/32″ of wear uniformity warranty. In addition, you'll find a 6 year materials and workmanship guarantee that comes with free replacement the first year, or first 2/32″ of wear. After that, Michelin prorates the amount until the tire reaches its last 2/32″ of tread depth.
Something else you will get with this tire is a 30 day satisfaction guarantee and 3 years of flat changing service.
Michelin Primacy MXV4 Tire Coupon