Michelin Primacy Alpin PA3 tires have a number of performance features that make them a good choice in snow tires. Designed to provide improved traction and handling in light to deep snow, as well as on wet roads, the Primacy Alpin PA3 also delivers spirited cornering grip and better acceleration on dry pavement.
The tire itself utilizes a unique Helio Compound that contains sunflower oil in the tread to provide enhanced stopping distance and increased rolling resistance in very cold temperatures. With Michelin's added StabiliGrip technology the directional tread pattern shows a 10% increase in acceleration and handling in the snow.
Inside the tire you'll find twin steel belts wrapped with a special polymide cord for more strength and stability at higher speeds. This also gives added comfort and better long term durability. The Michelin Primacy Alpin PA3 comes with an H speed rating.
Overall, this is an excellent snow tire in snow and on wet pavement. You'll also find surprising performance on dry winter roads and it offers up a nice ride as well. Impressive Michelin snow tire and a solid value for the money.
Price Range
Prices on the Michelin Primacy Alpin snow tire range from around $115 for the 15 inch series to approximately $190 for the larger sizes in the 17 inch series. Here you can find Michelin tires rebates so try to get the best possible price. Or try other tires discounts here.
Who Are Michelin Primacy Alpin PA3 Tires Designed For?
Michelin has developed the Primacy Alpin PA3 for all types of coupes, sedans, SUV's and most crossovers for drivers who looking for a snow tire with excellent traction in snow or on wet roads, as well as one that provides a comfortable ride.
Michelin Primacy Alpin Tire Sizes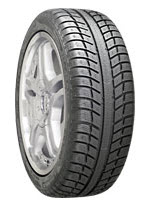 195/60R15
205/65R15
205/50R16
205/55R16
215/65R16
225/55R16
225/60R16
205/45R17
205/55R17
215/45R17
225/45R17
225/55R17
Pros
Light – deep snow traction is superb
Excellent wet road handling and grip – low risk of hydroplaning
Very comfortable ride with this tire without the road noise
Cons
Some drivers has mentioned solid ice traction could be better
Warranty
Michelin Tires has a 6-year or 35,000 mile warranty on the treadlife of the Primacy Alpin PA3. There is a one year or first 2/32 inch of wear on the tire's uniformity as well.
Materials and workmanship are warranted for 6 years and include free tire replacement during the first year or first 25% of wear. They follow this up with a prorated amount for the remaining time period or until there is just 2/32 inch of useable tread left on the tire.
A 30 day customer satisfaction guarantee is included in the warranty, as is a 3 year flat tire changing service.
Michelin Primacy Alpin PA3 Snow Tires Coupon