Michelin is known for producing good quality tires, but the Michelin Pilot Sport A/S Plus tire has taken tire performance to a new level. It takes a combination of unrivaled all-season performance and tread life, and matches it up with a smooth, comfortable ride to give high-end car owners an option they didn't have just a few years ago.
An advanced Tri-Fusion tread compound, which molds three different types of tread compounds together on the tread, creates a directional tread design with high performance handling and traction in all types of weather conditions. This high-tech manufacturing process holds the compounds side by side without any separation.
The Pilot Sport A/S shows its abilities in providing great traction in dry, wet and snowy surfaces. Dry handling is assisted by the special tread compound in the shoulders, which make it perform quite well on dry surfaces. The compound between the two shoulders and the center rib assist with wet and snowy surface traction. There is also a center rib compound which provides assistance in traction on wet roads. High angled lateral grooves increase wet road grip and virtually eliminate the risk of hydroplaning.
The solid circumferential rib reduces road noise and enhances steering response and feel. This Michelin tire is amazingly quiet and you'll never have any difficulty carrying on a conversation with others in the car.
Inside the tread, Michelin has utilized what they term Filament AT Zero Technology to surround the twin high-tensile steel belts with a polyamide strand to ensure longevity and better durability. It also increases stability at higher speeds, something driving enthusiasts can appreciate for sure.
Overall, the Michelin Pilot Sport A/S Plus is at the top of its class for high performance handling and ride quality. Whether the roads are dry, wet or snow covered, the A/S Plus doesn't let you down. Treadlife is well above average for this type of tire, and value for the money is excellent.
Price Range
Prices on the Michelin Pilot Sport A/S Plus Tire range from about $140 for 16 inch series tires to approximately $300+ for 22 inch series tires. If we have a valid Michelin coupon for this tire, it will be shown below. You can find other tire discount coupons.
Who Are Michelin Pilot Sport A/S Plus Tires Designed For?
Michelin has designed the Pilot Sport A/S Plus for the drivers of high-end sports cars, coupes and performance sedans who are seeking a high performance all-season tire that offers uncompromising handling and traction, to go with a quiet and smooth ride regardless of weather and road conditions.
Michelin Pilot Sport A/S Plus Tire Sizes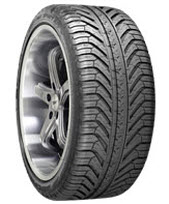 16″
205/55ZR-16 91Y BSW
215/55ZR-16 93W BSW
225/50ZR-16 92Y BSW
225/55ZR-16 95W BSW
225/60ZR-16 98W BSW
245/50ZR-16 97W BSW
17″
205/45ZR17XL 88Y BSW
205/50ZR-17 89Y BSW
215/45ZR17XL 91W BSW
225/45ZR-17 91Y BSW
225/50ZR-17 94W BSW
225/55ZR-17 97W BSW
235/45ZR-17 94Y BSW
235/50ZR-17 96W BSW
235/55ZR-17 99W BSW
245/40ZR-17 91Y BSW
245/45ZR-17 95Y BSW
245/50ZR-17 99W BSW
255/40ZR-17 94Y BSW
255/45ZR-17 98Y BSW
275/40ZR-17 98Y BSW
285/40ZR-17 100Y BSW
18″
225/40R18 XL 92Y BSW
225/45R18 XL 95Y BSW
235/40ZR-18 91Y BSW
235/45R18 XL 98Y BSW
235/50ZR-18 97Y BSW
245/40ZR-18 93Y BSW
245/45ZR-18 96Y BSW
255/35R18 XL 94Y BSW
255/40ZR-18 95Y BSW
255/45ZR-18 99Y BSW
265/35R18 XL 97Y BSW
275/35ZR-18 95Y BSW
275/40ZR-18 99Y BSW
285/30R18 XL 97Y BSW
285/35ZR-18 97Y BSW
19″
225/40ZR-19 XL 93Y B
235/35ZR19XL 91Y BSW
245/35ZR19XL 93Y BSW
245/40ZR-19 94Y BSW
245/45ZR-19 98Y BSW
255/35ZR-19 XL 96Y B
255/40ZR-19 96Y BSW
275/30ZR19XL 96Y BSW
275/35ZR-19 96Y BSW
275/40ZR-19 101Y BSW
285/30ZR19XL 98Y BSW
20″
245/30ZR20XL 90Y BSW
245/35ZR20XL 95Y BSW
245/40ZR-20 95Y BSW
255/30ZR20XL 92Y BSW
255/35ZR20XL 97Y BSW
275/30ZR20XL 97Y BSW
275/35ZR20XL102Y BSW
285/30ZR20XL 99Y BSW
295/25ZR20XL 95Y BSW
22″
265/30ZR22XL 97Y BSW
Pros
Superior performance and handling regardless of wet or dry pavement
Steering response and feel is excellent
Very quiet and comfortable riding tire
Long lasting tread to go with a solid warranty
Cons
Tires can be expensive in the larger series
Warranty
Michelin Tires stands behind the Pilot Sport A/S Plus with a 6 year or 45,000 mile treadlife guarantee. (This warranty is reduced to half if you have different sizes on the rear than on the front.) Tire uniformity is warranted for one year or the first 2/32 inches of wear.
Materials and workmanship are guaranteed for 6 years and include free tire replacement during the first year or first 25% of wear. Michelin then prorates out the amount for the remainder of the warranty period down to the final 2/32 inch of useable tread life on the tires.
There is also a 3 year flat tire changing package included with this model, and you also receive Michelin's 30 day satisfaction guarantee.
Michelin Pilot Sport A/S Plus Tire Coupon