If you are a serious performance driving enthusiast and like to drive your vehicle on the track or highways at high speeds, then the Michelin Pilot Sport Cup tire is the one for you. Michelin has used its Formula One sports tire technology to bring you a DOT racing approved tire that is well suited to your purposes.
The Michelin Pilot Sport Cup has an asymmetric tread design which is incorporated with a dual zone tread that is also used in sports car racing. The outboard compound is designed for high stability and control with dry traction, while the inboard side features an advanced compound to help with wet traction. That said, this particular model is best suited for dry traction at high speeds on highways and tracks. Driving it in the rain will require greatly reduced speeds and more attention to conditions.
The asymmetric tread has a large outer shoulder rib which provides incredible steering response and extreme cornering ability, which is among the best you'll find on any tire in this class. Circumferential grooves on the tire provide wet traction and drain water away from beneath the surface of the tire. The wet traction is further assisted by independent tread blocks which have been included in the treads inner part.
Twin steel belts with high tensile strength support the tire. Michelin has used its Banded At Zero technology, also known as BAZ to reinforce the twin steel belts with spirally wrapped nylon. These contribute to the tire's excellent handling and high speed stability. The Pilot Sport Cup has a long tread life due to even wear ensured by Michelin technology.
Overall the Michelin Pilot Sport Cup tire is simply one of the best ultra-high performance tires on the market today. Cornering and steering response is incredible. Tread life is better than you might expect and the tire rides comfortably as well. The only knock on this tire is driving on wet pavement or in cold weather. But that is not really an issue for those who want a tire that runs well on the track or highway.
Price Range
Prices for the Pilot Sport Cup range from around $425 for the 18 inch series tire to approximately $450 for the 19 inch tire. If there is a valid Michelin tire rebate coupon for this tire, it will be shown below the text. You can find other tire coupons here
Who Are Michelin Pilot Sport Cup Tires Designed For?
The Michelin Pilot Sport Cup tire is designed for drivers of high performance sports cars, coupes and sedans who are seeking a tire for high speed driving at the track or on the street with excellent stability and steering response.
Michelin Pilot Sport Cup Tire Sizes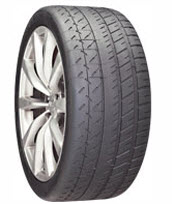 18″
295/30ZR-18 94Y BW
19″
345/30R-19 105Y BSW
Pros
Consistently provides high performance on the track
Incredible dry pavement cornering and steering response on the street or track
Tires ride surprisingly comfortable
Cons
No grip in the rain
Don't even think about driving on them when temps dip below 40 degrees F
Warranty
Michelin does not provide a mileage warranty on the Pilot Sport Cup tire as you would expect from a tire in this class. However, you will find a uniformity guarantee for the first year or first 2/32 inches of wear. This voided on tires that are shaved.
Materials and workmanship are backed for 6 years and call for free replacement during the first year or first 25% of wear. Michelin then prorates out the remaining time period down to the final 2/32 inch of useable tread depth. May be voided if used at racetracks or in competition.
You will also find a 30-day satisfaction guarantee and a 3-year flat tire changing service.
Michelin Pilot Sport Cup Tires Coupon