The Michelin Pilot Exalto A/S tire is a high performance all-season radial that provides excellent handling in all types of weather conditions. Even better is the fact that this Michelin model gives you this type of performance with a long lasting tread design, and at a great value.
The tire itself features a tread compound that is specially formulated to provide the best in wet or snow traction, dry pavement grip and cornering, as well as a longer lasting tread life. Based on what other drivers have said about this tire, it does what it says it will do.
The reason this tire tracks so well on wet or snow covered roads is due to the circumferential grooves and lateral tread grooves, combined with a better sipe design. It evacuates more water from under the tire during heavy rains, while also giving better traction in snow.
Twin steel belts on the inside are spirally wrapped to give the tire more strength at higher speeds. Simply put, if you are looking for a high performance all-season tire then you would be hard pressed to find a tire that tops this Michelin Pilot Exalto A/S. Overall, you can't go wrong with buying this Michelin Exalto tire. With its performance, comfort and tread life, it's easy to see why it's a popular tire choice.
Price Range
Prices on the Michelin Exalto range from around $100 for the smaller 14 inch models, to approximately $190 for the larger 17 inch sizes. Get the best price with Michelin rebate coupon located below, or find other tires coupons here.
Who Are Michelin Pilot Exalto A/S Tires Designed For?
Michelin has designed the Exalto AS tire for drivers of sport coupes and sedans who are looking for an all-season tire that provides superior handling and riding comfort at an affordable price.
Michelin Pilot Exalto Tire Sizes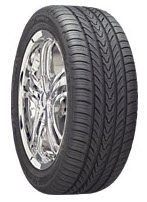 185/60R14
195/60R14
195/55R15
195/60R15
195/65R15
205/60R15
205/65R15
195/50R16
205/50R16
205/55R16
205/55R16
215/55R16
215/60R16
215/60R16
225/50R16
225/50R16
225/55R16
205/50R17
215/50R17
235/45R17
Pros
Dry pavement cornering and traction are superb
Wet roads are not an issue with this tire
Good traction on snow and ice
Long lasting tread wear
Smooth and comfortable riding tire
Excellent value for the money
Cons
Rare as it is, there is nothing that can be considered a con with this tire
Warranty
Michelin warrants the Pilot Exalto AS tire for 6 years or 45,000 on the tread life. One exception with this is if you have different sizes on the front and rear. If that's the case then you will get a half mileage guarantee on tread life. Michelin also has a one-year or first 2/32 inch of wear for the tire's uniformity.
Materials and workmanship are guaranteed for 6-years as well. This includes a free tire replacement the first year, or 2/32 inch of wear or 25% of wear, followed by a prorated amount for the remaining time period down to the last 2/32 inch of useable tread depth.
One other nice benefit that Michelin adds to this tire is a 30-day satisfaction guarantee and a 3-year flat tire changing warranty.
Michelin Pilot Exalto A/S Tire Coupon