Designed to take on rough winter driving conditions, the Michelin Latitude Alpin HP has many nice features for drivers of sport SUV's and pickups.
When you take a quick look at the tire you will notice the directional tread pattern, which is well suited for increased traction on snow and ice. The tread compound has been made more flexible so that you continue to have increased traction in much colder temperatures.
Unique circumferential bridges run in between the independent tread blocks, which provide much greater handling and stability regardless of road conditions.
The Michelin Latitude Alpin HP Tire has dense siping and lateral grooves which aid in braking on wet or slush covered roads. You will be impressed with the control that the Alpin HP gives you in wet weather, but it also performs well on cold surfaces in winter weather.
Strong twin steel belts further support the tire and enable good handling. The twin belts are reinforced with spirally wrapped nylon which further improves handling of the tire. In fact the Alpin HP handles very well even at high speeds and remains durable throughout its life.
Latitude Alpin HP winter tires have the snowflake symbol which indicates that the tire meets the industry's severe snow service requirements.
Overall, the Michelin Latitude Alpin HP is a very good high performance winter tire. Traction on all types of surfaces is excellent. It rides nicely and Michelin stands behind the tire with a 25,000 tread warranty, which is rare for this type of winter tire.
Price Range
Prices for the Latitude Alpin HP range from around $235 for the 17 inch series to approximately $299 on the larger 19 inch series tire. Check Michelin coupons below or here
Who Are Michelin Latitude Alpin HP Tires Designed For?
The Michelin Latitude Alpin HP Tire is designed for drivers of high performance SUVs and pickups who are seeking a winter driving tire that provides excellent traction and improved performance on snow and ice.
Michelin Latitude Alpin HP Tire Sizes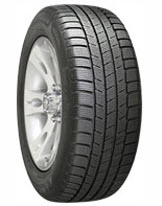 17″
235/55R-17 99H RRBL
18″
255/55R-18 105V BSW
19″
255/50R-19XL 107V BW
Pros
Very good traction on wet, snow or icy road surfaces
Good stability and steering response on dry pavement
25,000 mile tread warranty is among the best in this class
Cons
Can become a bit noisy as they wear down, but this is predictable for all snow tires
Warranty
Michelin Tires backs up the Latitude Alpin HP with a 6-year or 25,000 mile warranty. Tire uniformity is guaranteed for the first year or first 2/32 inches of wear.
Materials and workmanship are covered for 6-years and include free replacement in first year or first 25% of wear. Michelin then prorates out the remaining time period until there are 2/32 inches of remaining tread depth left on the tire.
There is also a 3-year flat changing service with the tire, and a 30-day satisfaction guarantee as well.
Michelin Latitude Alpin HP Tires Coupons