The Michelin HydroEdge tire is one of the company's top models. It features a long lasting 90,000 tread life to go with all-season traction and handling, even in snowy conditions. Perhaps one of the best benefits of the HydroEdge is its performance on wet roads. Dual center grooves and a deep sipe design allow this tire to take rain soaked highways with ease.
The silica based tread compound gives this Michelin tire good dry pavement handling and better stopping abilities as well. Comfort Control Technology from Michelin helps to eliminate much of the vibration and outside road noises that are so common with other tires in its class.
You'll also get Energy Saver Construction in the tread that works to provide better fuel efficiency for your vehicle, while also giving it an attractive look.
Price Range
The HydroEdge tire ranges in price from around $85 for a 14″ series model, to around $190 for a larger 18″ inch series. If a valid Michelin rebate or coupon for this tire is available, it will be shown below the text.
Who Are Michelin HydroEdge Tires Designed For?
The Michelin Hydro Edge tire is designed for drivers of coupes, sedans, minivans and many other types of vehicles on the road today who want a solid all-season radial tire that is built to last for years to come.
Michelin HydroEdge Tire Sizes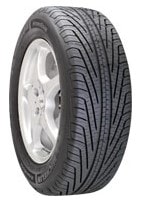 P185/65R-14
P185/70R-14
P195/70R-14
P185/65R-15
P195/60R-15
P195/65R-15
P205/60R-15
P205/65R-15
P205/70R-15
P215/60R-15
P215/65R-15
P215/70R-15
P205/55R-16
P205/65R-16
P215/60R-16
P215/65R-16
P225/60R-16
P235/60R-16
P215/60R-17
P215/65R-17
P225/55R-17
P225/60R-17
P235/55R-17
P225/50R-18
P225/55R-18
Pros
Excellent treadwear and a 90,000 mile warranty
Very quiet and comfortable riding tire
Good handling and response in both wet and dry conditions
Cons
Snow traction a little less than average
Warranty
Michelin tires backs the HydroEdge tire with a 90,000 treadwear warranty. There is also a 6 year guarantee on materials and workmanship that includes free replacement of the tire's useable tread.
Michelin HydroEdge Tire Coupon