The Michelin Harmony tire offers unique tire technology to come up with a tire that provides all-season performance to go along with outstanding ride characteristics. One very nice feature with the tread compound on the Harmony is that it allows the tire to get through snow nearly as well as some winter tire models.
Four wide circumferential grooves and deep sipes in the tread help in evacuating water from under the tire on rain soaked road surfaces. The Harmony provides a much smoother ride due in part to the continuous center rib and variable pitch sequence technology.
Handling and cornering are dramatically improved through Michelin's Stress Equilibrium Casing. Basically, this utilizes two steel belts and a polyester cord body that help give it increased stability and much longer life span. In fact, the Harmony comes with an 80,000 mile tread warranty.
Price Range
Prices on Michelin Harmony tires range from a low of around $80 for the 13 inch series, to upwards of approximately $155 for the much larger 17 inch models. If we have a valid Michelin tire coupon, it will be shown below the text. You can find other tires coupon codes here
Who Are Michelin Harmony Tires Designed For?
Michelin has designed the Harmony all season tires mainly for drivers of minivans and larger family sedan types of vehicles who are looking for a tire that delivers not only quality performance and a smooth ride, but also an excellent tread life.
Michelin Harmony Tire Sizes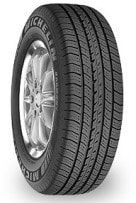 P175/70R13
P175/65R14
P175/70R14
P185/65R14
P185/70R14
P195/65R14
P195/70R14
P205/70R14
P205/75R14
P215/70R14
P185/60R15
P185/65R15
P195/60R15
P195/65R15
P205/60R15
P205/65R15
P205/70R15
P215/60R15
P215/65R15
P215/70R15
P205/55R16
P205/60R16
P215/60R16
P215/65R16
P225/60R16
P225/55R17
P225/60R17
Pros
Excellent handling and traction on both dry and wet road surfaces
Outstanding 80,000 mile tread life guarantee
Smooth and quiet ride
Very good in the snow
Cons
Hard to find anything wrong with this tire with the exception it would be nice to see 18 inch sizes available
Warranty
The Michelin Harmony warranty provides for a 6 year or 80,000 mile tread life guarantee, which is among some of the best in the industry. One note on the mileage guarantee is if you put a different size on the rear than what is on the front, Michelin will cut the mileage warranty down to 40,000 miles.
There is also a one year or first 2/32 inch of wear for tire uniformity, and 3 years worth of flat tire changes if you were to need it. Materials and workmanship is backed for 6 years and comes with free tire replacement for the first year or first 25% of wear. Michelin follows that up with a prorated amount down to the remaining 2/32 inch of tread depth. Finally, Michelin gives you a 30 day satisfaction guarantee as well.
Michelin Harmony Tire Coupon