The Michelin Energy LX4 tire is a model designed to provide better overall fuel efficiency, while at the same time giving drivers good all-season performance. To enhance fuel economy, Michelin has incorporated EnergySaver technology into the tread that gives the tire much better rolling resistance.
The tire itself features a symmetric design with circumferential grooves and a center rib make for added stability and traction on wet roads, as well as added confidence behind the wheel. Michelin has also added what they call Comfort Control technology into the tread design to give the LX4 a more smooth and comfortable ride out on the highway.
Price Range
The Energy LX4 from Michelin ranges in price from approximately $125 for a 16″ series, to around $175 for the larger 17″ series. If there is a valid Michelin coupon for this tire, it will be shown below the text. You can find other brands printable tire coupons here
Who Are Michelin Energy LX4 Tires For?
Michelin has designed the Energy LX4 tires for drivers of all types of cars and minivans who are looking for a good value in an all-season radial tire. One that provides for better fuel economy and still maintains a good ride.
Michelin Energy LX4 Tire Sizes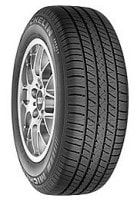 215/65R16
225/60R16
235/65R16
225/60R17
225/60R17
225/65R17
235/50R17
235/60R17
245/60R17
Pros
Very good handling and traction control on dry pavement
Good on rain soaked highways
Low road noise and smooth comfortable ride
Cons
Not as good on snow and ice
Treadwear average to a little less than average
Warranty
Michelin tires backs up the Energy LX4 with one-year or first 2/32″ of wear guarantee on uniformity. There is no treadlife warranty, but you will find a 6-year materials and workmanship guarantee. Michelin provides a first year or 2/32″ of wear free replacement, followed by a prorated amount for the remaining time period.
Michelin Energy LX4 Tire Coupon