With an 80,000 mile tread warranty, the Michelin Destiny all-season tire provides excellent value at an affordable price. But there is much more going on with the Destiny than simply good value. The tire itself features a tread design that uses full width steel belts that enhance handling and maneuverability.
Driving on wet pavement is made easier with variable width tread grooves and sipes that help evacuate more water away from the tire.
Riding comfort and minimal road noise can be expected on the Michelin Destiny due to the variable pitch sequence built into the tread pattern. In fact, drivers everywhere have complimented the Destiny on being very quiet and more comfortable than they expected.
One of the nice features with the Destiny is the longer tread warranty. Much of this is due in part to the tread depth being 11/32, which is a bit deeper than other tires in its class. All of this combines to make this a good choice in all-season tires.
Price Range
Prices on the Michelin Destiny run from around $70 for the 13 inch series to in excess of $150 for the much larger 17 inch series tires. If we have a valid Michelin coupon for this tire, it will be shown below the text. You can find other tires coupons here.
Who Are Michelin Destiny Tires Designed For?
Michelin has designed the Destiny tire for owners of minivans, sedans and smaller compact cars who are looking for a better than average all-season radial that also provides great value with its 80,000 mile tread guarantee.
Michelin Destiny Tire Sizes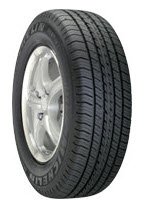 P175/70R-13
P175/65R-14
P185/65R-14
P185/70R-14
P195/70R-14
P185/65R-15
P195/60R-15
P195/65R-15
P205/60R-15
P205/65R-15
P205/70R-15
P215/60R-15
P215/65R-15
P215/70R-15
P205/55R-16
P205/60R-16
P215/60R-16
215/65R-16
P225/60R-16
P225/55R-17
P225/60R-17
Pros
Handling and control is excellent on both dry and wet pavement
Braking is above average
Driving comfort minimal road noise is solid
Cons
Some drivers have mentioned tread wear could be better
Warranty
A nice 80,000 mile tread warranty comes with the Michelin Destiny. That's among the longest mileage warranties in the tire industry.
You will also find a 6-year guarantee on materials and workmanship. This applies to the final 2/32 inch of useable tread.
Michelin Destiny Tire Coupon