If you do a lot of both all-season and off-road driving, then the Goodyear Wrangler DuraTrac tires were designed to suit your needs. One thing you'll quickly notice about the Wrangler DuraTrac is that it gives excellent traction in dry and wet weather conditions. The symmetrical tread design balances traction in both conditions. Large shoulders and angled center tread blocks provide support to the tire and make it very stable even in the roughest of conditions.
If you look closely at the Wrangler DuraTrac Tire you will see a snowflake symbol which signifies that the tire is meant for snow and meets appropriate snow tire standards. This particular model is studdable, with the ability to add sixteen metal studs in the event you live in an area where studs are needed.
The Goodyear Wrangler has incorporated within it a special tread compound which enhances the life of the tire. The tread makes it suitable for heavy loading and towing duty and makes sure that the tire is well protected in case of rough use. A look at the tread will reveal that the tire has zigzag shaped sipes which enhance stability in wet weather and improve traction. The zigzag sipes prevent the tire from retaining water underneath the tire and reduce chances of hydroplaning in wet weather.
Goodyear has incorporated its Tractive Groove technology by which it provides biting edges when in deep snow or ice. Buyers have reported great traction in cold weather in deep snow conditions. You need not worry about wheel slip during the life of the tire due to the presence of a rim lock on the tire. Parking against the curbs is more convenient due to a rim protector to protect your expensive wheels whether on-road or off-road.
A nice feature found in the Goodyear Wrangler Dura Trac is the self-cleaning feature by which it provides extra traction in off-roading conditions with a clean contact patch. This has been made possible due to self-cleaning shoulders blocks that have been built into the tire.
Overall, the Goodyear Wrangler DuraTrac Tire is a versatile tire for on and off-road use. It provides the stability and confidence you look for in an all-season tire, while also giving more than adequate performance in all-terrain conditions. The ride is comfortable and quiet, and tread life is good.
Price Range
Prices for the Goodyear Wrangler DuraTrac Tire range from about $148 for 15 inch tires to approximately $392 for 20 inch tires. If we have a valid coupon for this tire, it will be shown below the text. You can find other Goodyear tires coupons or other tire brands coupons here
Who Are Goodyear Wrangler DuraTrac Tires Designed For?
The Goodyear Wrangler DuraTrac Tire are for drivers of pickup trucks, vans, sport utility and commercial vehicles who are seeking tires that perform well in on-road and off-road conditions, including heavy snow.
Goodyear Wrangler DuraTrac Tire Sizes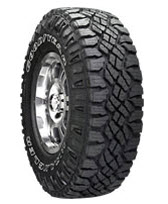 LT235/75R15
31X10.50R15
33X12.50R15
LT215/85R16
LT225/75R16
LT235/85R16
LT245/75R16
LT245/75R16
LT265/75R16
LT265/75R16
LT285/75R16
LT265/70R17
LT265/70R17
LT285/70R17
LT275/65R18
LT295/65R18
LT285/60R20
Pros
Excellent traction and grip in all weather conditions, even in deep snow
Great stability and steering response
Very good off-road capabilities
Cons
May not be ideal for off-roading in very rocky terrain
Warranty
Goodyear backs up the Wrangler DuraTrac with a Uniformity Warranty of six months or the first 2/32 inches of wear.
Materials and workmanship are covered for 6 years and call for free replacement during the first year or 2/32 inches of wear, then Goodyear prorates out the amount for the remaining time period down to the final 2/32 inch of useable tread depth
Goodyear Wrangler DuraTrac Tire Coupon