The Goodyear Integrity tire has been a popular tire choice on many of today's coupes, sedans and minivans. With all-season traction and handling to go along with a comfortable ride, it's easy to see why many drivers have made the Integrity their tire of choice.
The symmetric tread design sports a compound that gives the tire improved rolling resistance, which means better overall fuel efficiency for you at the pump.
You'll find a continuous center rib for enhanced contact between the tire and the road surface, as well as better handling and traction on dry pavement. When the roads get wet or snow covered, the independent tread blocks and circumferential grooves give better water evacuation and a lower risk of hydroplaning on the highway.
Inside the tire are twin steel belts with a polyester cord body to give the tire added strength and durability, resulting in a longer tread life and smoother ride. Overall, the Integrity is a nice all-season tire that we would recommend for daily commuting and other regular use.
Price Range
Prices on the Integrity range from around $65 for the 14 inch series to approximately $125 for the larger 17 inch series tires. If we have a valid coupon for this tire, it will be shown below the text. You can find here other tire discounts or other Goodyear tire discounts here.
Who Are Goodyear Integrity Tires Designed For?
Goodyear Tires has designed the Integrity tire for drivers of various makes and models of sedans, minivans and other crossover type vehicles who are looking for an all-season tire at an affordable cost.
Goodyear Integrity Tire Sizes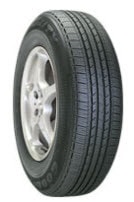 175/65R14
175/70R14
185/65R14
185/70R14
195/70R14
185/65R15
195/65R15
205/65R15
215/70R15
225/60R16
225/70R16
235/60R16
235/70R16
215/65R17
225/60R17
225/65R17
235/65R17
235/65R17
Pros
Widely popular choice in all-season tires for several years running
Smooth and comfortable ride
Dry pavement traction and handling is good
Cons
Tread wear could be better
Not the best when snow begins falling
Warranty
Warranty coverage on the Integrity includes a 6-year or 50,000 mile tread wear guarantee. This goes along with a 6-month or first 2/32 inch of wear on the tire's uniformity.
Goodyear Tires provides a materials and workmanship guarantee for 6 years that calls for free tire replacement for the first year or the first 2/32 inch of wear, followed up by a prorated amount for the remaining time period down to the final 2/32 inch of useable tread depth.
Goodyear Integrity All-Season Tire Coupon