Goodyear Fortera TripleTred tires are made for severe winter conditions and even bear the Severe Service Emblem. Choosing a tire with this emblem will give you a better performing tire compared to those that only have the M+S rating.
The tire features unique tread zones providing all-weather traction. These include the water zone, ice zone, and the dry zone patterns in the tread. With this type of tread compound the tires are able to maintain road contact in ice, rain, and snow. The water zone will help to propel water away from the tire and the central ice zone has a heavily siped interlocking rib to help with traction on both ice and snow.
The PermaBlack compound helps to give you the new-tire appearance for a much longer amount of time. Featuring a tread life of 60,000 miles, this tire is built to last and you will not have to change the tires on your SUV as often.
Inside the tire you'll find twin steel belts, which are reinforced with a spiral wrapped polyester cord. The tire also gets a large amount of its strength from the two-ply polyester cord body, which also helps deliver a smooth ride.
In order to find out how good the Fortera TripleTred tires are they were tested in a real world driving test. This test compared the tires to a couple of competing tires that also featured a multiple tread compound. The Fortera TripleTred performed better than the competing tires in all three different weather conditions; ice, rain, and snow.
Overall, the TripleTred performs well in all types of weather conditions and gives you added confidence behind the wheel. With its comfortable ride and better than average tread life, this Goodyear model makes for a solid choice in an all-season SUV tire.
Price Range
Prices on the Goodyear Fortera TripleTred range from around $155 per tire for the smaller sizes all the way up to $240 for the larger 18 series sizes. If we have a valid coupon for this tire, it will be shown below the text. You can find other tire coupons here or Goodyear tires coupons here
Who Are Goodyear Fortera TripleTred Tires Designed For?
The Goodyear Fortera Triple Tred tire is designed for drivers of SUV's who are looking for an all-season tire that handles any weather conditions year round with the ease and confidence you would expect.
Goodyear Fortera TripleTred Tire Sizes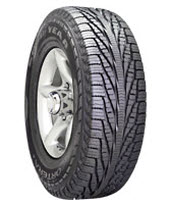 P235/75R-15
P215/70R-16
P225/70R-16
235/65R-16
P235/70R-16
P245/70R-16
P245/75R-16
P255/70R-16
P265/70R-16
225/65R-17
P235/60R-17
235/65R-17
P245/65R-17
255/60R-17
P265/65R-17
P265/70R-17
275/55R-17
P275/60R-17
235/55R-18
P235/65R-18
255/55R-18
P265/60R-18
Pros
Excellent all-weather traction with triple tread zones
Tires handle snow, ice, rain, and dry conditions with relative ease and confidence
Tire has the Severe Service Emblem
Very smooth and comfortable ride without the road noise
Cons
Tires are a bit more expensive than others in their class
Warranty
Goodyear tires backs up the Fortera TripleTred with a 6 year or 60,000 mile treadlife limited warranty. They also guarantee they uniformity of the tire for 6 months or the first 2/32 inch of wear
Materials and the workmanship are also under warranty for 6 years and Goodyear provides free replacement in the first year or 2/32 inch of wear. Finally, if you are not happy with the tire you can exchange it for another Goodyear tire within the first 30 days.
Goodyear Fortera TripleTred Tire Coupon